Online courses on the use of Geographic Information Systems (GIS) in the establishment of Allocated Zones for Aquaculture (AZA)
23/11/2020
Allocated zones for aquaculture (AZAs) within marine spatial planning are considered an essential instrument in the sustainable development and expansion of aquaculture in the Mediterranean and Black Sea bordering countries.
Given the spatial context of AZAs, applications incorporating multiple models able to contribute to the geographic estimation of aquaculture potentialities are in high demand. These models, predicting environmental, socio-economic and carrying capacity outcomes, among others, can be translated and handled by geographic information systems (GIS).
We invite you to participate in the GFCM online courses on the use of GIS in the establishment of AZAs, which will be held over Zoom on 23–27 November and 30 November–2 December.
The courses will be divided into English and French and are scheduled as follows:
English: 23 (16–18 hours,Rome time), 24, 26, 30 November and 2 December (10–12 hours, Rome time)
French: 23 (16–18 hours, Rome time), 25, 27 November and 1–2 December (10–12 hours, Rome time)
Kindly note that on 23 November and 2 December the course will be only held in English.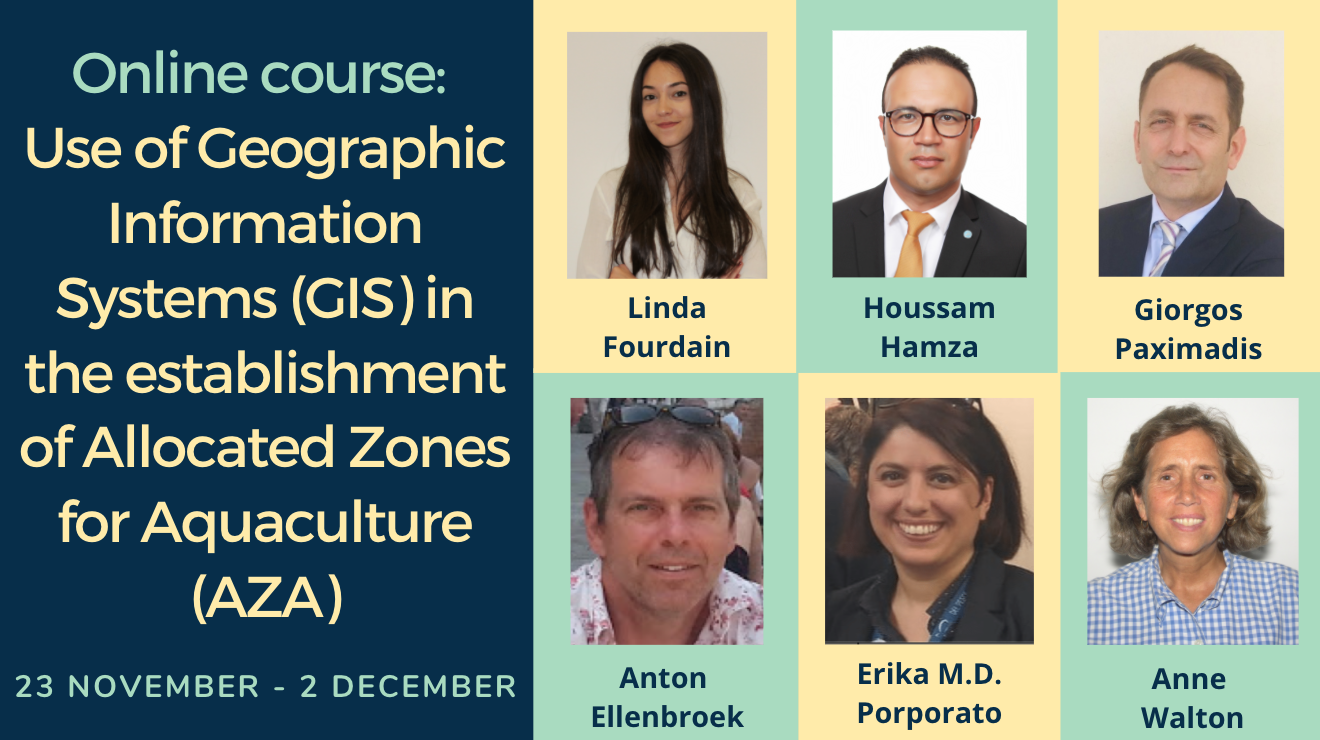 Presentation Recordings
This online course will provide basic information on the use of GIS tools through a methodological framework for their application. It is intended to help participants gain an understanding of geographic information (including vector and raster data), projections, digitizing processes and generation of information. In addition to learning about the use of the interface, participants will be able to improve necessary skills to develop a methodological framework for the application of GIS in the establishment of AZAs.
Active participants in the courses will be selected according to the following requirements:
Basic knowledge of Microsoft Office software (or equivalent);
Access to a personal computer for the duration of the course;
Having downloaded and installed (before the course) the QGIS software (version 3.10 or older versions), selecting the relevant operating system and the long term release repository: https://qgis.org/en/site/forusers/download.html
Countries are kindly requested to select their participants before 18 November and to REGISTER HERE.
We look forward to your participation. Do not hesitate to share this message with all interested persons or to contact the GFCM Secretariat for further information and/or technical request.