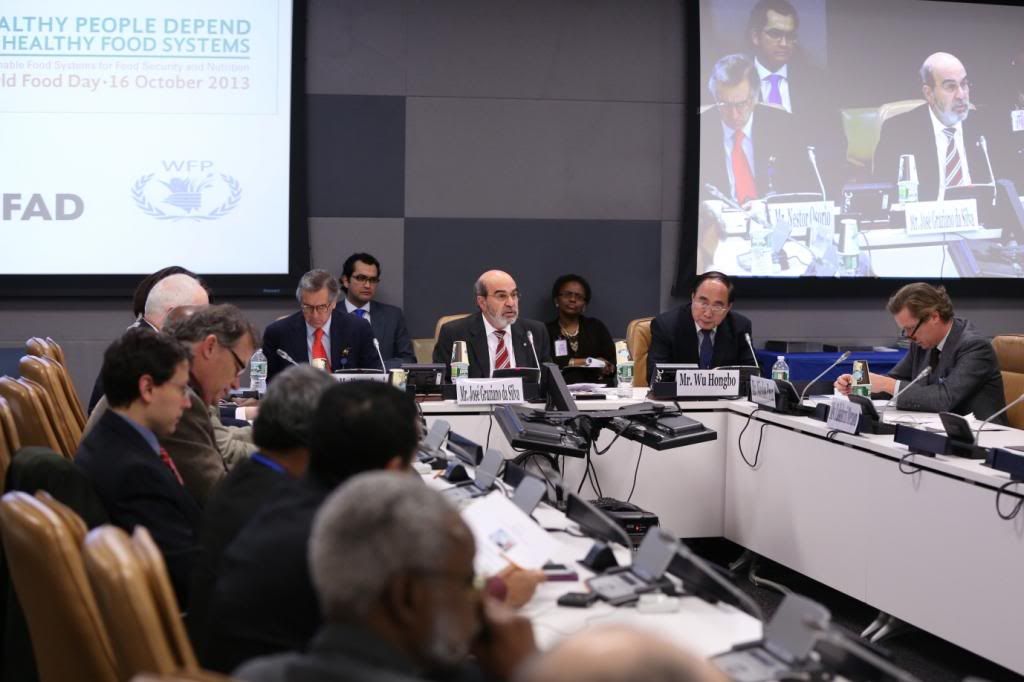 FAO's José Graziano da Silva flanked, to the left, by ECOSOC President Nestor Osorio, and DESA's Wu Hongbo, to the right
November 23: UN headquarters marked World Food Day 2013 on Saturday with a call for more sustainable food systems.
Speaking in New York, FAO Director-General José Graziano da Silva noted the challenges of feeding the world's growing population in an eco-friendly manner. "Food production has tripled since World War II and per capita availability has increased by over 40%. However, from the demand perspective, we can see that over half of the world's population is affected by either under- or over-consumption."
According to FAO's latest estimates, some 840m people are thought to be chronically undernourished, while another 1.4 billion are overweight.
"The increase in food production," continued the FAO DG, "which the intensive use of inputs and the Green Revolution made possible, came at a high environmental cost. This is not sustainable today, nor will be it so in 2050, when we'll have to provide food for a population of 9 billion people."
Indeed around one-third of all food produced "never makes it from farm to fork", pointed out DESA Under-Secretary-General Wu Hongbo, in remarks delivered on behalf of UN Secretary General Ban Ki-moon.
Creating more sustainable food systems also requires scaling-up women's empowerment initiatives, observed WFP Executive Director Ertharin Cousin. "Women — who account for nearly 50% of the global agricultural workforce — typically have a harder time accessing public services, social protection, employment, markets, and other institutions. If women had similar access to resources as men, farm yields would likely rise sharply."
That greatest challenge
Forty-four developing countries have already reached the MDG hunger target, but continued gains depend on far-ranging reforms, World Food Day participants agreed.
Policymakers should thus concentrate on boosting "infrastructure and institutions, markets and technology, credit and cash-transfers", advised Columbian Ambassador Nestor Osorio, President of the UN Economic and Social Council.
Transportation links are especially vital to tackling rural poverty, said keynote speaker Kenneth Quinn, former U.S. Ambassador to Vietnam and President of the World Food Prize Foundation. "I saw Vietnam's economy transformed by [the expansion of] rural roads. Across my travels, I've seen it everywhere: where the roads end, hunger begins."
To banish hunger and create sustainable food systems, bold leadership is, of course, needed too.
Recalling the legacies of both Dr. Norman Borlaug, Nobel winner and World Food Prize founder, and US President John F. Kennedy — who delivered a celebrated address to the UN's 1963 World Food Congress — Ambassador Quinn stated: "If we have the will, we can overcome that greatest challenge in human history, and forever eradicate hunger, poverty and malnutrition from the face of the earth".
This year's World Food Day observance in New York also featured addresses by Nicholas Pron, Senior Adviser to the 68th President of the UN General Assembly, and IFAD Associate Vice-President Lakshmi Menon.
Defeating hunger means revitalizing partnerships and mobilizing resources across all the sectors, emphasized Mr. Pron "Today's meeting presents an excellent opportunity to renew and strengthen our collaborative efforts." Added IFAD's Ms. Menon, "Good intentions are not enough. Governments need to get the policies right."
Saturday's ceremony — which also included a special airing of FAO Goodwill Ambassador Dionne Warwick's hit One World, One Song music video — followed on the heels of FAO's official launch, the previous day, of the 2014 International Year of Family Farming, also at UN headquarters.