"Major changes" needed to ensure sustainable oceans, forests, mountains, and biodiversity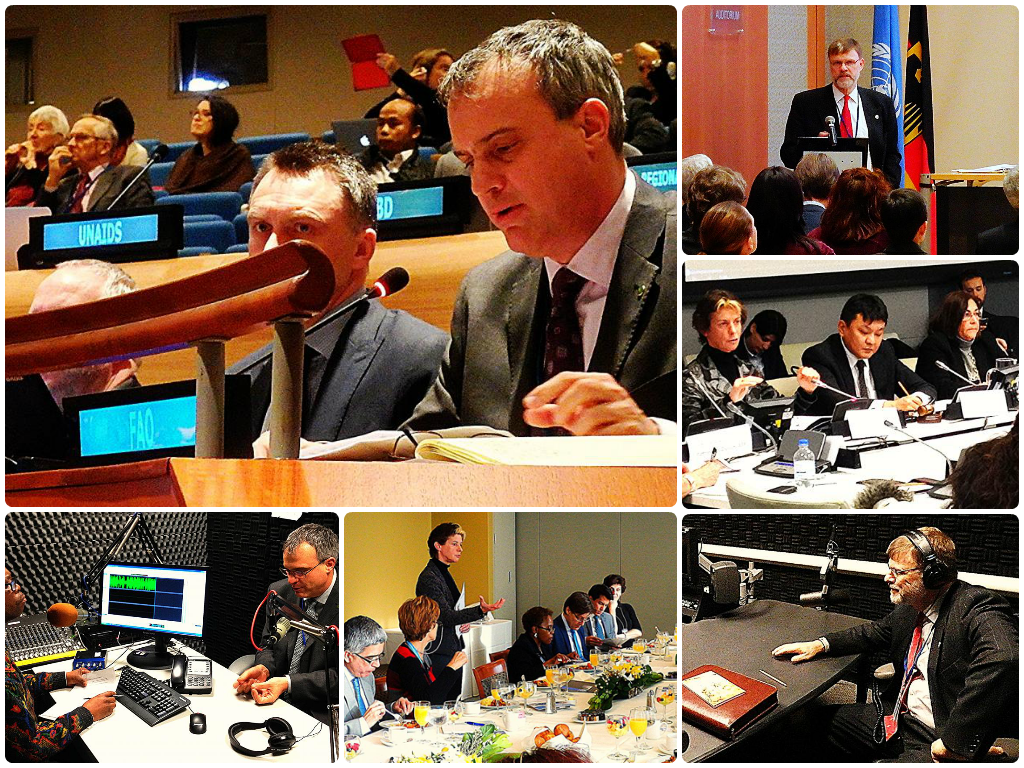 February 17: Sustainable management of the planet's oceans, forests, mountains, and biodiversity is "vital to enable future food security, surmount rural poverty, and ensure much-needed environmental services", remarked FAO Assistant-Director General Eduardo Rojas-Briales [pictured, top left] on Tuesday at the UN Open Working Group (OWG) consultations on the Sustainable Development Goals (SDGs) in New York.
Unsustainable management practices are exposing such life-sustaining natural resources to "severe stresses", warned FAO's forestry chief.
These include "inadequate land use planning, weak governance, scant financial investment, and worsening climate change", explained Mr. Rojas-Briales to the assembled government, civil society, and business leaders gathered at UN headquarters to craft the post-2015 successor to the Millennium Development Goals.
Also participating in the week-long OWG — which featured debates on oceans, forests, biodiversity gender, peace-building, and governance — were Arni Mathiesen (Assistant Director-General, Fisheries and Aquaculture), Gerda Verburg (Chair, Committee on World Food Security), and Thomas Hofer (Coordinator, Mountain Partnership Secretariat).
Harnessing natural resources in more sustainable fashion, continued Mr. Rojas-Briales in his Tuesday address to the OWG plenary, must begin with improved "environmental accounting of the myriad services nature provides".
Consider forests. Enveloping nearly one-third of the earth's surface, forests offer refuge to over 80% of terrestrial animals and plants — and sequester more carbon than the atmosphere, noted the FAO ADG. Their benefits are no less significant in other areas, too, directly contributing around 1% annually, some $468b, to global GDP in the form of food, fuel, shelter and medicine.
Mismanagement of forests, meanwhile, imposes equally significant costs. (Deforestation, for instance, accounts for 17% of human-generated CO2 emissions.) "We know we can design [SDG] goals that capture a wide range of socio-economic benefits. And we can build on international agreements, instruments, and commitments which already exist," added Mr. Rojas-Briales.
Divided into daily morning and afternoon sessions, the 8th and final Open Working Group consultative week also witnessed numerous breakfast, lunch, and evening "side-event" meetings.
FAO, collaborating closely with member states, UN-system partners, and various other stakeholders, seized the opportunity to convey the importance of embedding rural women, forestry, mountains, fisheries, and oceans alike into the post-2015 agenda, tallying:
10 interventions as panellists (7 at side-events co-organized by FAO)
17 bilateral meetings with ministers and senior UN officials
6 media interviews in multiple languages (UN Radio, Turkish Radio & Television, and the New York Times, respectively)
Visiting on a fact-finding mission mandated by the CFS Bureau, Gerda Verburg — CFS Chair and Ambassador of the Netherlands to the UN's Rome-based Agencies — was a featured speaker in many of these discussions, too.
Green Growth, Blue Growth
"Major changes in how the planet's marine resources are managed and used are needed to bolster global food security and ensure the wellbeing of coastal and island countries," urged FAO ADG Arni Mathiesen [pictured, top right], at one such side-event (hosted by the German Mission and organized jointly by SIDS nations, Iceland, New Zealand, the World Bank, and FAO).
As with forests, the stakes are high, observed Mr. Mathiesen. The global fish and seafood trade, valued at $130 billion annually, employs many millions; its role in providing protein (fisheries and aquaculture account for nearly 20% of human animal protein consumption) and other critical nutrients, such as Omega-3 fatty acids, is no less essential.
"Serious threats to [ocean] health, from pollution, overfishing, altered weather, and rising sea levels, must be tackled in earnest," he said. Encouragingly FAO's new Blue Growth initiative is designed to do precisely this, noted ADG Mathiesen, "by spearheading better partnerships, catalysing smarter policymaking, and fostering increased investment and innovation in ocean ecosystem conservation and management."
Rural women, agents of change
Yet another side-event, Focusing on Rural Women in an SDG Framework (co-organized by FAO, IFAD, and WFP), also ranked among the week's most memorable, with CFS Chair Verburg's impassioned call [pictured, middle right] to "fully integrate the needs of rural women into the heart of the SDGs" proving an undeniable highlight.
"The data," she stated, "convincingly demonstrates that women in rural areas are just as efficient as their male counterparts, but suffer from lower levels of access to productive resources and opportunity." One consequence of such gender inequality, pointed out the Dutch Ambassador, is visible in the disproportionate damage inflicted by poverty, hunger, and malnutrition on rural women.
"Rural women are active economic agents who, freed from constraints, could unleash major advancements in hunger eradication and development," she concluded. "Focusing on rural women in the post-2015 framework will bring about tremendous positive change."
As for the conclusion of the SDG deliberations, the UN General Assembly is slated to announce a preliminary list of goals and targets during its high-level meetings in September.