Asia-Pacific Forest Champion Award
Forest advocate Patrick Dugan wins the 2016 Asia-Pacific Forest Champion Award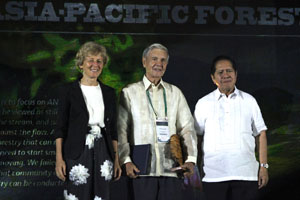 Filipino forest restoration advocate Patrick Dugan has been awarded the 2016 Asia-Pacific Forest Champion Award in recognition of his efforts to promote forest and land restoration through assisted natural regeneration (ANR) techniques in the Philippines and throughout the Asia-Pacific region.
ANR works to establish secondary forests from degraded grassland and shrub vegetation by protecting and nurturing mother trees and seedlings inherently present in the area, for example by flattening grasses around tree seedlings until they have a chance to grow.
Dugan received his award at a ceremony during the Asia-Pacific Forestry Week taking place in Pampanga, Philippines, this week.
Growing up in the Cordillera mountain ranges in northern Philippines, Dugan has worked in sustainable forest management in the Philippines for over thirty years.
Dugan advises on projects in agroforestry, ANR, reduced impact logging, bio-energy, and forest-based livelihoods in the Philippines and throughout the region.
He has been one of the key driving forces in developing ANR techniques, promoting the concept, and advocating the widespread adoption of ANR techniques.

As founder and president of the Bagong Pagasa Foundation in the Philippines, Dugan was instrumental in establishing ANR demonstration sites to train users and promote the wider adoption of this important technique at the field level in the Philippines and around the region.
In a FAO video released during the 2011 International Year of Forests, Patrick Dugan presented the results of a successful ANR project on the island of Bohol, Philippines.
About the Champion of Asia-Pacific Forests award
To help recognize and celebrate success of exemplary contributions to forests and forestry, FAO invited nominations for "Champion of Asia-Pacific Forests" as part of preparations for Asia-Pacific Forestry Week 2016.
As the region's forests are under increasing pressure, people who make major efforts and use their abilities to reach out and effectively promote the value of forests at local and regional levels, can inspire others to do the same. They are invaluable to forests and the people who depend on forests.
This award provides an opportunity to recognize a Champion who have made outstanding contributions to forest management in the region, particularly in ways that have benefited poor and marginalized people. The contributions may have been at local or sub-national, national or regional levels.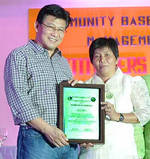 In 2011, two outstanding individuals were recognized as Champions. From the Philippines, Nely P. Alzula, President of the Kapit Bisig Farmer's Association and Regional CBFM PO Federation, and Bhishma P. Subedi, Executive Director of Asia Network for Sustainable Agriculture and Bioresources (ANSAB), Nepal.
Click to read more information about the 2011 champions.
Picture: Environment and Natural Resources Secretary Ramon J. P. Paje (left) honours Nely P. Alzula with a plaque of recognition during the Community-based Forest Management Practitioners Congress at the Fontana Convention Center in Clark, Pampanga. ©DENR
Eligibility
Nominees must be nationals of an Asia-Pacific Forestry Commission member country. View the list of countries.
Selection criteria
Inspirational value of the achievements of the nominee (and how these can prompt other individuals or organizations to perform similar deeds);
How the nominee champions forests and forestry in the region, for example, improving forest management, protecting threatened forests, restoring forests, making an important technological breakthrough in forest management, championing progressive forest policies, etc.
How the results of the nominee's efforts and achievements have benefited (or holds potential to benefit) poverty alleviation and the rights of the poor and marginalized; and
Background, geographic representation and gender to ensure balance in selection.
Prize
An economy airfare and accommodation costs will be provided to participate in the APFW 2016.
In addition, the winners will receive special recognition during APFW 2016.
Contact
The deadline for submission is now past. Many thanks to all those who submitted nominations.
Questions? Email: [email protected]