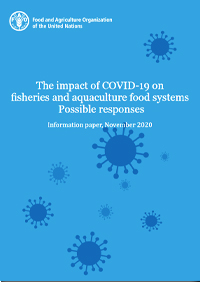 The purpose of this information paper is to update information on the COVID-19 pandemic's impact on the fisheries and aquaculture sector and the measures taken, to inform on the ongoing impact on the fisheries and aquaculture food systems, and responses from seafood providers and governments to counteract the negative impacts on seafood chains.
Fishing and aquaculture provide a vital source of food, employment, trade and economic well-being for people throughout the world, for present and future generations, and should therefore be conducted in a responsible manner. The Code of Conduct for Responsible Fisheries (the Code) sets out principles and international standards for responsible practices supporting the sustainable exploitation and production of living aquatic resources, with due consideration for the conservation of ecosystems and biodiversity, and recognising the nutritional, economic, social, environmental and cultural importance of fisheries. Twenty-five years after its adoption, the Code remains as relevant today as it was in 1995. This booklet offers a glimpse into the objectives of the Code and the framework of instruments and guidelines that have, over the last 25 years, been built on the Code and in support of the implementation of its wide-ranging provisions. It also provides insights into some trends that can be observed through reporting by FAO Members on its implementation.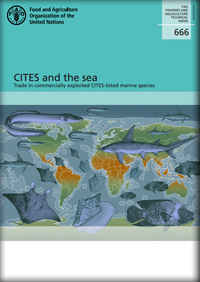 Fish and fish products are amongst the most highly traded food items in the world today, with most of the world's countries reporting some fish trade. This assessment of commercial trade in CITES-listed marine species occurs within a broader context of globalization and a more general rapid expansion of the international trade in fish and fish products. It summarizes ten years (2007–2016) of trade in a subset of commercially exploited marine taxa listed in CITES Appendix II. We examine both CITES trade data reporting processes (including information on the practical elements of reporting by CITES Parties) and analyse CITES trade records. The analysis shows how, for Appendix II CITES-listed marine species, the overall number of direct export transactions reported by CITES Parties has increased sevenfold during 1990–2016 and how trade for each CITES-listed marine species sub-group has changed through time. An assessment is made, with assistance from species and trade experts, on the strengths and challenges of collating and reporting on trade in CITES-listed marine species. Additional datasets of relevance to marine species trade are highlighted, and recommendations for further refining and improving CITES trade reporting for marine species are provided.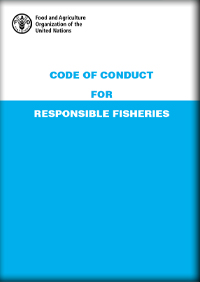 From ancient times, fishing has been a major source of food for humanity and a provider of employment and economic benefits to those engaged in this activity. The wealth of aquatic resources was assumed to be an unlimited gift of nature. However, with increased knowledge and the dynamic development of fisheries after the second world war, this myth has faded in face of the realization that aquatic resources, although renewable, are not infinite and need to be properly managed, if their contribu tion to the nutritional, economic and social well-being of the growing world's population is to be sustained. The widespread introduction in the mid-seventies of exclusive economic zones (EEZs) and the adoption in 1982, after long deliberations, of the United Nations Convention on the Law of the Sea provided a new framework for the better management of marine resources. The new legal regime of the ocean gave coastal States rights and responsibilities for the management and use of fishery re sources within their EEZs which embrace some 90 percent of the world's marine fisheries. Such extended national jurisdiction was a necessary but insufficient step toward the efficient management and sustainable development of fisheries. Many coastal States continued to face serious challenges as, lacking, experience and financial and physical resources, they sought to extract greater benefits from the fisheries within their EEZs.
The 2020 edition of The State of World Fisheries and Aquaculture has a particular focus on sustainability. This reflects a number of specific considerations. First, 2020 marks the twenty-fifth anniversary of the Code of Conduct for Responsible Fisheries (the Code). Second, several Sustainable Development Goal indicators mature in 2020. Third, FAO hosted the International Symposium on Fisheries Sustainability in late 2019, and fourth, 2020 sees the finalization of specific FAO guidelines on sustainable aquaculture growth, and on social sustainability along value chains.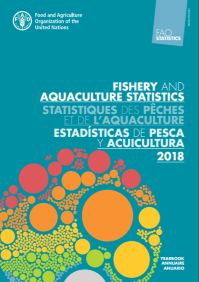 The FAO Yearbook of fishery and aquaculture statistics is a compilation of statistical data on capture fisheries and aquaculture production, employment, commodities production and trade, apparent fish consumption and fishing fleets.
L'Annuaire des statistiques des pêches et de l'aquaculture de la FAO est une compilation de données statistiques sur les captures, la production de l'aquaculture, l'emploi, la production et le commerce des produits halieutiques, les bilans alimentaires et les flottes.
El Anuario de estadísticas de pesca y acuicultura de la FAO es una compilación de datos estadísticos sobre las capturas, la producción de acuicultura, el empleo, la producción y el comercio de los productos pesqueros, las hojas de balance de alimentos y las flotas.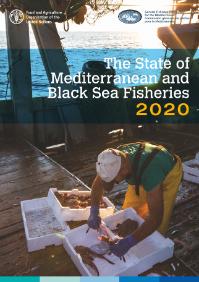 This third edition of the State of Mediterranean and Black Sea Fisheries provides a comprehensive overview of the status of fisheries in the region, looking at their main features and trends, in order to better inform their management and better examine current and future challenges that they will face in the near future. The aim of this report is to produce a document that could provide useful analysis and direction for decision-making and future action. In this respect, this publication also represents a convenient source of information for the FAO Committee on Fisheries and offers a practical complement to the data provided in the State of World Fisheries and Aquaculture published by the FAO Fisheries and Aquaculture Department. This volume includes seven chapters divided into two sections: a first part on the status and trends of different aspects of Mediterranean and Black Sea fisheries, including fleet, catches, socio-economic variables and bycatch, and a second part that focuses on the management of Mediterranean and Black Sea fisheries, including an overview on small-scale fisheries. This report is based to a large extent on the most up-to-date data available submitted by GFCM contracting and cooperating non-contracting parties, including information on stock status, national catches, fleet and socio-economic information up to 2018. It is also complemented with information from other sources.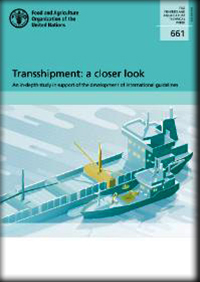 Transshipment is a widespread practice in marine capture fisheries, that has recently been associated with a possible risk of introducing catches derived from illegal, unreported and unregulated (IUU) fishing into the supply chain. This in-depth study was carried out in order to shed more light on the practice and make recommendations to inform future discussions on the development of international guidelines for the regulation, monitoring and control of transshipment. The report presents a background to the study, its approach and methodology, the key findings including possible elements of the guidelines, and discusses the main issues from the perspective of the risk of transshipment in supporting IUU fishing.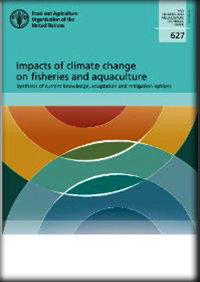 The 2015 Paris Climate Agreement recognizes the need for effective and progressive responses to the urgent threat of climate change, through mitigation and adaptation measures, while taking into account the particular vulnerabilities of food production systems. The inclusion of adaptation measures in the fisheries and aquaculture sector is currently hampered by a widespread lack of targeted analyses of the sector's vulnerabilities to climate change and associated risks, as well as the opportunities and responses available. This report provides the most up-to-date information on the disaggregated impacts of climate change for marine and inland fisheries, and aquaculture, in the context of poverty alleviation and the differential dependency of countries on fish and fishery resources. The work is based on model projections, data analyses, as well as national, regional and basin-scale expert assessments. The results indicate that climate change will lead to significant changes in the availability and trade of fish products, with potentially important geopolitical and economic consequences, especially for those countries most dependent on the sector.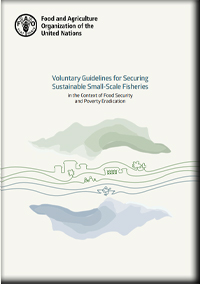 The Voluntary Guidelines for Securing Sustainable Small-Scale Fisheries in the Context of Food Security and Poverty Eradication (SSF Guidelines) represent the first ever international instrument dedicated to small-scale fisheries. They represent a global consensus on principles and guidance for small-scale fisheries governance and development. They were developed for small-scale fisheries in close collaboration with representatives of small-scale fisheries organizations in a participatory process between 2011-13, involving over 4000 stakeholders; facilitated by FAO, based on a mandate by COFI. They are directed at all those involved in the sector and intend to guide and encourage governments, fishing communities and other stakeholders to work together and ensure secure and sustainable small-scale fisheries for the benefit of small-scale fishers, fish workers and their communities as well as for society at large. They complement existing international instruments, such as the Code of Conduct for Responsible Fisheries, the VG Tenure and the Right to Food Guidelines. Underpinned by a human rights approach, the SSF Guidelines represent a critical instrument to empower small-scale fishing communities - including vulnerable and marginalized groups - to participate in decision-making processes, and to assume responsibilities for sustainable use of fishery resources. The SSF Guidelines are already referred to in a number of ongoing policy processes (Committee on Global Food Security: Principles for responsible investment in agriculture and food systems 41st CFS recommendations; NEPAD's policy framework and reform strategy for fisheries and aquaculture in Africa; Western Central Atlantic Fishery Commission (WECAFC), Resolution WECAFC/15/2014/8).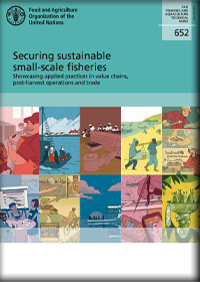 The SSF Guidelines recognize the right of fishers and fishworkers, acting both individually and collectively, to improve their livelihoods through value chains, post-harvest operations and trade. To achieve this, the Guidelines recommend building capacity of individuals, strengthening organizations and empowering women; reducing post-harvest losses and adding value to small-scale fisheries production; and facilitating sustainable trade and equitable market access.
This document includes nine studies showcasing applied practices and successful initiatives in support of enhancing small-scale fisheries value chains, post-harvest operations and trade, based on the recommendations contained in the SSF Guidelines. Cases presented have been chosen on the basis that they can be emulated elsewhere by small-scale fishery proponents including, but not limited to, national administrations, non-governmental organizations, civil society organizations, private enterprises, development agencies and intergovernmental bodies. An analysis of enabling conditions as well as related challenges and opportunities are discussed in each case.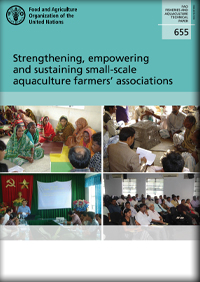 This technical paper presents three major sets of information resource: (i) five case studies from five Asian countries, (ii) the synthesis of the case studies and (iii) the report of the regional workshop that reviewed the case studies and the draft synthesis of the case study reports, provided additional science-based, professional, and experiential information, and developed recommendations to strengthen, empower and sustain organizations of small-scale fish farmers and related aquaculture-based enterprises.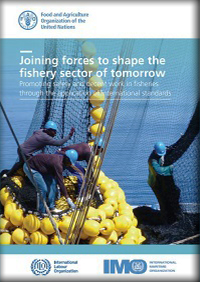 This brochure gives a summary overview of four international binding fisheries instruments (conventions and agreements) that promote the safety of fishing vessels, safety of fishers, training of fishers, and responsible and safe fisheries operations. This brochure has been prepared by IMO, ILO, and FAO to provide guidance to policy and decision-makers and other stakeholders in the fisheries, maritime, and labour sectors with a view to promote ratification and implementation of the following fisheries instruments:
The IMO (2012) Cape Town Agreement (CTA)
The IMO (1995) International Convention on Training, Certification and for Fishing Vessels Personnel (STCW-F)
The ILO (2007) Work in Fishing Convention (C188)
The (2009) FAO Agreement on Port States Measures to Prevent Deter and Eliminate Illegal, Unreported and Unregulated Fishing (PSMA)