Kompong Phluk Community Fisheries (CFi)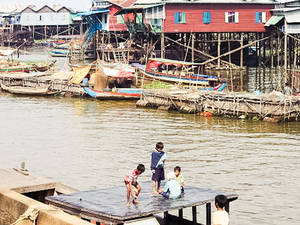 Kompong Phluk Community Fisheries (CFi) was established in 1999 supported by FAO. Kompong Phluk Fisheries Community is located in Prasat Bakong district, 12 km from National road # 6. The CFi has 3 permanently settled villages: Dey Krahom, Thnaut Kombot and Kok Kdols and it borders the Tonle Sap to the South, fisheries protected areas to the North, Danrun to the East and Chong Khneas CFi to the West. The CFi areas is 14,293 hectares and is inundated 6-8 months during the rainy season. During the rainy season people live in their villages but during the dry season 60 % of the families move closer to the shores of the Tonle Sap for fishing and move back when rains come again.
Kompong Phluk has 48 hectares high density inundated forest, which mostly include species like Baringtonia, Cocoscera among others. So far, the forest height is about 15 meters. The history of forest management in Kompong Phluk CFi dates back from 1916. At that time there were only 5 families who made a living by fishing and farming crops. By 1925 the population had increased and people began clearing forest to cultivate watermelon, maize and sesame. The impact of forest destruction was realized when the communities felt vulnerable from strong winds during rainy season. In 1930 the people decided to protect their forest to ensure regeneration. This area was also reserved as a burial place for the dead during wet season.
The belief in the sanctity of the forest as a place where the dead were made to rest worked as an important indigenous knowledge tool and helped to conserve the forest and ensured regeneration for 70 years. it is believed that before 1940 Kompong Phluk was very rich in biodiversity that included fish such as the Giant cat fish, dolphins, Trey Proma and many other fish which are now very rare or extinct and wildlife such as water birds, storks, pelicans, boas, Cabras, Monkeys and big wild cats. In 1980 the upland farmers moved to the inundated forest and cleared much of it to plant mung beans and watermelon. But in 1995 the authority and the local commune stopped this activity to allow for forest regeneration. In 1999 with initiation from FAO and participation of local people, the Community Fisheries were established to manage and conserve natural resources sustainability.
Fishing is the most important livelihood activity in CF with about 94 % fishers. Other livelihood activities include fish trading, middlemen, retailers, fish processors, piggery, fish cage culture, vegetable growing and 6 % moneylenders and mechanic. Fishing gears use, include mainly gill nets, shrimp traps (Konsom and Sai yun), Small fish traps, long lines, seine nets and arrow fence traps. Average fish catch per family/week is 30-60 kg with a daily fish consumption of 2 kg. Fish is usually sold fresh but processing by smoking, sun drying and fermenting into Prohok is very common as well.
Kampong Khelang Community Fisheries (CFi)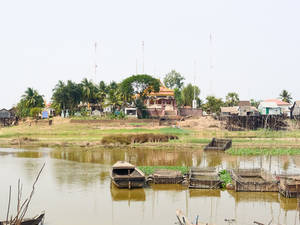 Kampong Khleang Community Fishery has established in 1998 supported by FAO project. It is located around 30km from Siem Reap province by road. Kampong Khleang CFi is composed of 9 villages with total 9,715 people. People mainly in high stilted houses in order to cope with the seasonal inundation of water from the nearby Tonle Sap lake. The Tonle Sap Environmental Management Project (TSEMP) of ADB loan has continued support to do the re-election CFi committee as 2nd round in 2004.
Occupations
Fishing Activities – Fishing is the main income sources of the people in the area. People fish according to the seasons and use many types of fishing gear such as shrimp traps, which are produced within the villages and is hand made by the fishermen. Shrimp fishing is an important part of the fishing activity. People can usually harvest shrimp every day for consumption and sale. During recent interviews with CFi members, they said that the average shrimp price is around 2000-2300riels per kilogram. Fishermen also use small scale fishing equipment but they can catch little fish per day due to the declining fish catch, therefore in the last few years they have seen their family income reduce. The fish sanctuary in the CFi will play an important role in increasing fish stocks.
Fish Processing – Fish processing is an important in the area as villagers seasonally make fermented fish paste and also dried and smoked fish. The Tonle Sap Environmental Management project has supported the CFi members with equipment for making hygienically dried shrimp. Solar driers, marketing materials and packaging were provided with training, to help the community members obtain a better income from their dried shrimp.
Farming – Mung bean cultivation is a further livelihood of the people in the area. People use the land along the river for growing mung beans during dry season, starting from early January every year. The mung bean crop cultivation is the secondary source of income among the farmers. Many farmers who practice mung bean cultivation use pesticides and chemical fertilizer. Particularly in this area because of intense mung beans cultivation, there can be impacts from the pesticides on the aquatic environment and famers' health. Livestock Raising - Even though the area is seasonally flooded, people still practice pig raising on a family scale. The majority of the villagers favour pig raising because it can contribute income to their family and because pigs eat the residue of kitchen garbage and low grade fish that is available in the area.
Flooded Forest
Within the CFi, there are nearly 9,000 ha of high density flooded forest. However, some flooded forest inside the CFi has been degraded by dry season rice cultivation. A report from the CFiC estimates that there are around 200ha of flooded forest which have been cut and changed to dry season rice.
The CFi is now working to protect their flooded forest as part of their Community Fishery Area Management Plan. The CFiC note that education campaigns are an affective way to promote people to participate in protecting the area.