Forests for socioeconomic development and food security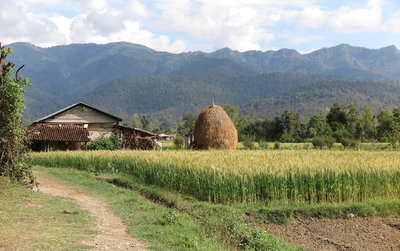 Forests sustain life
It is estimated that over 2.4 billion people worldwide depend on forest goods and services for the direct provision of food, wood fuel, building materials, medicines, employment and cash income, making forests fundamental to the livelihoods of about one-third of the world's people – rural and urban, women and men, young and old. Forests are not only important for the people who live in them, but also for those living in adjacent landscapes.
Read more
Read more
Community-based forestry is a demonstrated cornerstone of sustainable forest management, delivering significant and long-term social and economic benefits to local communities by improving livelihoods, increasing food security and incomes. Tangible benefits include: improved forest conservation and management; the growth of community-level institutions; increased social capital; and contributions to economic development and poverty reduction.
Beyond these socioeconomic benefits, there is increasing evidence that securing forest rights for indigenous peoples, local communities and smallholders will also assist in climate-change mitigation. Yet outstanding challenges exist to attain meaningful socioeconomic development and food security benefits from forests, including insecure tenure, overly complex and restrictive regulatory frameworks, limited ability to organize, negotiate and engage in decision-making, and poor access to forest resources, information, services and markets for small and medium-sized forest enterprises.
Objectives
• Raise awareness on the contributions that community-based forestry and forest-and-farm producer organizations make to sustainable forest management, climate-change adaptation and mitigation, sustainable livelihoods, food security and nutrition.
• Discuss the key challenges and opportunities facing community-based and farm forestry in realizing tangible social and economic benefits for local communities.
• Generate innovative policy and practical recommendations, including multi-stakeholder platforms, to address the bottlenecks and explore emerging institutional best practices.
• Develop a roadmap containing clear strategies by which governments and stakeholders can scale up community-based forestry and develop the next generation of truly people-centred forest-and-farm management regimes.