Kigali, Rwanda | 20 - 21 August 2018
Over sixty percent of Africa's estimated 1.2 billion people are under the age of 25; yet with little job creation currently in the rural areas where the majority of the population resides, there is a growing uncertainty over the continent's preparedness to tap this resource. Tens of millions of jobs will have to be created each year in rural areas for Africa to harness the dividends of this youthful population.
Considering agriculture as an essential driver of economic development and an area of great opportunities for young people in Africa, harnessing opportunities in agribusiness entrepreneurship and innovations, including in ICT innovations, along the value chains, contributes to improving the sector's image, increases productivity and returns to investment and provides new employment opportunities, hence attracting more young people.
14/11/2018
Serge Auguste Zaonogo from Burkina Faso has won the Radio France Internationale (RFI) Challenge App Africa for his invention 'Saagga' - an electronic mapping system that optimizes irrigation in the agricultural sector, permitting management [...]
Objective
The conference aims to foster an exchange among stakeholders on knowledge and best practices regarding the interfaces between agriculture, youth employment, entrepreneurship, ICT innovations, leading to prioritizing interventions going forward.
Themes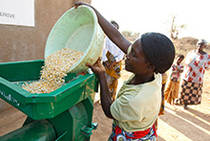 Youth and entrepreneurship
Will focus on solutions that offer new opportunities for youth entrepreneurship, along the agricultural value chains. This theme will look at policy, financial and leading examples of incentives to foster youth-led or youth-focused business services.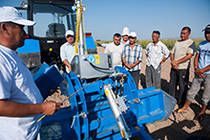 Digital innovation to overcome agriculture value-chain related constraints
Will focus on technological solutions that support youth-related innovation and modern production technologies in agriculture; solutions to foster youth-led or youth-focused networking.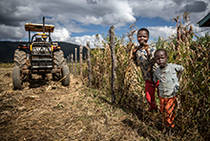 Future of Agriculture Work
Culminate the conference with a dialogue on a framework and roadmap that will transform "agriculture Work for youth in Africa". This lays a broad framework and course of action towards steering the course of future interventions.
Side events
Parallel to the main conference, will be three main side events:
#HackAgainstHunger/Africa
19-20 August, young innovators will #HackAgainstHunger to develop innovative solutions for youth employment in food and agriculture across Africa.
Youth in Africa have the potential to revolutionize the food and agriculture sector and generate economic growth. FAO is seeking innovative business models and new technologies to unlock the largely untapped reservoir of youth employment.
Teams will harness new technologies, receive coaching from FAO and partner experts, and accelerate innovative ideas around youth-led and youth-focused entrepreneurship and employment. The top ideas will present their pitch to a panel.
Virtual consultations
Prior to and during the conference, to ultimately involve more youth, a virtual consultation would be set up through a youth in agriculture platform. The virtual consultation will obtain inputs and views from the youth in the thematic areas and be engaged in the interactive sessions. Videos will also be streamed; post-conference interviews and other types of media coverage will be considered.
Exhibition of innovative products and services
An exhibition of innovative products and services for agriculture and rural development by youth and youth-led organizations from across Africa will be organised, as well as a networking/match making space for the youth and potential investors.