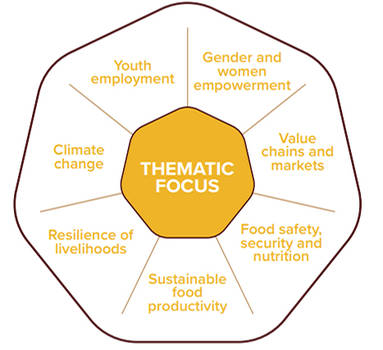 The Sustainable Development Goals and the Africa's Agenda 2063 define the context in which FAO collaborates with its partners to advancing Africa's development priorities over the next decades.
Launched in 2013, the ASTF provides catalytic and flexible funding to Africa-to-Africa initiatives on food and agriculture, at regional and country level. As a FAO initiative, the ASTF already proves its success rating as an innovative African-led instrument for sustainable development.
By unlocking the potential of intra-African cooperation to bring about rural transformation, the ASTF is a unique funding mechanism that pools resources from Africa to address critical gaps in the development agenda of African countries. Harnessing homegrown knowledge, technology and good practices for food and nutrition security is at the core of this initiative.
Governance
The Fund is governed through the Steering Committee (SC) and the Fund Assembly (FA). These two bodies decide on priorities and approve proposed activities, based on a set of criteria. The implementation of funded activities is coordinated and directed by the Programme Management Unit. The FA serves as a consultative forum, where members share information on achievements, lessons learned and emerging issues to advise the SC on future development of the Fund.
The new phase of the ASTF - an expanded partnership
The replenished ASTF seeks to expand its reach in terms of both volume and scale of impact through three key components:

Accelerated and targeted action to support the implementation of the SDGs at country level with a view to achieving collective outcomes at regional level.

Strengthened cooperation to harness intra-Africa development solutions while fostering knowledge creation and dissemination among Africa's Centres of Excellence.

Innovative financial modalities that include financial streams from African countries and from partners of Africa:
Africa to Africa funding window - building on the lessons from the first phase with enhanced African contributions.
Africa's Partners funding window - which promotes the 'friends of Africa' concept while enabling contributions from development partners such as bilateral and multilateral resource partners as well as partnerships with the private sector and other capital providers.