Key achievements by thematic areas
The programmes and projects implemented under ASTF had different priorities, and most addressed more than one thematic area. Notably, four broad thematic areas were supported:
Agribusiness, value chains and youth employment

Resilience and livelihood supports

Food safety, security and nutrition

Women empowerment
Over the past five years, results of these projects demonstrated the vital role of ASTF as an Africa-led initiative that has benefitted hundreds of thousands of rural people, women, youth and children across the continent through diverse initiatives that sustainably increased productivity, addressed pest and diseases, ensured food security, nutrition and food safety, created jobs and increased income. It enabled FAO to assist African countries in addressing agricultural issues linked to food security and nutrition, natural resources management, and climate change, while addressing gender and women empowerment as well as rural employment and resilience to livelihoods. The ASTF initiatives have also strengthened capacity and fostered intra-Africa collaboration in food and agriculture.
Transforming lives in Uganda
Transforming lives in Uganda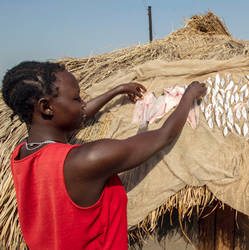 The area of Lira in Acholi in eastern Uganda continues to face specific challenges as a legacy of the civil war, which came to an end in 2006. The ASTF supported activities built on a long history of FAO engagement in the district focussing on youth groups.
Before being enrolled in ASTF project activities, the beneficiaries did not have any sources of income or capital for investment in agriculture activities other than subsistence. Some of the youth involved in the project are orphans who are in school and who needed support. One youth group has combined several activities to provide a regular income stream involving aquaculture, rabbit rearing, producing tree seedlings and poultry. Initially, the youth group leaders had to organize travel to Kampala to buy fingerlings and transport back overnight. These can now be obtained in the district, because of the project.
Apart from the commercial aspect, the project has provided direct support to the 750 students of the Lira integrated school. School feeding include 150 of the youngest children, and the children now eat fish once a week. According to the beneficiaries, "the ASTF project has helped to change life in the community; people can now do things differently". They said "investment in aquaculture is better than investment on same portion of land for crop production or rearing livestock".
In the area, the programme also created public-private partnerships supporting small-scale private businesses with a focus on youth. One such business is the New Harmony farm, which now serves as a form of social enterprise. The farm is economically self-sustaining but with social objectives working with young orphans, for vocational training, independence and development of youth employment prospects.
Story: FAO African Solidarity Trust Fund interventions transforming lives in Uganda
Intra Africa South-South Cooperation through peer-to-peer learning
Intra Africa South-South Cooperation through peer-to-peer learning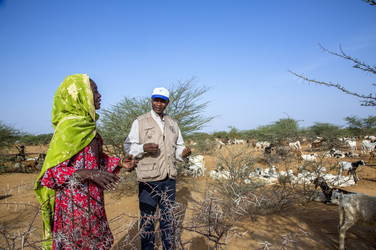 South-South Cooperation (SSC) is an expression of solidarity that promotes two-way learning and cooperation based on the principle of equality and a genuine desire for mutual development.

It has boosted the sense of confidence and self-development and interdependence amongst the countries of the South. In order to nurture that self-development, the ASTF has supported peer-to-peer learning mechanisms including study tours, exchange visits, and production of information and communication materials.

A peer-to-peer SSC exchange of experiences was organized through a study tour for Ethiopians to Ghana. The study tour focused on agricultural mechanization including animal traction, tractor based mechanization, intermediate mechanization and post-harvest mechanized equipment.
The exchange of experiences and lessons learned helped Ethiopia to elaborate and implement its mechanization strategy. In return, technical officers from the government ministries and civil society in Ghana went on a study tour in Ethiopia to learn about the web-based e-Monitoring and Evaluation and Reporting System.

Similarly, technical officers from Niger went on an exchange visit to Tunisia to improve awareness at country and regional level on good practices in establishing the Food Security and Nutrition (FSN) policy enabling environment.

Exchange visits held between Rwanda and Uganda enabled 11 participants from Rwanda to learn from good practices in small-scale irrigation in Uganda.
Around 30 participants from Kenya, Uganda and Zambia visited Zimbabwe to share experience in climate smart agriculture and conservation agricultural practices. Exchange visits were also organized on sustainable cassava value chain for the Democratic Republic of the Congo, Chad and Cameroon for 11 participants in Cameroon.

A study tour for 25 Western and Central African Farmer Field School facilitators from 11 countries in Kenya focused on learning from climate change adaptation practices in agro-pastoralism field schools.

News: FAO, Ghana and Ethiopia team up to enhance agricultural mechanization
ASTF empowering rural women
ASTF empowering rural women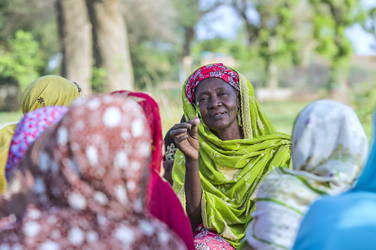 Traditionally, rural women do much of the agricultural work in Africa. Women are also taking on more agricultural work as men migrate to urban areas for casual labour and generate off-farm incomes.

The increasing role that rural women play in smallholder agriculture provides an important opportunity to positively impact food production and security in a changing climate. It has been estimated that if rural women had the same access to agricultural resources as men, yields could increase by 20–30 percent and the total number of hungry people around the world could be reduced by 12–17 percent. Therefore, empowering rural women is a critical step in achieving Africa's aspirations in terms of food and nutrition security.

The ASTF programme activities consisted of replicating successful FAO participatory approaches, using the Dimitra club model as an entry point, which promotes rural women and men's socio-economic empowerment and consolidates the resilience of their livelihoods.

The Dimitra clubs approach was employed based on its successful results in earlier projects, which include behavioural changes, improved food and nutrition security, better access to information and to opportunities and women's participation in decision-making and leadership.
The programme instilled use of gender-sensitive participatory approaches to contribute to more equitable access to and control over resources and to gender equality, through the functioning of the clubs and training provided. The programme is also expected to have an impact at the household level through more equitable distribution of incomes and gender roles within households, as well as impacts at the community level through spill-over effects.

News: FAO Regional Conference for Africa boosts the Africa Solidarity Trust Fund (ASTF)
Smart fish farming in Guinea-Bissau
Smart fish farming in Guinea-Bissau
In the village of Pitche in the very east of Guinea-Bissau, the project introduced floating cages for fish culture and cassava farming to attract unemployed youth to venture into agri-business. So far, villagers had only engaged in subsistence fishing, but none had ever engaged in aquaculture. A special business model was designed with so-called "core" farmers, land owners, who then collaborated with young "satellite" farmers.

FAO provided all the materials — construction materials, nets, tools — and the fingerlings and fish feed. The fish cages were designed to be deployed either in a river or in an estuary and filled with tilapia fingerlings from Senegal, two species, according to their natural habitats. The selected youth were trained by consultants from Senegal in cage assembly, mooring techniques, cage management and record-keeping on the growth performance of fish.

The youth were left on their own to feed the fish and maintain the cages. Then the day arrived for the first big harvest. The cassava had performed well and harvests between one and four tonnes were recorded, a great successes for the cassava farmers. On one fine day, half of the villagers had appeared on the river bank to watch the fish harvest. Appreciation was expressed for FAO's role in the project to rear fish and grow cassava. Amid all the fish talk, however, an elderly lady said that FAO, through the cassava and fish project, had stopped migration from the village. That was a sobering moment and a real eye-opener to project staff.

During each cycle, the young people farm about 90 000 fish or about 22.5 tons of fish. Per year, this amounts to about 45 tons of fish. The fish and cassava initiatives led to people seeing life in their village in a different way. Those who have been dreaming about "escaping" their village, have started seeing the advantages of staying. "I gave up the idea of migrating when the project started. Some of our friends who had unsuccessfully attempted to migrate to Europe have now returned and joined the project," said Abbas Embalo who is part of the cassava growing initiative. The young fish farmers are keen on continuing to broaden their knowledge and learn from their experiences, and save enough money so that they can expand their fish farms.

Story: Floating cages, hidden treasures: smart fish farming in Guinea-Bissau
Promoting urban and peri-urban agriculture in Central Africa
Promoting urban and peri-urban agriculture in Central Africa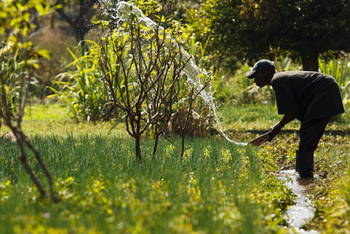 Madzou is a farmer and the president of the Agri Espoir cooperative of the Mingara district of Gabon. He grows eggplant, okra, chilli, parsley, celery, chives, lettuce and supports of the 11 dependants through the products of its activity. In 2014, Mr Madzou became a beneficiary of the ASTF supported subregional programme. He learned new techniques such as crop rotation, spacing and alignment of plants, disease control and pests. Mr. Madzou appreciated the provision of agricultural equipment, seeds, pesticides and fertilizers, and he is grateful to FAO in particular for the training provided.

All products are sold at the local market of Potos in Franceville. Despite the competition, he can sell everything, and has established commercial relations with many resellers. With the project, Mr. Madzou believes that his financial gains have tripled, and he was able to buy land and materials to build a house, which he plans to rent in order to diversify his sources of income. This increase in income allows Mr Madzou to provide for the needs of his six children, his two nephews, and his grandson.

The development of urban and peri-urban horticulture in Central Africa 2014-2017 (Only in French)
Fish farming in Kenya
Fish farming in Kenya
Joyce Makaka is from Lurambi, Kakamega County, in western Kenya, a region where land is traditionally controlled by men. When her husband passed away in 2014, Joyce had to overcome many challenges to develop a thriving tilapia and catfish farming business. Through the ASTF, FAO provides training and support to improve production at all stages in the aquaculture value chain (e.g. fish hatcheries, nursing farms, grow out, and marketing).

Joyce received training on her fish farm, and learned about catfish and tilapia fingerling production. For Joyce the support she received from the ASTF was extremely important, but she says "most of all the programme has given me the morale that I can do it". Joyce's fish farming business has become successful thanks to the training she has received and she is creating employment opportunities for several youth working in pond and hatchery construction.
Supporting young rural entrepreneurs in Africa
Supporting young rural entrepreneurs in Africa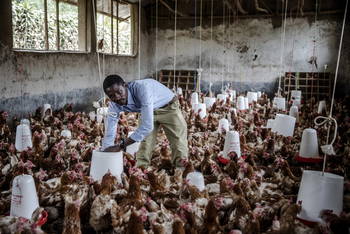 The ASTF project distributed layers to beneficiaries in Bugesera, Gakenke, Gisagara and Ruhango districts with the aim of diversifying agriculture, reducing poverty and improving nutrition in rural Rwanda. The project is directly supporting 225 beneficiaries including unemployed rural youth.

Eric Hakizimana, a resident of Bugesera District, is one of the beneficiaries of the project. For Eric, a year had passed without a job after completing a course in Computer Science and Management. After being trained by the project in business management and poultry farming skills, in December 2015 he received 330 layer chicks and a well-built poultry house with feeds. When the hens began laying eggs, he earned Rwf 150 000 per month.

He then sold the chickens when they stopped laying eggs, fetching Rwf 700 000 that he used to restock his poultry farm with 630 chicks. Hakizimana said "I restocked in January this year. After 5 months, I now sell eggs worth Rwf 400 000 per month. I looks forward to expanding my poultry to 10 000 birds by 2021".

Jeanne Aurore Umuhoza, another beneficiary from the project in Gisagara District was also supported. She now has 627 layers, which lay 3 150 eggs per week generating at least 130 000 per month. Her business now employs two young people, and she hopes to employ more when the business expands. Jeanne says "I plan to purchase an incubator and shift from importing chicks. I want to have at least 5 000 layers by the end of this year."
Project: Promoting Agricultural Diversification to Reduce Poverty, Fight Malnutrition and Enhance Youth Employment Opportunities in Eastern Africa
Strengthening SPS capacity in southern Africa
Strengthening SPS capacity in southern Africa
The southern Africa region lacks capacities for monitoring of trans-boundary pests and diseases, and the implementation of national obligations under the Agreement on the Application of Sanitary and Phytosanitary (SPS) Measures of the World Trade Organization (WTO).

The ASTF programme conducted baseline surveys and assessments on the national status of SPS capacities in the target countries, to identify gaps and constraints within the five technical sectors for SADC, namely plant health, animal health, food safety, fisheries and forestry. SPS capacity development was implemented, targeting the priority needs identified in the baseline surveys and assessments. On average over 25 technical staff members were trained per country on several aspects of SPS measures representing plant health, animal health and food safety. Because of the improved surveillance skills, targeted surveillance programmes were established in several countries in the region.

This has improved regulatory frameworks to enhance communication and coordination at national level and within the region. This greatly improved the implementation of the WTO-SPS agreement, which establishes how governments can apply food safety and animal and plant health measures in their countries.

The programme has also contributed significantly to enabling countries in the region to respond promptly to outbreaks of transboundary pests by strengthening capacities for surveillance and reporting obligations of transboundary pests and raising governments' awareness on emerging pest problems.

News: ASTF project tackles food security, trade constraints in Southern Africa
Projects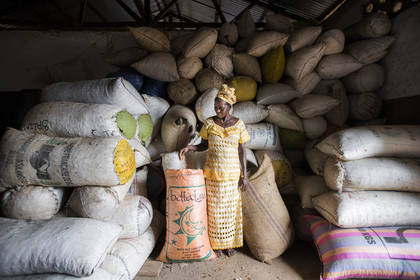 With an initial USD 40 million from Equatorial Guinea, Angola and symbolic contributions from civil society organizations, the ASTF enables FAO to assist African countries in addressing agricultural issues linked to peace, food security and nutrition, employment, environment and climate change, while creating a positive impact locally.