Data on family farming
In recent years, family farming has been strongly positioned on the public agendas of the countries of the region and the world. Starting with the International Year of Family Farming in 2014, and the subsequent declaration of the United Nations Decade for Family Farming 2019-2028, countries and farmers' organizations have expressed the importance of having accurate and robust data and information about their sector.
To meet this growing demand for information and evidence to support public policy decision-making for family farming, FAO has made the Regional Technical Platform for Family Farming available to governments, seeking to accurately identify and characterize this important sector, with the objective of promoting its development and encouraging the generation of initiatives that allow a recovery with transformation.
The data presented in this section comes from the analysis of microdata from National Agricultural Censuses of different countries in the region. This represents a work-in-progress that will be updated based on the availability of new data sources that help to characterize family farming.
Family farming represents the majority of the world's agricultural production units, which makes it an important actor in rural areas, the agricultural sector and agri-food systems.
In Brazil, Colombia, Ecuador, Nicaragua and Peru there are a total 8.3 million Agricultural Production Units (APUs)1 managed by family farmers, which represent 77.2 percent of the total production units in these countries.
Figure 1. Percentage of Agricultural Production Units managed by family farmers and non-family farmers


In terms of agricultural area, the share of family farming is more limited, occupying around 21 percent of the total area in Brazil, Colombia, Peru, Ecuador and Nicaragua.
Figure 2. Percentage of area for ​​agricultural use in the hands of family farmers

In Brazil, Colombia, Peru, Ecuador and Nicaragua, the access of family farming APUs to technical assistance is limited, with figures ranging between 5.9 and 18.17 percent. In all of these countries, APUs of less than 2 hectares have lower access rates than the average.
Figure 3. Percentage of family farming APUs with access to technical assistance
In Peru, Nicaragua, Colombia, Ecuador and Brazil, nine out of 10 family workers in the agricultural sector work in family farming. Family workers are those members of the household who participate in agricultural activities carried out in the APU, usually on an unpaid basis.
Figure 4. Percentage of family workers in the agricultural sector in family farming APUs
On average, each family farming APU in Brazil, Colombia, Ecuador, Nicaragua and Peru requires the work of between one and three members of the family group. In total, it is estimated that more than 18 million family workers work in this APUs. The average number of family workers is relatively similar in all farm sizes, with the exception of APUs of more than 500 hectares in Brazil.
Figure 5. Average number of family workers in family farming APUs
Although there is some heterogeneity, most of the area used for family farming is allocated for food production, with crops of cereals, tubers, vegetables and fruits, while non-family farming shows a greater share of agro-industrial crops and pastures.
Figure 6. Distribution of cultivated area in family farming by type of crop
While much of small-scale farming is family farming, not all family farming is on a small scale. Within family farming, medium-sized productive units (greater than 20 hectares and less than 250 hectares) make an important contribution to the family production of cereals, vegetables and tubers in countries such as Nicaragua and Colombia.
Figure 7. Distribution of cultivated area of ​​cereals, tubers and vegetables, by size of APU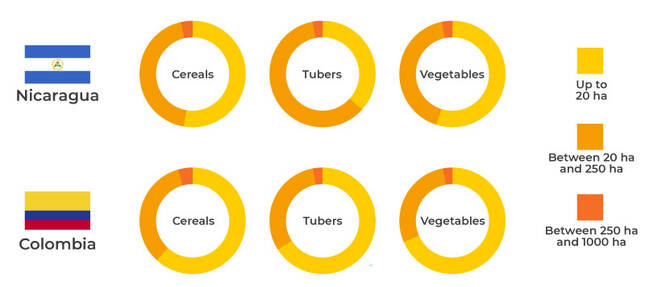 Family farming plays an important role in the production of export products, such as coffee and cocoa. In Colombia, more than 50 percent of the productive units of these crops are in the hands of family farmers, a figure that reaches 77 percent in Brazil, 80 percent in Nicaragua and 90 percent in Peru. In terms of the area planted, the contribution of family farming ranges from 29 percent of coffee in Colombia to 92 percent in Peru, with similar figures in the case of cocoa.
Figure 8. Percentage of APUs managed by family farmers and area cultivated with coffee and cocoa

Cereals and tubers are crops that are mostly used for self-consumption by family farmers. However, not all food production is for family consumption. In Peru, more than 80 percent of fruits and vegetables are destined for sale.
Figure 9. Percentage of the cultivated area used for self-consumption and for sale, by type of crop

Family farming contributes a large part of milk production, reaching 64.2 percent in the case of Brazil, 53.3 percent in Nicaragua and 24.3% percent in Colombia. In the case of Nicaragua, family producers of up to 20 hectares use 52.2 percent of their production for self-consumption, while in larger APUs most of the production is destined for the sale and production of dairy products.
Figure 10. Participation of family farming in milk production and distribution by production use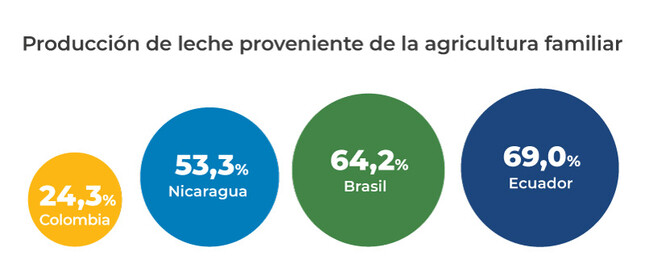 More than 80 percent of the honey production units in countries such as Brazil, Nicaragua and Peru are in family farms. Most of these are less than 20 hectares in size, and account for 60-80 percent of hives nationwide.
Figure 11. Participation of family farming in honey producing APUs and total hives