FAO: Without proper water management, we will not be able to guarantee food security
FAO´s Regional Representative participated in the Regional Water Dialogues in Latin America and the Caribbean organized by ECLAC. Countries signed the first Regional Water Action Agenda.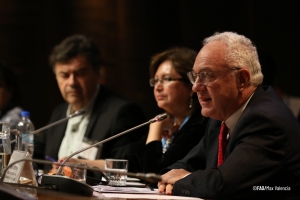 February 6, Santiago, Chile - Latin America and the Caribbean agreed to create and implement a Regional Agenda for Action for Water, which aims to advance in the achievement of Sustainable Development Goal 6, which seeks to ensure water availability and sustainable management and sanitation for all.
The agreement was reached during the third edition of the Regional Dialogues on Water in Latin America and the Caribbean, which took place from1-3February   at the headquarters of the Economic Commission for Latin America and the Caribbean (ECLAC) in Santiago.
"According to FAO estimates, by 2050, world food production will have to increase by 50% compared to 2012 to meet the growing demand for food. If current conditions don´t change, this would require at least 35% more freshwater, one-third more," assured Mario Lubetkin during his speech at the event, highlighting the importance of this water resource to ensure food security worldwide.
"Recent reports estimate that agriculture absorbed 80% of all droughts related damage and losses in low- and middle-income countries, and 35% of global food losses due to drought occur in Latin America and the Caribbean. This represents production losses estimated at approximately USD 13 billion," said the FAO Regional Representative.
"Without proper water management, it will not be possible to implement the UN Food Systems Summit's five courses of action of the UN Food Systems Summit in 2022, which established: Ensure access to healthy and nutritious food for all; Adopt sustainable consumption patterns; Promote nature-friendly production; Promote equitable livelihoods; and Build resilience to vulnerabilities, shocks, and stresses.
Adopting the Regional Water Action Agenda will allow Latin American and Caribbean countries to arrive with common inputs and a joint position at the United Nations Water Conference, which will be held in March at the United Nations headquarters in New York.
The Agenda emphasizes that the region needs to move towards a sustainable and inclusive water transition based on four action pillars: Guaranteeing the human right to safely managed drinking water and sanitation through a big investment push in the sector, leaving no one behind; Promoting regulatory changes to facilitate equitable and affordable access, and thereby eradicate water poverty, using innovative instruments including social rates; Reverse the growing negative externalities associated with pollution, overexploitation and socio-environmental conflicts by promoting oversight and regulation; and Moving from linear to circular management to reduce pressure on water resources, establishing a trend to decouple extraction from Gross Domestic Product (GDP).
Last November, FAO organized the Global Dialogues on Water, concluding that water, sanitation, health, ecosystems, oceans, energy, food systems, and nutrition are completely interrelated.
Water, a resource in crisis
Climate change is currently placing unprecedented stress on the world's water resources. According to FAO data, 300 million people live in countries suffering from water scarcity. More than 733 million - approximately 10% of the world's population - live in countries with high and severe water stress. In recent years, we have seen the impact of climate on water, causing floods and droughts never seen in many countries and regions.
In addition, agriculture depends on water and accounts for 72% of global freshwater withdrawals and other economic sectors, making it an essential element for the 2030 Agenda for Sustainable Development. While awareness of the importance of water for agriculture and sustainable development has increased, FAO argues that more effective, integrated, and coordinated action, coupled with a solid political will to recognize, value, and manage water in a holistic and integrated manner, is still needed to achieve all the SDGs.