Goat and sheep production in the Caribbean set to improve thanks to FAO artificial insemination workshops
In light of challenges faced in obtaining goats of high quality breeding stock, farmers in several Caribbean countries are relying increasingly on the importation and utilisation of frozen semen to improve the genetic stock and diversity of their goat and sheep herds so as to increase both the production capacity and productivity of the animals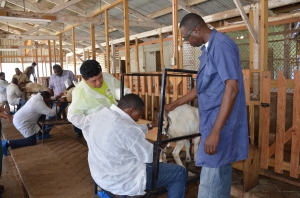 (Bridgetown, 30 July 2015) – The Food and Agriculture Organization of the United Nations (FAO) is playing an active role in improving the production and productivity of livestock development in the Caribbean through the provision of practical training workshops on small ruminant breeding technologies, with a focus on artificial insemination (AI) in goats. The FAO is also lending support to the work of the Inter-American Institute for Cooperation in Agriculture (IICA) in AI in sheep in Barbados.
Many goat and sheep farmers in the region repeatedly say that they face enormous
difficulty in obtaining high quality breeding animals for their herds due to the considerable expense and risk involved in importing live animals from overseas and from other Caribbean countries, indicated Dr Cedric Lazarus, the Regional livestock development officer of the Food and Agriculture Organization of United Nations (FAO).
In light of these challenges, farmers in countries such as Jamaica are relying increasingly on the importation and utilisation of frozen semen to improve the genetic stock and diversity of their goat and sheep herds so as to increase both the production capacity and productivity of the animals.
Training sessions have been held in Jamaica, Barbados and Guyana, to impart skills and techniques in goat and sheep AI and best practices in small ruminant breeding programme management to livestock technicians and farmers.
The FAO and the Guyana Livestock Development Authority (GLDA) recently organised a goat AI training session for livestock technicians from Dominica, Grenada, Suriname, St Lucia and Guyana in Guyana in July. The training session was a follow-up on a similar exercise which was held in Jamaica in May 2015 for technicians from Antigua, Dominica, the Bahamas, Belize and St Kitts/Nevis.  
So far a total of twenty-five livestock technicians from the region have been trained in goat AI technique under the FAO programme. The sessions were organised under FAO's ongoing regional small ruminant development project, which is being implemented in ten Caribbean countries. Each of the five-day sessions sought to lay a solid technical foundation that will ensure that countries can successfully implement and manage a goat artificial insemination programme, with the aim of modernising and strengthening small ruminant development in the Caribbean so that the sector can better meet the challenges of addressing food and nutrition security.
In both workshops, the trainees were exposed to the intricacies of managing a modern AI laboratory including how to perform quality control analyses of fresh and frozen semen and how to handle and prepare semen that is to be frozen in liquid nitrogen for later use.  Over two days, each participant practised the AI technique on a number of female goats under the watchful eyes of the trainers.  The training prepared the participants to perform the technique, as well as to train other technicians and farmers.
It is anticipated that the sessions will have equipped the technicians with the tools and knowledge to aptly advise their respective ministries or small ruminant farmers' organisations on how best to organise and implement an AI programme in their respective home countries. In those countries where a cattle or swine AI programme already exists, it is expected that the goat AI programme will build on and be supported by the infrastructure that has already been established for AI in those other species.      
Recently, the FAO also lent support to an IICA/Mexico Blackbelly sheep AI insemination workshop for Barbadian sheep farmers and government officers, which took place 22-24 June at the Greenland Agricultural Station in St. Andrew, Barbados.
Training exercises in nutrition and feeding will be held later in the year to support the development of the goat and sheep sector.  
Although CARICOM countries consume over 11 million kilograms of goat and sheep meat annually, only about 30 per cent of this amount is produced locally. In order to reverse this trend, a number of issues that are critical to building a sustainable small ruminants industry must be addressed. These include the development of appropriate livestock policy, ensuring that appropriate breeding programmes are in place and the strengthening of the value chain in which the small ruminant farmers participate.   
AI has been used in many developed countries as an effective breeding tool for goats for many years. With this technique, goat farmers can rapidly improve the genetic stock of their herds by using frozen semen from superior bucks; such semen may even be sourced from other countries or regions. In addition, once the expertise is available, fresh semen from superior bucks on one farm within a country or region can be collected and used to inseminate animals on other farms. In this way, farmers with superior bucks can generate additional income through the sale of semen as is the norm in some developed countries.   
The introduction of a comprehensive breeding programme with an AI component should contribute to an increase in the numbers of high quality animals available for breeding, a reduction of the incidence of in-breeding on farms and eventually, the availability of higher quality cuts of meat for the consumer. In both Trinidad and Jamaica, in addition to AI, embryo transfer is also being explored as a breeding tool to rapidly improve the genetic composition of goat and sheep herds.
The FAO continues to collaborate with other regional development agencies such as CARDI and IICA to develop and expand the small ruminant sector so that the reliance on imports can be reduced. In addition to implementing genetics and breeding programmes, emphasis is also being placed on overall management of small ruminant farms, as well as feeding, nutrition and marketing.