FAO: Latin American and Caribbean aquaculture production could rise nearly 40% by 2025
Employment in the fisheries sector has grown moderately, the level of catches has fallen while aquaculture production has grown at high rates.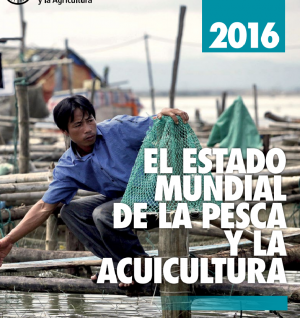 July 7, 2016, Santiago, Chile - The new FAO report, The State of World Fisheries and Aquaculture 2016 2016 (SOFIA) predicts a significant expansion of aquaculture production in Latin America and the Caribbean, which could reach 3.7 million tons in 2025, an increase of 39.9 percent over the level of 2013-15, when the region produced 2.7 million tons, on average.
According to FAO, fishing will grow at a much lower rate and the total fish production in the region (catch + aquaculture) could reach 16.2 million tons in 2025. This figure would be 12.6 percent higher than the levels of production of 2013-15, which totalled 14.4 million tons.
Globally, production could jump to 195.9 million tons in 2025, an increase of 17 percent compared to 2013-15 production levels, which totalled 166.8 million.
This means that by 2025 the world will produce close to 29 million tons more fish than in 2013-15 and almost all of this increase will occur in developing countries through aquaculture.
"Of the 29 million extra tons, Latin America and the Caribbean would respond for almost 3 million tons," said Alejandro Flores Nava, Chief Fisheries and Aquaculture Officer of the FAO Regional for LAC.
Of the total of 4.6 million fishing vessels worldwide, Latin America and the Caribbean accounts for 6%, about 90% of which have less than twelve meters in length.
According SOFIA, regional exports of fishery products are growing faster than imports.
"Although we are far from Asia's levels of production, Latin America and the Caribbean it has begun to establish itself as an exporter of fishery and aquaculture products for direct and indirect human consumption, maintaining one of the highest rates of aquaculture expansion in the world"said Flores.
Flores stressed that an important pending challenge for the region is to stimulate local consumption of fish and seafood, especially through school feeding programs.
Public procurement and school feeding can increase per capita consumption
Currently, Latin America and the Caribbean produces 2.7 million tons of fish in aquaculture and draws around 11.7 million tonnes in fish capture. However, the average consumption per capita in the region is only ten kilos of fish per year, half the global average, says SOFIA.
FAO is encouraging public fish procurement programs to supply school feeding programs in the region.
"Including fishery products in the diet of children can make a great contribution to combat chronic malnutrition, overweight and obesity, in addition to changing eating habits towards healthier food. These programs also improved the economy of artisan fishing families and farmers of limited resources," said Flores.
Currently, Mexican legislators are debating a bill to incorporate these products into school feeding programs throughout the country with similar initiatives being developed in Paraguay and Guatemala. In the near future, FAO seeks to expand these initiative to Belize, Costa Rica, El Salvador, Honduras, Nicaragua and Panama
Strong aquaculture growth does not translate into higher employment
In 2014, for the first time, aquaculture production for direct human consumption worldwide exceeded the contribution made by fishing catches.
According to SOFIA, employment in the fisheries sector has grown moderately in the region while the catch level has been reduced. Aquaculture production, meanwhile, has grown at high rates.
FAO expects aquaculture production in developing countries to continue to expand, growing strongly in Latin America.
This growth will be particularly strong in Brazil, which has made significant investments in the sector that could generate growth 104% higher than today.
However, the SOFIA report notes that the great growth of aquaculture production will not generate an equivalent increase in terms of employment.
"Much of this production is aimed at highly competitive foreign markets that rely more heavily on technological advances to increase production than on human labour," said Flores.
According to SOFIA 2016, only 4% of all those engaged in fishing and aquaculture globally live in Latin America and the Caribbean.
Currently, aquaculture officially employs 356 thousand people in the region, while more than 2 million 80 thousand people are engaged in fishing. However, it is estimated that there are over 500 thousand families who depend on small-scale aquaculture for food security and household income in the region.
"It is essential to support small-scale fishermen in the region, as they are not only a majority, but they play a key role in food security and the sustainability of fisheries in the region," Flores said.