FAO, 4-H Launch School Garden Competition in Trinidad and Tobago
Under this Resilient School Feeding Programmes sub-project in Trinidad and Tobago, one of the aims is to promote positive attitudes and awareness among children in learning how to grow healthy food for better nutrition and eat local produce. Pursuant to this, FAO and the National 4-H Council of Trinidad and Tobago are collaborating to host a school garden competition from 14 October 2022 and runs until March 2023. Pennacool Caribbean Limited and Nutrien Trinidad are also key collaborators.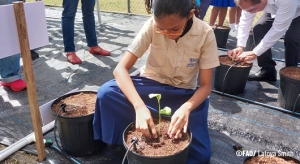 Port-of-Spain, 14 October 2022- saw the official launch of the "Grow to Glow" school garden competition across Trinidad and Tobago.  The competition runs until March 2023 and is open to all the 4-H clubs. It seeks to promote wider nutrition education for children and eating local produce which runs until March 2023.
This is a collaboration between the MEXICO-CARICOM-FAO Initiative: Resilient School Feeding Programmes subproject, 4-H Leaders Council of Trinidad and Tobago and Pennacool Caribbean Limited. Ms Natasha Lee, President 4-H Leaders Council of Trinidad and Tobago commented, "Children are agents of change. Planting the seeds for a passion for agriculture and healthy eating would have a positive impact on their lives as well as a ripple effect on the wider society".
There are four main categories:
Traditional Gardens (Field Crop Production)
Traditional Gardens 2 (Pot and Trough/ Container Planting)
Technological Systems (Hydroponics -Water or sharp sand only, Aquaponics & Greenhouse)
Innovative Gardening (Repurposed Materials, Vertical Gardens & Microgreens)
4-H Clubs can register for the competition until 14 November 2022. Other important dates are listed below.
First Viewing and Advice by County Coordinators – 21st – 30th November 2022
Second Viewing and Advice by County Coordinators – 30th January – 3rd February 2023
Upload of all Videos (Upload Link to be sent) – 20th – 24th March 2023
Final Judging by County Coordinators and Externals – 6th – 10th March 2023
Prize Giving Ceremony – 5th April 2023 
There will be up to $15,000 in prizes to be awarded.
For more information, email [email protected] and/or call 389-8797 or 781-3813.