FAO Strategic Framework 2022-31
About Mario Lubetkin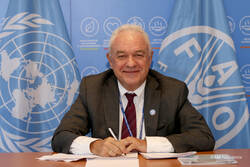 Mr. Mario Lubetkin has been FAO Deputy Director General and FAO Regional Representative for Latin America and the Caribbean since August 1, 2022.
Mario Lubetkin is a Uruguayan journalist with more than 40 years of experience in international communication and sustainable development. He began his professional career at the Inter Press Service (IPS) news agency in 1979, where he served as CEO of IPS from 2002 to 2014.
During his career, Mr Lubetkin has coordinated projects with the governments of Finland, Italy, Spain, Uruguay and Brazil, along with the United Nations Development Programme (UNDP) and the United Nations Environmental Programme (UNEP). In 2012, he was nominated a member of the United Nations Advisory Group for the International Year for Cooperatives (IYC).
Mr Lubetkin has also collaborated extensively with civil society and media in Italy, Brazil, Argentina, Uruguay and Ecuador. He has acted as a high-level communication consultant for various organizations in Latin America and the European Union, and for private sector entities in the United States.
Prior to joining FAO, Mr Lubetkin was a Professor for a Master's Degree course on Communication for International Relations at IULM University in Milan (Italy), and was the Director of Seminars on Communication for Development at the Universidad Menéndez Pelayo (UIMP) in Santander (Spain).
In April 2016 he was appointed "Commendatore Ordine al Merito della Repubblica Italiana" by the President of the Italian Republic.
Mr. Lubetkin joined FAO in February 2014 as Director, Office of Corporate Communication and, from August 2015 to February 2020 he served as Directeur de Cabinet. He was Assistant Director-General supporting the Director General in different external and internal strategic matters, and in August 2022 he became FAO Regional Representative for Latin America and the Caribbean.
Title: Assistant Director-General, Regional Representative for Latin America and the Caribbean