Discurso de resultados y prioridades Larc37 Julio berdegué
28 de Marzo, 2022 Julio Berdegué
Estimado ministro Pedro Álava, presidente de la Conferencia Regional
Excelencias
Señoras y señores
Permítanme iniciar mi presentación citando al Director General de la FAO en su intervención en la Reunión Extraordinaria de Ministros de Agricultura del G7:
"Nos unimos al llamado del Secretario General de la ONU de poner fin a la guerra, restaurar la paz, y proteger la vida de la gente. Estamos al lado de la población que sufre en Ucrania, y expresamos nuestra solidaridad con el pueblo y particularmente con los que se ganan la vida en la agricultura". 3
Me corresponde presentar a ustedes un resumen de los documentos LARC/22/3 y LARC/22/2, sobre los resultados de la FAO en América Latina y el Caribe en el bienio 2020-2021 y las prioridades que ponemos a su consideración para el bienio 2022-2023.
En septiembre de 1949, don Galo Plaza, presidente de Ecuador, inauguró en Quito la primera Conferencia Regional de la FAO, cuatro años después del término de la Segunda Guerra Mundial.
Era una región con un ingreso per cápita promedio de apenas 389 dólares1 ; que luchaba por elevar la producción de alimentos; y en donde la inseguridad alimentaria y nutricional era rampante.
1 Dólares constantes de 1970. CEPAL. 1978. Series históricas del crecimiento en América Latina.
Los delegados acordaron una estrategia para enfrentar esos desafíos, con recursos muy escasos. 4
Hoy, como entonces, es tiempo de definiciones.
Estos son tiempos extraordinarios, y esta debe ser una Conferencia Regional que marque una diferencia.
Excelencias,
La Trigésimo sexta Conferencia Regional nos dejó 72 recomendaciones. Trabajamos en ellas en pandemia, con las restricciones conocidas. Seis compañeros sucumbieron al COVID-19, en Argentina, Brasil, Colombia, Guatemala, Haití, y Panamá. Los tenemos presentes.
Me complace informar que gracias al trabajo con sus gobiernos y con nuestros socios cumplimos o estamos a tiempo de cumplir con el 92% de sus recomendaciones. Resaltamos el cumplimiento de todas las recomendaciones relacionadas con la respuesta y recuperación del COVID-19. 5
Durante casi todo el bienio trabajamos remotamente gracias a una exitosa transición digital de la FAO, y a pesar de las restricciones, el ejercicio presupuestario fue ligeramente superior al de bienio precedente.
El presupuesto total de los proyectos operacionalmente activos en el bienio fue de 760 millones de dólares, y terminamos el bienio con una cartera de proyectos en negociación, por 670 millones de dólares.
En el bienio, FAO movilizó 426.5 millones de dólares para la región, monto 78% superior al bienio anterior. El 82% proviene de fuentes multilaterales y de los países de la región, y solo el 18% fue aportado por países y organizaciones Miembros de la FAO de fuera de la región. 6
Excelencias,
La región juega un papel irremplazable en la seguridad alimentaria global. Produce alimentos para satisfacer las necesidades calóricas de alrededor de 1300 millones de personas, es decir, uno de cada seis habitantes del planeta.
Para mantener su contribución, dentro de 28 años la región deberá ser capaz de alimentar a 300 millones de personas adicionales.
¡Es una enorme tarea sobre los hombros de 22 millones de agricultores, ganaderos, pescadores y acuicultores, la inmensa mayoría de los cuales son productores familiares de pequeña y mediana escala!
Los países miembro, incluyendo los de esta región, aprobaron hace nueve meses el Marco Estratégico de la FAO 2022-2031. 7
Este ofrece una ruta para encarar el complejo conjunto de desafíos regionales y ampliar así el potencial de nuestros sistemas agroalimentarios.
Esta ruta, definida por ustedes, los miembros de la FAO, consiste en respaldar la Agenda 2030 mediante la trasformación hacia sistemas agroalimentarios MÁS eficientes, inclusivos, resilientes y sostenibles, para conseguir una mejor producción, una mejor nutrición, un mejor medio ambiente y una vida mejor sin dejar a nadie atrás.
La transformación debe ser coherente y consistente con las características, condiciones y prioridades de cada país y de cada sistema agroalimentario. No podría ser de otra forma, pues esta transformación será el resultado de las voluntades, compromisos, y acciones de los actores concretos, públicos y privados, que constituyen los sistemas agroalimentarios, de la finca a la mesa. Será una transformación con ellos, nunca sin ellos, y ciertamente nunca contra ellos. 8
Pero, sin esa transformación, sinceramente no somos capaces de visualizar como los sistemas agroalimentarios de América Latina y el Caribe podrían mantener su vigencia y su dinamismo en un mundo que está cambiando a velocidades nunca vistas. Como ya ha sido dicho, "quien no está ocupado naciendo, está ocupado muriendo."2
2 Bob Dylan, 1965, It's Alright, Ma (I'm Only Bleeding). La frase original en inglés es: "he not busy being born, is busy dying"
Ahora es necesario enraizar este Marco Estratégico 2022-2031 en la realidad local. Se trata de que la región se apropie de él, y lo dote de personalidad y sentido latinoamericano y caribeño.
Ponemos a su consideración tres prioridades regionales, basándonos en las recomendaciones de la anterior Conferencia Regional, ajustadas a las orientaciones del Marco Estratégico 2022-2031 y, también y de manera muy importante, 9
a las condiciones impuestas por la pandemia, sus consecuencias sociales y económicas, y por una recuperación que hasta ahora es desigual e insuficiente.
Estas tres prioridades, o Iniciativas Regionales, son:
Primero, sistemas agroalimentarios sostenibles que proporcionen dietas saludables a toda la población.
Segundo, sociedades rurales prósperas e inclusivas.
Tercero, agricultura sostenible y resiliente.
Los cuadros 1, 2 y 3 del documento LARC/22/2, explican cómo estas prioridades están vinculada al Marco Estratégico de la FAO 2022-2031 a través de distintas Esferas Programáticas Prioritarias, y también indican a qué metas de los Objetivos de Desarrollo Sostenible contribuirá cada Iniciativa Regional. 10
La primera iniciativa regional sobre sistemas agroalimentarios sostenibles, se hace cargo del hecho de que en nuestra región la pandemia empujó a 60 millones de personas adicionales a una condición de inseguridad alimentaria moderada o grave, que abarca ya - y estas son cifras escalofriantes y moralmente inaceptables - a 267 millones de personas, 40% de la población regional.
Quiero repetir estas cifras, porque merecen respeto y reflexión: 267 millones de seres humanos en esta región viven en condiciones de inseguridad alimentaria moderada o grave.
Y no culpemos solo a la pandemia, porque el hambre venía avanzando en la región desde el 2015.
Los sistemas agroalimentarios de la región cumplieron la hazaña de mantener el abastecimiento de alimentos durante los peores momentos de la pandemia. 11
Saludamos a las y los agricultores, transportistas, comerciantes, agroindustriales, trabajadores, que se expusieron para que la crisis sanitaria no se tradujera en una crisis alimentaria.
Y, aun así, el hambre aumentó... porque en América Latina y el Caribe no hay hambre por falta de comida, no hay hambre porque los agricultores no hagan su tarea, hay hambre porque hay demasiada desigualdad y pobreza.
Y junto al hambre galopa en la región una epidemia de malnutrición. La obesidad compromete a uno de cada cuatro adultos y a una de cada trece niñas y niños menores de cinco años tiene sobrepeso, porque alimentos de baja calidad nutricional desplazan de las dietas a aquellos productos que salen de los campos y los mares de la región, como el pescado, la carne y la leche, las legumbres, frutas y verduras frescas. 12
Se ha roto la ecuación milenaria entre alimentación y salud, porque alimentarse saludablemente en América Latina y especialmente en el Caribe, es mucho más caro que comer mal.
Un sistema de comercio internacional abierto, basado en normas transparentes, no discriminatorio y previsible, es un potente instrumento para atacar estos problemas, y la primera iniciativa regional se empeñará en fomentarlo.
La segunda iniciativa regional se hace cargo de aportar a crear condiciones que propendan a sociedades rurales prosperas e inclusivas.
Desde antes de la pandemia, la región venía registrando aumentos en la incidencia de la pobreza y de la pobreza extrema. La pandemia agravó considerablemente esta situación. La mitad de la población que vive en los campos de América Latina y el Caribe es pobre, y uno 13
de cada cuatro personas vive en condiciones de extrema pobreza.
El 82% de quienes trabajan en la agricultura y en la pesca, lo hacen en condiciones de informalidad.
Las mujeres rurales viven condiciones inaceptables de exclusión, son mayoritariamente mujeres sin derechos efectivos. Los pueblos originarios y afrodescendientes siguen sufriendo discriminación y exclusión de tal magnitud que se traducen en los peores indicadores sociales. Las y los jóvenes rurales encuentran pocas oportunidades de desarrollo, y por ello emigran, llevando a las sociedades rurales a condiciones de envejecimiento que las ponen en riesgo.
¿Podemos hablar de desarrollo sostenible en estas condiciones? 14
Las y los agricultores familiares ameritan una atención especial. Con escaso acceso al crédito y a la asistencia técnica, con poca o nula conectividad a internet, con carencia de infraestructura y servicios de calidad, se las ingenian para poner en nuestras mesas una parte muy importante de los alimentos que consumimos. Imaginemos lo que podrían hacer en materia de mayor producción, de más empleo para sus jóvenes, de agregación de valor en el campo, si resolvemos las restricciones que los atan de manos.
La iniciativa Mano de la Mano es un instrumento que hace uso de avanzadas herramientas digitales y de Big Data para valorizar los potenciales de territorios con altos niveles de pobreza y hambre. Opera ya en seis países y hemos llegado a una etapa en que el trabajo consiste en movilizar las inversiones que permitan hacer efectivo dicho potencial. 15
La tercera iniciativa regional colabora con los países miembros para transitar a una agricultura más sostenible y resiliente.
Producir más para sostener la alimentación de 1600 millones de seres humanos en solo 28 años, de por si es una tarea inmensa. Pero sabemos que no se puede seguir produciendo a costa de deforestación, degradación de los suelos, erosión acelerada de la biodiversidad, desaparición de manglares y pesquerías, y contaminación de las aguas.
Cualquier agricultor, cualquier pescador, sabe que es materialmente imposible aumentar la producción o elevar la productividad, si se degradan los suelos, las aguas, los mares o los bosques, los ecosistemas.
Y cualquiera que esté en la tarea de colocar productos agroalimentarios en los mercados, sabe que la calidad ambiental de la producción es cada vez más un factor de competitividad. 16
Tenemos que encontrar las formas de producir más en la era del cambio climático, una meta de gran complejidad.
Necesitamos trabajar para que los sistemas agroalimentarios estén adaptados y sean resilientes al cambio climático.
Y la región tiene que cumplir las responsabilidades comunes pero diferenciadas para reducir las emisiones de gases de efecto invernadero. Detener la deforestación, promover la ganadería sostenible y baja en emisiones, e impulsar la recarbonización de los suelos y la recuperación de agroecosistemas degradados, son estrategias con las que estamos fuertemente comprometidos.
Todo ello va a requerir de un enorme esfuerzo de innovación y de cuantiosas inversiones. Esta iniciativa regional continuará el exitoso trabajo para movilizar financiamiento ambiental y climático para sus países. 17
Muchos asuntos serán trabajados en forma conjunta por las tres iniciativas regionales. Destaco el caso del alza de los precios de los alimentos y de los insumos agrícolas.
En la actual coyuntura, la FAO no puede descartar la posibilidad de una crisis alimentaria en la región. Pero estamos a tiempo, es posible, y está en nuestras manos, tomar las decisiones para cerrar esa posibilidad.
Todas y cada una de estas prioridades tienen una condición: innovación.
Innovación tecnológica basada en la ciencia y en los conocimientos ancestrales; innovación institucional; e innovación en los sistemas de gobernanza.
La digitalización de los sistemas agroalimentarios y de las sociedades rurales es prioridad uno. 18
Nuestro compromiso es que cada iniciativa regional sea un motor de innovaciones, y cada proyecto sea una experiencia de digitalización.
Excelencias,
Vuelvo a recordar que, en 1949, en esta ciudad de Quito, los delegados de la primera Conferencia Regional hicieron definiciones y tomaron decisiones transcendentales que coadyuvaron a que la región, sus sistemas agroalimentarios y sus sociedades rurales, superasen las enormes consecuencias de la Segunda Guerra.
La coyuntura en que hoy deliberan ustedes, no es menos compleja ni menos perentoria que la de aquel momento.
Tenemos plena confianza en que esta Trigésimo Séptima Sesión de la Conferencia Regional de la FAO para América Latina y el Caribe, estará a la altura de sus circunstancias.
Muchas gracias presidente.
Speech on results and priorities Larc37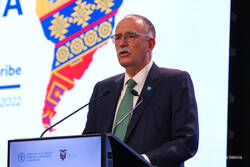 JULIO BERDEGUÉ
FAO Assistant Director-General and Regional Representative for Latin America and the Caribbean
QUITO, ECUADOR
28 MARCH 2021
Dear Minister Pedro Álava, President of the Regional Conference
Excellencies
Ladies and Gentlemen
Let me start my presentation by quoting the FAO Director-General in his address to the Special Meeting of the G7 Agriculture Ministers:
"We join the call of the UN Secretary-General to end the war, restore peace, and protect people's lives. We stand on the side of the population suffering in the Ukraine crisis, and we express our solidarity with the people and particularly those whose livelihoods depend on agriculture."
It is my duty to present you with a summary of the documents LARC/22/3 and LARC/22/2, on the results of FAO in Latin America and the Caribbean during the 2020-2021 biennium, and the priorities that we propose for the 2022-2023 biennium.
In September 1949, Don Galo Plaza, the then-President of Ecuador, opened the first FAO Regional Conference in Quito, four years after the end of World War II.
At that time it was a region with an average per capita income of just USD 389[1], which was struggling to increase food production, and where food and nutritional insecurity was rampant.
Delegates agreed on a strategy to meet those challenges, albeit with very scarce resources.
Today, as then, it is time for making important decisions.
These are extraordinary times, and this Regional Conference should strive to make a difference.
Excellencies,
The 36th Regional Conference left us with 72 recommendations. We have worked on these during the pandemic, even while facing the well-known restrictions. Six colleagues succumbed to COVID-19, in Argentina, Brazil, Colombia, Guatemala, Haiti, and Panama. We keep them in our thoughts.
I am pleased to report that thanks to the work with your governments and our partners we have complied with, or are on track to comply with, 92 percent of your recommendations. In particular, it is important to highlight our compliance with all recommendations related to COVID-19 response and recovery.
For most of the biennium we were able to work remotely thanks to FAO's successful digital transition, and despite the restrictions, our budget was slightly higher than in the previous biennium.
The total budget for operationally active projects in the biennium was USD 760 million, and we ended the biennium with a portfolio of projects under negotiation totalling USD 670 million.
During the biennium, FAO mobilized USD 426.5 million for the region, an amount that was 78 percent higher than in the previous two-year period. Of this, 82 percent came from multilateral sources and the countries of the region, and only 18 percent was contributed by FAO Members from outside the region.
Excellencies,
The region plays a crucial role in global food security. It produces food to meet the caloric needs of around 1.3 billion people, that is, one in every six inhabitants of the planet.
To maintain its contribution, within 28 years the region will have to be able to feed an additional 300 million people.
It is a huge task that rests on the shoulders of 22 million farmers, ranchers, fishermen and aquaculture producers, the vast majority of whom are small and medium-scale family farmers!
Nine months ago, our Members, including those from this region, approved the FAO Strategic Framework 2022-2031.
This offers a roadmap to face the complex set of regional challenges, and thus expand the potential of our agri-food systems.
This roadmap, defined by you, the Members of FAO, consists of supporting the 2030 Agenda through the transformation towards MORE efficient, inclusive, resilient and sustainable agri-food systems, to achieve better production, better nutrition, a better environment and a better life, leaving no one behind.
The transformation must be coherent and consistent with the characteristics, conditions and priorities of each country and agri-food system. It could not be otherwise, because this transformation will be the result of the will, commitment, and actions of specific actors, in both the public and private sectors, which make up the agri-food systems from farm to table. It must be a transformation that includes all actors, never without them, and certainly never against them.
But, without this transformation, we are honestly unable to see how the agri-food systems of Latin America and the Caribbean could maintain their validity and dynamism in a world that is changing at unprecedented speeds. As the saying goes, "he not busy being born, is busy dying".[2]
Now it is necessary to adapt this Strategic Framework 2022-2031 to the local reality. It is about the region appropriating it, and endowing it with the character and cultural meaning of Latin America and Caribbean.
We propose three regional priorities for your consideration, based on the recommendations of the previous Regional Conference, which are adapted according to the guidelines of the Strategic Framework 2022-2031 and, also very importantly, to the conditions imposed by the pandemic, as well as its social and economic consequences, and for a recovery that, so far, has been unequal and insufficient.
These three priorities, or Regional Initiatives, are:
First, sustainable agri-food systems that provide healthy diets for the entire population.
Second, prosperous and inclusive rural communities.
And, third, sustainable and resilient agriculture.
Tables 1, 2 and 3 of document LARC/22/2, explain how these priorities are linked to the FAO Strategic Framework 2022-2031 through different Priority Programme Areas, and also indicate how each Regional Initiative will contribute to the specific targets of the Sustainable Development Goals.
The first regional initiative on sustainable agri-food systems addresses the fact that, in our region alone, the pandemic pushed an additional 60 million people into a condition of moderate or severe food insecurity, which already affects - and these are appalling and morally unacceptable figures - 267 million people, or 40 percent of the regional population.
I want to repeat these figures, because they deserve respect and reflection: 267 million human beings in this region live in conditions of moderate or severe food insecurity.
And let's not blame the pandemic alone, because hunger had been advancing in the region since 2015.
The region's agri-food systems accomplished the feat of maintaining food supplies during the worst moments of the pandemic.
We salute the farmers, truck drivers, merchants, agribusinesses and workers, who risked exposure to ensure that the health crisis did not translate into a food crisis.
And yet, hunger has increased... because in Latin America and the Caribbean there is no hunger due to lack of food, there is no hunger because farmers do not do their jobs, rather there is hunger because there is too much inequality and poverty.
And, along with hunger, an epidemic of malnutrition is sweeping the region. Obesity affects one in four adults and one in 13 girls and boys under the age of five is overweight, because foods of low nutritional quality have replaced those products in the diet that come from the fields and seas of the region, such as fish, meat and milk, legumes, fresh fruits and vegetables.
The age-old equation between food and health has been broken, because today eating healthy in Latin America, and especially in the Caribbean, is much more expensive than eating badly.
An open, rule-based, transparent, non-discriminatory and predictable international trading system is a powerful tool to address these problems, and the first regional initiative will focus on promoting this system.
The second regional initiative is responsible for contributing to the creation of conditions that promote prosperous and inclusive rural societies.
Since before the pandemic, the region had been registering increases in the rates of poverty and extreme poverty. The pandemic considerably aggravated this situation. Half of the population that lives in rural areas of Latin America and the Caribbean is poor, and one in four people live in conditions of extreme poverty.
In addition, 82 percent of those who work in agriculture and fishing do so under informal conditions.
Many rural women live in unacceptable conditions of exclusion without effective rights. Indigenous and Afro-descendant peoples continue to suffer discrimination and exclusion on such a scale that it translates into the worst social indicators. Rural youth find few opportunities for development and so they emigrate, thus leading to the aging of rural communities.
Can we talk about sustainable development in these conditions?
Family farmers deserve special attention. With little access to credit and technical assistance, with limited or no Internet connectivity, and a lack of infrastructure and quality services, they still manage to provide a very important part of the food on our tables. Let's imagine what they could do in terms of increased production, more employment for young people, and adding value to their products, if we removed the restrictions that currently limit their potential.
The Hand-in-Hand initiative is an instrument that uses advanced digital tools and Big Data to determine the potential of territories with high levels of poverty and hunger. It already operates in six countries and has reached a stage in which the work consists of mobilizing the investments that will make it possible to realize this potential.
The third regional initiative consists of working with Members to transition to a more sustainable and climate-resilient agriculture sector.
Producing enough food to feed 1.6 billion human beings in just 28 years is a huge task in itself. But we know that production cannot continue at the cost of deforestation, soil degradation, accelerated erosion of biodiversity, disappearance of mangroves and fisheries, and water pollution.
Any farmer, any fisherman, knows that it is practically impossible to increase production or raise productivity if soils, water, seas, forests or ecosystems are degraded.
And anyone who has the task of marketing agri-food products knows that the environmental quality of production is increasingly a factor that affects competitiveness in the markets.
We have to find ways to produce more in the age of climate change, which is a very challenging task.
We need to work to promote the adaptation and resilience of agri-food systems in the face of climate change.
And the region has to fulfil common but differentiated responsibilities to reduce greenhouse gas emissions. In this regard, we are strongly committed to stopping deforestation, promoting sustainable and low-emission livestock farming, and promoting the recarbonization of soils and the recovery of degraded agroecosystems.
All of this will require an enormous effort of innovation and large investments. This regional initiative will continue its successful work in mobilizing environmental and climate finance for your countries.
Many issues will involve collaboration between the three regional initiatives, as in the case of the rise in food prices and prices of agricultural inputs.
Given the current situation, FAO cannot rule out the possibility of a food crisis in the region. But we still have time and it is in our hands to make the decisions now to prevent this possibility from becoming a reality.
Each and every one of these priorities has a condition: innovation.
Technological innovation based on science and ancestral knowledge, institutional innovation, and innovation in governance systems.
The digitalization of agri-food systems and rural communities is the top priority.
Our commitment is that each regional initiative will be a driver of innovation, and each project a digitalization experience.
Excellencies,
Once again I remind you that, in 1949, in this city of Quito, the delegates of the first FAO Regional Conference made important decisions that helped the region, its agri-food systems and its rural communities to overcome the enormous consequences of World War II.
The situation in which we find ourselves today is no less complex or less urgent than at that moment.
We are fully confident that this 37th Session of the FAO Regional Conference for Latin America and the Caribbean will rise to the occasion.
Thank you very much president.
---
[1] Constant 1970 US dollars. ECLAC. 1978. Historical series of growth in Latin America.
[2] Bob Dylan, 1965, It's Alright, Ma (I'm Only Bleeding). The original phrase is: "he not busy being born, is busy dying".