World Food Forum
17/10/2022-21/10/2022 Rome, Italy
Hybrid Mode |  17-21 October 2022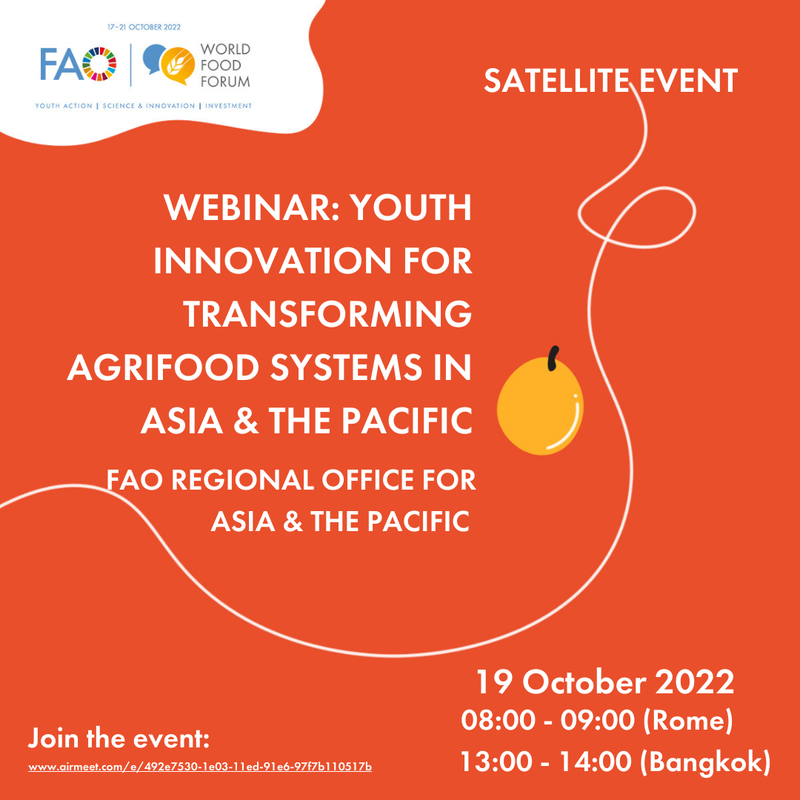 The World Food Forum (WFF) is an independent global network of partners, created for and led by youth to peak a movement to transform agrifood systems. It was established by the Youth Committee of the FAO in 2021 aligned with the 2021 UN Food System Summit and functioned as an active discussion place to foster innovation and youth leadership in agrifood system.
In 2022, the WFF will focus its efforts on the theme "Healthy Diets. Healthy Planet" in the lead up to the 27th session of the Conference of Parties (COP27) to the UNFCCC and follow up events of the 2021 UN Food System Summit scheduled at country, regional, and global level in 2022.
Healthy Diets. Healthy Planet
The agrifood systems that feed the global population are responsible for 31 percent of human-caused greenhouse gas emissions while increasing climate change is raising food prices, decreasing food availability, and making instability and conflict worse.  At the same time, though farmers produce enough food to feed everyone on the planet, almost 1.1 billion people in Asia and Pacific lack access to adequate food, about 40% of men and women, globally, are now overweight or obese and health diets are too expensive for about 1.9 billion people in Asia and Pacific (SOFI, 2021).
Ongoing challenges including conflict, climate change, and pests and plagues are putting additional pressure on already stressed agrifood systems, impacting both access to and availability of food. In March 2022, the FAO Food Price Index (FFPI) reached an all-time high, and the war in Ukraine has placed even further pressure on food prices and availability.
The WFF will bring together young people to raise awareness on the need to connect these two issues; food security and climate change for transformative agrifood systems with the aim to co-identify bold, actionable solutions and approaches to minimize and mitigate climate change impacts in our lifetime, while simultaneously increasing global access to safe and nutritious food and health diets.
WFF Side Events taking place in Asia and the Pacific
19 October | 8:00 – 9:00 Rome time | 13:00 – 14:00 Bangkok time
WFF Satellite Event - Webinar organized by the FAO Regional Officer for Asia-Pacific on "Youth innovation for transforming agrifood systems in Asia and the Pacific."
18 October | 7:30 – 9:00 Rome time
"Walk the Talk on Four Betters" organized by the FAO Partnership and Liaison Office in the Republic of Korea (ROK)
18 -19 October
Youth for Food Loss and Waste Hackathonorganized by FAO China
Join these satellite events and be part of the conversation:
https://www.airmeet.com/e/492e7530-1e03-11ed-91e6-97f7b110517b