World Food Day Observance | Regional Office for Asia and the Pacific
FAO's Regional Office for Asia and the Pacific will convene its annual regional World Food Day observance, virtually this year, on Friday 15th October (in lieu of 16th October – a Saturday).
You are cordially invited to join our Webinar in observance of the upcoming World Food Day on 15 October with the theme Agri-food system innovations in Asia and the Pacific.
The event will commence, virtually, Friday 15 October, at 11 am Bangkok time (GMT+7) and conclude at 12:30. It will include a special video message from our Guest of Honour, Her Royal Highness Princess Maha Chakri Sirindhorn of Thailand. (The entire programme is below.)
As we know, innovations occur throughout food systems: from production to consumption. The ongoing food e-commerce revolution taking place in the Asia-Pacific region is happening at the same time that mobile-based business models are emerging to provide advisory, marketing and financial services at scale to smallholder farmers, whereas a parallel revolution in Industry 4.0 technologies is taking agro-industries to new levels of efficiency.
Advances in science and physical innovations are also reshaping the way in which food is grown, packaged and sold. At the same time, the utility of traditional knowledge and good cultural practices is being rediscovered to enhance sustainability and resilience of food systems.
In fact, digitalization provides an opportunity to revive and disseminate these practices widely. 'Together they offer great potential for improving the efficiency and sustainability of agri-food systems in Asia-Pacific as highlighted during the recent SIDS Solutions Forum held on 30 and 31 August.'
Food system innovations are also instrumental in achieving Sustainable Development Goals 1, 2 and 13 (No Poverty, Zero Hunger and Climate action).
There are, however, several risks associated with digitalization and other innovations, from potential job losses to environmental degradation and data governance concerns.
Moreover, different agri-food systems and actors within them innovate at varying speed and manner and would require, thus, tailored strategies to leave no one behind.
The Asia-Pacific regional World Food Day event will showcase proven solutions for tapping the potential of innovations in agri-food systems, while making them more sustainable and inclusive, and reducing the digital divide.
So join us by filling in the registration form, and an active Zoom link will be sent to you.
Programme: Friday 15 October 2021
11:00-11:05

Opening announcements and introductory video

11:05-11:15

Welcome remarks by Mr Jong-Jin Kim, Assistant Director-General and FAO Regional Representative for Asia and the Pacific.

11:15-11:25

Asia-Pacific World Food Day video statement by Her Royal Highness Princess Maha Chakri Sirindhorn of Thailand and FAO Special Goodwill Ambassador

11:25-12:15

Panel discussion on inclusive agri-food system innovations moderated by Ms Atsuko Okuda, Regional Director, Asia and the Pacific, International Telecommunication Union (ITU)

Asian Farmers' Association for Sustainable Rural Development (AFA) - Ms Ma Estrella Penunia, Secretary-General
Grow Asia - Mr Paul Voutier, Senior Advisor, Innovation
International Crops Research Institute for the Semi-Arid Tropics (ICRISAT) - Mr Ram Kiran Dhulipala, Theme Leader for Digital Agriculture and Youth
Madhya Rakudiya Farmers' Organization, Bangladesh - Ms Rita Bromo, President
Centre for Flexible Learning, University of South Pacific, Fiji, Ms Irene Yee Chief, Instructional Designer

12:15-12:25

Q and A

12:25-12:30

Closing remarks by Mr John Aylieff, Regional Director, World Food Programme
Ms Atsuko Okuda, ITU Regional Director for Asia and the Pacific
Ms Atsuko Okuda was appointed as the Regional Director in April 2020. She leads ITU's support to region's digital transformation and manages the Bangkok and Jakarta offices to cover 38 member countries in Asia and the Pacific. Prior to the new assignment, she was the Chief of the ICT and Development Section of the ICT and Disaster Risk Reduction Division of the United Nations Economic and Social Commission for Asia and the Pacific (ESCAP), in Bangkok, Thailand from 2015 to 2020. At ESCAP, she promoted the development of regional broadband connectivity and inclusive broadband through the implementation of the Asia-Pacific Information Superhighway (AP-IS) initiative.

Before joining ESCAP, Ms. Okuda served the United Nations Economic and Social Commission for Western Asia (ESCWA) in Beirut as the Chief of the Governance and Statebuilding Section and the Chief of the Strategic Planning and Monitoring Section which managed the ESCWA's programme and projects. Prior to it, she contributed to the Umoja project, the UN Secretariat ERP initiative, in the Office of the Under-Secretary-General of the Department of Management, UNHQ for 2 years.

From 2002 to 2010, she was responsible for promoting a wide range of ICT for development initiatives at ESCAP and the United Nations Economic Commission for Africa (ECA) as Senior IT Officer. She started her UN career in the area of ICT for Development at the Regional Bureau for Asia and the Pacific, the Bureau for Development Policy and UNDP Country Office in Bhutan from 1997 to 2002.

Ms. Okuda obtained a BA from Kyoto University (Japan), MA from Helsinki University (Finland), and has currently been enrolled as a research fellow at the United Nations University – Maastricht Economic and Social Research Institute on Innovation and Technology (UNU-MERIT) in the Netherlands. Her doctoral thesis is entitled "Towards e-compliance: Anti-corruption and e-governance
initiatives in the case of Bhutan", to be defended in 2021. Her academic articles on broadband, AI and digital transformation were published by the Lee Kwan Yew School of Public Policy and the Druk Journal. Among other publications and research papers, she was the author of a chapter on e-resilience in the 2018 UNDESA E-government Survey and several blogs published by ITU.




Ms Ma. Estrella Penunia, Secretary-General, Asian Farmers' Association for Sustainable Rural Development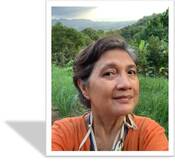 Ms Ma. Estrella Penunia, is Secretary General of the Asian Farmers' Association for Sustainable Rural Development (AFA) , a regional alliance of national farmers organizations or FOs in Asia.

Established in 2002, AFA is currently composed of 22 national FOs in 16 countries, representing around 13 million small scale men and women farmers. engaged in crops, livestock, fisheries, herding and pastoralism. AFA promotes farmers' rights to lands, waters, forests and seeds; sustainable, climate-resilient agro ecological approaches in farms , fisheries and forests; strengthening farmers cooperatives and their enterprises; empowering women members , attracting the youth to agriculture and harnessing capacities for effective governance through an integrated program on organizing and movement building; policy advocacy; monitoring, evaluation, accountability, learning and communications; business development servicing , capacity building and internal governance.



Mr Paul Voutier, Senior Advisor - Innovation, Grow Asia

Paul is Senior Advisor, Innovation at Grow Asia, a multi-stakeholder partnership platform that catalyzes action on inclusive agricultural development in South East Asia. Grow Asia was established by the World Economic Forum in collaboration with the ASEAN Secretariat. Paul supports the Innovation Lead in building a community of practice that brings together business, government and NGOs leaders who share a commitment to using new innovations to make smallholder value chains more productive and sustainable. He delivers webinars, open innovation events, reports, presentations and networking events. Digitization is a core element of the program, as it will impact every aspect of farming – from advanced technology that can grow more resilient crops, to mobile financing solutions that can help smallholder farmers access credit.

Prior to this advisory role, Paul was Director, Knowledge & Innovation at Grow Asia, where he led our Digital program for three years. Paul also has significant experience building smallholder supply chains in the cocoa, citrus, cassava and rubber industries. Before joining Grow Asia, he worked with agribusinesses including Mondelez International, Olam, Syngenta, Heineken and Ironbark Citrus. In 2012, Paul co-authored the landmark "Business in Development" study which established a body of evidence characterizing the nature of core business activities multinationals undertake which contribute to poverty alleviation.
You can reach Paul at [email protected]



Mr Ram Kiran Dhulipala, Team Leader for Digital Agriculture and Youth, ICRISAT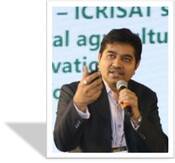 Ram Kiran Dhulipala is the Cluster Leader of Digital Agriculture theme at ICRISAT, Hyderabad. ICRISAT is a not-for-profit international agriculture research organization headquartered in Hyderabad, India. After graduating as an engineer, he worked as a software engineer in Tata Consultancy Services (TCS) from 2004 to 2010 on technologies like VOIP, OSI stack and SIP. After completing the PGPEX (MBAEx) from IIM Calcutta in 2011, he worked in executive positions in the corporate sector in the areas of Finance, Corporate Strategy, Program Management and M&A across diverse sectors. In his current role, Ram drives action research on the use of latest digital technologies in agriculture and has been instrumental in strategizing and executing a private sector and partnership-based approach towards digital agriculture. Ram believes in the concept of comparative advantage and therefore believes that organizations like ICRISAT (or other CGIAR Centers) are better positioned to play the roles of an innovation broker in the space of digital agriculture. Some his research interests include the role of innovation brokers in digital agriculture, innovation ecosystems, social-economic-politic factors driving digitalization of agriculture value chains.




Ms Rita Bromo, Madhya Rakudiya Farmers' Organization, Bangladesh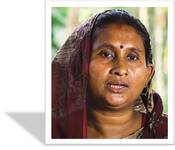 Rita Bromo works as a Farmer Business Facilitator as part of FAO's Missing Middle Initiative project in Bangladesh. She is from Babuganj upazila in Barisal. Rita is a member of the Executive Committee of the Sara Bangla Krishak Society – an apex of smallholder Producer Organizations (POs) and president of the Maddhya Rakudia IPM Club.

As a farmer business facilitator, Rita provides management support to producer organizations. She advises farmers about running a business, use of digital tools including RuralInvest, Collect Mobile. She also facilitates access to finance for members of the POs and improving organizational efficiency. She also supports the MMI project's monitoring and evaluation team. Out of 16 farmer business facilitators, six are women and Rita is a champion among them.
At the
Ms Irene Yee Chief, Instructional Designer, Center for Flexible Learning, USP, Fiji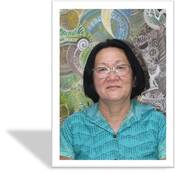 Dr Irene Yee Chief is an Instructional Designer at the Centre for Flexible Learning at the University of the South Pacific (USP). The University is governed by 12 countries, 14 campuses with over 300 languages with over 20,000 students. Part of her role is working with Professors to provide online courses and opportunities for students in the region to access education.
Her area of research interest is in use of technology in Higher Education and in learning and teaching. She was the Primary Investigator for two Strategic Research Theme grants where one resulted in the development of My Kana app https://sites.google.com/view/projectkakana . This was developed in collaboration with the National Food and Nutrition Committee, Fiji, The Ministry of Health and Medical Services.