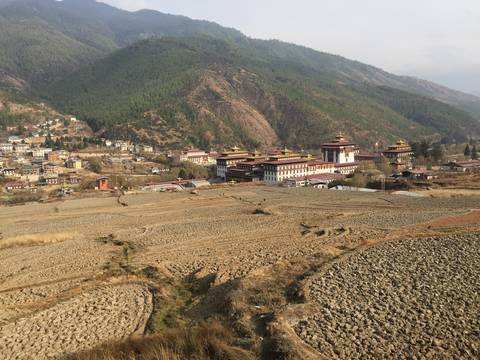 Implementation of the Global Strategy in Bhutan
Bhutan
59.5% employed in agriculture
13.5% land area devoted to agriculture
15.9% share of agriculture in GDP
Challenges
Bhutan is a small, landlocked country with a large percentage of its land area marked by mountainous terrain. Though a high percentage of its population is employed in agriculture, little of its land area is devoted to it, and agriculture makes up only about 16 percent of GDP. The Statistical Act of Bhutan provides a legal basis for collection of statistics in the country. This law, however, has not yet been passed by the country's Parliament. A National Statistical Development Strategy, developed with assistance from the World Bank, has also not been fully implemented, due to lack of a legal statistical framework for it. Bhutan's Ministry of Agriculture and Forests has developed a renewable natural resources statistical framework, but several Ministry departments collect statistics, making coordination difficult. The framework will need the input and active participation of other stakeholders to be effective, particularly in statistical development processes. Also, a lack of staff at the National Statistics Bureau has resulted in restraints on collection and use.
Current Work
The Global Strategy in Asia Pacific has proposed meeting agricultural and rural statistics needs in Bhutan through the following actions.
· Develop a Strategic Plan for Agricultural and Rural Statistics
· Improve crop and livestock statistics
· Increase the knowledge and skills of statisticians and staff in several institutions
· Rationalise the collection and dissemination of environmental data
· Support for other activities such as:
o Land cover mapping
o Conduct a renewable of natural resources census
o Conduct a Bhutan living standards survey
o Conduct a Bhutan labor force survey
Achievements
Three key reports have been produced to move Bhutan forward in creating a Strategic Plan for Agricultural and Rural Statistics (SPARS): an In-depth Country Assessment (IdCA), the SPARS roadmap (named Improving Natural Resources Statistics), and the full SPARS plan. The IdCA and SPARS roadmap has been endorsed by the Bhutan government. Two related technical activities -improvement of livestock statistics and improvement of crop statistics - are also underway, with the pilot survey and report on livestock statistics already completed. The Government has also instituted a Natural Resources Statistics Committee, which is currently guiding preparation and implementation of the SPARS.
Ongoing Activities
Drafting of Roadmap for the Strategic Plan for Renewable Natural Resources Statistics