CASE 7 -- Akodara: India's first digital cashless village
Originating from an idea in 2014 to create a cashless village using digital technologies, a private sector bank (ICICI Bank) partnered with local government institutions in the Sabarkantha district in the Indian state of Gujarat to nurture several digital interventions.
The village of Akodara was chosen, home to 236 dwellings. The village has a higher than average rate of literacy (1 191 persons with a literacy rate of 92 percent, versus 76 percent average for the state). Most families are involved in farming and rearing cattle.
A pilot project was launched, described as "cashless, connected and comprehensive", part of the Indian Government's Digital India programme. To enable village digitalization, local authorities installed a Wi-Fi tower and arranged connectivity while ICICI Bank brought in cashless payments. The first step involved opening bank accounts for all villagers. ICICI also supported digital education in schools, youth skills training, e-learning tools for child care centre workers (Anganwadi) among other services.
Akodara started as a digital village project under the auspices of ICICI in 2015. It has since received the tag "first digital village of India." The financial transactions of all residents in Akodara are now entirely digital with confirmations sent through SMS, net-banking and debit cards. Each household has a savings account in the local ICICI Bank branch. Their accounts are linked to the Aadhar Cards allowing them to receive all government benefits directly into their accounts, eliminating possibilities of corruption and fraud. The bank provided financial and digital literacy training to village households, guiding them towards cashless transactions. The village has now reached nearly 100 per cent financial literacy. Villagers are comfortable using mobile banking, currently available in three languages: Hindi, English and Gujarati.
When selling agricultural produce in the local market/mandi, or milk or milk products at the cooperative societies, all transactions are cashless and digital. The bank established a micro ATM-based solution to facilitate payments at the local mandi against such agricultural transactions. Micro ATMs also facilitate payment for services such as drinking water or against purchase of other goods.
Akodara has emerged as one of the few real working models of 100 percent financial inclusion and access to electronic banking. One of the tangible benefits from this experiment is that widows who used to spend 10-15 percent of their total monthly income on travel to the district headquarters to receive their pension benefits, can now remain at home and use this extra travel saving to meet other basic needs. Villagers also have easier access to services such as education, agriculture and basic facilities through digitalization.
In Akodara, primary to higher secondary level schools are equipped with smart boards, computer systems and tablets. Akodara classrooms have an LCD projector and computer which make for better learning. The parents are also digitally connected with the school attendance system and receive regular school updates and instructions about their children's attendance through an SMS.
Villagers now have drinking water along with a reverse osmosis (RO) water treatment plant set up by ICICI. As with other transactions, payment for the purified has been digitalized.
This concept of the digital village as applied by ICICI in India is based on three Cs.
1. Cashless: The bank has successfully created a fully cashless ecosystem where all the shops, mandis, cooperative society, milk producers can opt for cashless financial transactions. There are ATM booths also in case cash is needed in an emergency.
2. Connected: ICICI bank has provided high-speed broadband connectivity by setting up a WI-FI tower. The villagers can also conduct financial transactions using their mobile phones.
3. Comprehensive: A multitude of services are possible with general access to digital technology ranging from a digitized school curriculum to using school management software and installation of smart devices. Skills development and training targeted to girls and women are also practical and more feasible.
It is critical to recall the reasons for choosing Akodara as the site for the first experiment in going totally cashless or digital. Akodara already had physical connectivity making digital connectivity feasible and the villagers are highly literate and relatively well-off. The lesson here is that the digital future requires a basic physical infrastructure.
CASE 8 -- Breaking down village isolation through digitalization: the case of Harisal digital village, Maharashtra, India
The Meghat region in a remote Saptura mountain area 600 km from Mumbai, is inhabited by the Korku tribal community. In Melghat, some 300 villages of fewer than 50 inhabitants have any mobile connectivity. The region has many challenges, from high levels of malnutrition, infant and maternal mortality, combined with the challenges of poverty, illiteracy, ill health to unemployment,bad roads, and insufficient power, connectivity and public infrastructure.
The village of Harisal is emblematic of these many challenges, and like other villages in the Meghat region, performs poorly on the Human Development Index. One of the ways the Maharashtra State Government has sought to tackle poor health, poverty and marginalization has been to promote digital solutions. In 2015 it agreed to collaborate with Microsoft Corporation to invest in, and create, digital services.
Harisal village was selected for piloting and the Maharashtra Government agreed with Microsoft Corporation and other partners on a set of digital initiatives, covering health care, schooling, banking and agricultural services (Figure 1)10. The Harisal digital village services evolved through an expanded partnership of the state government, Microsoft, Hewlett Packard Enterprise India Ltd, the National Informatics Centre, Tata Trusts, Bharat Sanchar Nigam Ltd, Dayalbagh and others.
Consultations with the district administration and local residents revealed several priority needs that matched service providers: (i) mother and child health care through telemedicine (Hewlett Packard); (ii) an eye care centre (L V Prasad Eye Institute, Hyderabad); (iii) education and eLearning; (Hewlett Packard, Muskan Foundation); (iv) citizen centred services (NIC, Amravati); (v) advice to farmers (NIC, Tata Trusts Mumbai); (vi) internet, mobile connectivity (Idea, Indus Towers); (vii) skills development (Skill India Mission, Dayalbagh, Agra); (viii) a public distribution system (Government of Maharashtra); (ix) banking (Bank of Maharashtra); (x) a solar power plant (Tribal Dept).
A key objective was to ensure villagers participated directly in all digital transactions. Free internet available at WiFi hotspots in the village created a service centre, delivering 40 services and even benefiting surrounding villages, eliminating travel to distant offices to complete paperwork.11 Innovative technologies such as TV white space made the internet available in public offices and around the village at nominal cost. Most of the 1 479 villagers (324 families12) were connected and taught how to use the internet. They could then sell their produce online for better prices.
A telemedicine centre made it easy for patients in remote areas to have a specialist consultation13. They received advanced healthcare in urology, paediatrics, gynaecology, plastic surgery and psychiatry. Air Jaldi Telemedicine provides medical care to remote, impoverished residents. The eHealth Centre (eHC) is a Hewlett-Packard Enterprise-CSIR initiative to support local health care services and telemedicine, collecting data on patients' health. These services give access to medical advice, telemedicine and hospitals located hundreds of kilometres away. From 2016 to 2018, 138 telemedicine sessions reached 1 225 patients in Harisal and surrounding villages14. Telemedicine also saves money and time spent on transport, consultations and investigations.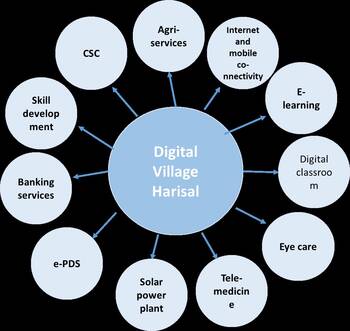 "Rural development in Harisal was made possible through these digital technologies and the entire village now has Wi-Fi. Technology has helped farmers learn new agriculture techniques to increase their income. All now have access to quality medical treatment through telemedicine, improving the quality of life of everyone."
Under the e-District Project, accessible government services include: digital signature certificate, birth and death certificates, ration cards, land records, caste certificate, income certificate, temporary residence certificate, senior citizen certificate, solvency certificate.
Under the ePDS programme, a smart ration card made the distribution of grains and pulses to those eligible more transparent and efficient, reducing leakages.
Farmers received training in mobile apps such as mKrishi, Kisan Suvidha, AgMarknet that provide agricultural services like weather alerts, dealers, market prices, agro advisories, plant protection, etc. Soil testing services and crop advice were available also, helping to raise productivity. The installation of solar panels improved access to electricity so businesses could stay open longer, boosting employment and income, and allowing children to study longer in the evenings.
In Harisal, e-Learning is changing the face of education giving students access to a digital classroom, benefiting some 665 students. E-classrooms tackled literacy issues with lessons taught in new ways (e.g. short television films), enhancing children's quality of learning, as interactive, interesting lessons increased attendance.
The Bank of Maharashtra opened an account for each resident of Harisal village offering services such as 'SMS' mobile banking, and installed an ATM in the village. Training in the BHIM app allowed everyone in the village to use digital payments.
Greater village involvement and more awareness of the important contribution women can make to the community and economy has led to higher demand for skills development. A vocational training centre has provided a dress design course for more than 200 women and the curriculum is expanding with other courses on honey and bamboo processing.
Rural development in Harisal was made possible through these digital technologies and the entire village now has Wi-Fi. Technology helped farmers learn new agriculture techniques to increase their income. All now have access to quality medical treatment through telemedicine improving the quality of life of everyone in Harisal and other parts of the Melghat region.
CASE 9 -- Village rural women empowerment through digital innovations: the exemplary case of SEWA Association from Gujarat India
SEWA is a union of self-employed women's associations and cooperatives that serve more than 2 million members across 18 states of India, two-thirds of whom live in rural areas. SEWA cooperatives are managed by their female members, covering banking, agribusiness, textiles, day care and more. In operation since 1972, SEWA has regularly introduced innovations and developed solutions to benefit poor rural villagers, their families and their communities. The innovations, including digital solutions, are the fruit of bottom-up and participative engagement between SEWA management and its membership. These initiatives cover a broad swathe of needs and concerns in agriculture, clean energy, capacity building and youth training, with the result that SEWA women members can acquire, use and benefit from solutions and innovations that are inaccessible to most poor rural female villagers who are not members.
In Gujarat, SEWA has 9 district associations with a cadre of young volunteers, trainers and facilitators regularly disseminating information, training and providing skills building and exposure to new technologies with solutions to critical problems. Khodu village in the district of Surendranagar, is one of 100 villages served by SEWA, and has more than 6 000 people mainly involved in agriculture with a literacy rate of 74 percent. The villagers are quite open to change and willing to experiment with new technologies.
RUDI is SEWA's for-profit agribusiness company, fully owned and operated by 250 000 small-scale women farmers, all members of SEWA. RUDI connects the farmer directly to end users through an integrated procurement, processing and distribution system all managed by women members of RUDI and SEWA. The business model relies on saleswomen (Rudiben) who purchase the products from procurement centres and sell them in the villages directly to households.
Digital innovations were made in RUDI's food supply chain, transferring the entire management from paper to electronic data. The digitalization of transactions known as RUDI Sandesha.
Vyavhar (RSV) was developed with the support of Vodafone Foundation and has been scaled-up based on the needs of Khodu villagers. RSV enabled transmission of orders in real time through the app, reducing the number of trips to the procurement centre, increasing time for sales and cutting delivery time by half. All this increased customer satisfaction, improved inventory management and reduced waste as well as making financial transactions more transparent.
According to one Rudiben: "With the introduction of this new mobile service I can get more work done. Using this mobile now means I can send my order by SMS to the warehouse and the people there will pack it up and send it to me. The other Rudiben women take the goods to their villages and sell them door to door."
"With the introduction of this new mobile service
I can get more work done. Using this mobile now means I can send my order by SMS to the warehouse and the people there will pack it up
and send it to me. The other Rudiben (sales) women take the goods to their villages and sell them
door to door."
In the area of banking, finance, savings and loans SEWA also boasts another formidable innovation, M-Bachat. Before its introduction, women went from village to village, meeting people and collecting money in the form of savings or loan repayments, transcribing each transaction manually into a ledger, a slow, onerous and error-prone system that affected trust between members. M-Bachat, a collaboration between SEWA and Sasken, a digital technology provider based in Hyderabad, is an android and mobile-based technology adapted for women who may have low literacy. It replaced the manual system of recording every financial transaction and has made it possible to issue a receipt on the spot using a portable Bluetooth-enabled printer, expanding the sense of financial inclusion among poor rural women.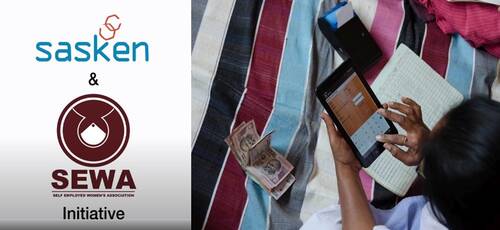 The app was successfully rolled out in April 2016 with 3 000 women from 200 self-help groups participating. The aim is to eventually cover all SEWA savings group members, numbering in their thousands.
In other services, SEWA has established an ICT (information communication technologies) team skilled in managing apps such as Paytm, Google Pay, Phone Pe and BHIM App. This team has partnered with service providers that support digital transactions. For example, a specialized team of Paytm service agents helps villagers pay their utility bills and make digital purchases. With the lockdowns relating to the COVID-19 pandemic, and the emphasis on cashless transactions, this digital initiative has received a boost in Khodu. Contactless being the key word, members receive training through virtual platforms like Zoom and Google Meet.
The farming community that is part of the SEWA network is provided with tailored and timely agricultural information including commodity prices, weather forecasts, pest control cues and advice on agricultural techniques. SEWA also offers its members financial services such as mobile payments, insurance and lending platforms via digital apps.
During the pandemic, access to health care was restricted and the lockdown escalated mental health and social problems like anxiety, depression, fear/panic, domestic violence, child abuse and social stigmatization. Again SEWA's formidable organization and ability to mobilize digital services and support proved invaluable. SEWA turned to telemedicine services and beginning in April 2020 facilitated remote medical consultations, engaging doctors from leading multispecialty hospitals like Zydus. SEWA members can consult with a doctor via a phone call from home and receive evaluations and medical prescriptions by text message. From April to November 2020, 134 patients from Khodu were treated for various illnesses and nearly 75 percent received follow up advice.
The only limit to SEWA's digital services to thousands of women villagers is the number of smart phones, tablets and laptops available as well as a functioning internet connection. SEWA's ability to replicate these successes in other villages where they have members depends on basic connectivity infrastructure and access to digital tools for the rural poor.
CASE 10 -- Rural women as digital village catalysts: the case of BAIF eDost successful model in Pathardi village, India
The village of Pathardi is located in a hilly tribal region in the State of Maharashtra, where villagers have to travel 20 kilometres to and from the nearby town to access basic public services, such as banking and dealing with the local authority. This requires four hours travel which is costly plus the loss of a day's income. Pathardi has moderate cellular connectivity and most of the villagers' bank accounts were linked to Aadhaar. So the opportunities for them to be digitally connected already existed.
Smart phone usage and internet penetration are at an all-time high in India, even in rural areas. The COVID-19 pandemic further compelled citizens to go digital for education, banking, governance and conducting other business using mobile phones. However, rural people and small-scale farmers are generally unfamiliar with these mobile phone services.
This is where the BAIF (Bharatiya Agro-Industry Foundation) e-Dost (e-Friend) initiative enters the picture. The BAIF Development Research Foundation is a non-profit organization that operates in 13 states of India and provides extension and information sharing services over a wide range of farming and rural activities including livestock development, tree-based farming and natural resource management.
BAIF launched e-Dost, a digital initiative and digital village catalyst that offers generic digital services to villagers such as those greatly needed by the residents of Pathardi. The selection of the village's e-Dost is the preferred choice by women from the same community. It offers digital services in return for service fees which help the women earn a living while contributing to the creation of a digital ecosystem in the village.
e-Dosts are like digital catalysts, counsellors or trainers on the ground that are trained to offer a wide variety of digital services to villagers including financial services, e-governance, surveys/mapping, education, life skills, digitizing value chains and e-commerce. The basic idea behind e-Dost is to bring the villagers the digital technologies and applications that deliver the services they need.
The e-Dost concept was piloted in June 2019 at Patharti village. The pilot, implemented by the BAIF Development Research Foundation and its sister organisation BAIF Institute for Sustainable Livelihoods and Development (BISLD), involved other contributors including Tata Motors Limited who brought financial support, academic and financial institutions (IIT Bombay and National Payments Corporation of India) who offered knowledge and technical support and also the Government of Maharashtra that provided overall facilitation.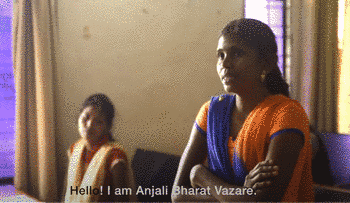 The first registered e-Dost under the pilot was Ms Anjali Vazare, a proactive young woman who joined in June 2019 with an agency offering an Aadhaar-enabled payment system (AePS). Ms Anjali started offering doorstep digital financial services to villagers such as cash withdrawal, money transfer, mobile/DTH recharge, bill payments and balance enquiries. For this Anjali needs a smartphone, a fingerprint scanner, the PayNearby app and 3G/4G internet connection. This helped save the villagers' time, money and effort and hence, they readily agreed to pay Anjali's fees to avail of her digital financial services. Anjali uses payments received for mobile recharges, bill payments and money transfers to meet cash withdrawal requests, so she does not have to make numerous visits to the town's ATM. From the end of March to June 2020, Anjali provided services to her clients around 1 300 times with total transactions amounting to ₹14 lakhs, earning her around ₹23,000.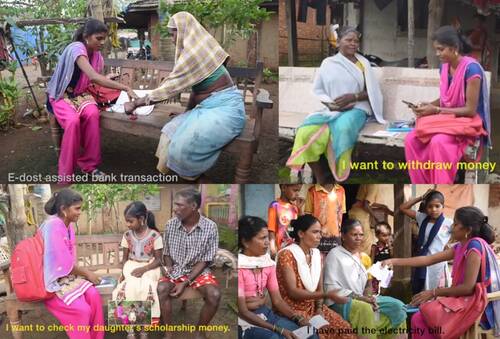 The e-Dost model incorporates doorstep demand-based service delivery, an incentive mechanism, value-added services and keeping cash circulating within the community.
To further streamline the e-Dost model, there is a standard plan for choosing villages, criteria for selecting e-Dosts and picking a coordinator in each cluster to resolve any issues that may arise. The selected e-Dosts undertake a three-session onboarding training. The first session identifies candidates from remote villages that need digital services where sponsors' financial support is available. These candidates receive an orientation in Dos/Don'ts based on their communication skills and digital responsiveness. Shortlisted candidates pass to the second stage. This involves training in verification and registration procedures in collaboration with the FinTech partner and the newly registered e-Dosts receive fingerprint scanners in this session. Stage three monitors how the e-Dost performs during their initial time on the job, offering any necessary advice and guidance.
"e-Dosts are like digital catalysts, counsellors or trainers on the ground that are trained to offer a wide variety of digital services to villagers including financial services, e-governance, surveys/mapping, education, life skills, digitizing value chains and e-commerce. The basic idea behind e-Dost is to bring the villagers the digital technologies and applications that deliver the services they need."
Following the successful pilot in Pathardi village, BAIF planned to expand the model to other districts by the end of the year and then across the country thereafter. Also planned is the gradual roll out of other digital services beyond financial transactions to ensure that e-Dosts proceed to offer a broader range of digital services, giving participants a full time job in due course.
The range of expanded services provided by e-Dost will include e-governance delivered by e-Dost Pro operating from fixed kiosks equipped with laptop, printer and other digital accessories, various knowledge dissemination services using digital audiovisual media on how to topics such as agriculture, sanitation, waste management and nutrition.
The e-Dost women-first digital village catalyst model is a proof-of-concept for remote tribal areas where there is a dearth of digital services. It offers huge scope for replication across developing countries. Beyond expanding the portfolio of digital services, BAIF also needs to work on several information communication technology enabled verticals, such as e-learning and digital field data management. The availability of mobile network services even in remote villages is an ingenious lifeline.