CASE 23 Rural digitalization in Viet Nam: the case of Yen Hoa commune, digital village
Yen Hoa commune is home to 2301 households, 7557 people and a total land area of 802.03 ha of agricultural land and 225.82 ha of non-agricultural land. The average income is VND 48.12 million, about USD 2 080 per capita per year which is lower than the country's annual average, estimated at USD 2 750 in 2020. The commune is well connected, 70 percent of the population use smart phones, 90 percent of households use the internet and all government agencies have computer and internet connection.
The Department of Information Technology under the Ministry of Information and Communications (MIC) is leading the initiative to pilot digital transformation in disadvantaged communes. This takes place in the framework of the National Digital Transformation Programme to 2025, with orientation to 2030, approved by the government on 3 June 2020. The target is that by 2025 Viet Nam's digital economy will account for 20 percent of GDP and the digital economy proportion in each industry or field will be at least 10 percent. Agriculture is among the eight priority sectors for digital transformation.
To implement this the Authority of Information and Technology Application, under MIC, has developed a pilot programme to create 12 smart communes. Local authorities have targeted specific budgets to upgrade digital infrastructures in these areas.
To develop the smart Yen Hoa commune, a collaboration between the Authority of Information and Technology Application (MIC), the Department of Information and Communications of Ninh Binh Province, the People's Committee of Yen Mo District, the People's Committee of Yen Hoa Commune was launched in April 2020.
The People Committee of Yen Hoa commune has developed the digital transformation plan and chairs the steering committee to implement it, cooperating with DIC, DARD, Provincial and District People's Committees. This later involved private sector stakeholders who are expected to provide technology and services.
This pilot has different components.
Upgrading digital infrastructure: To build capacities of government officials and the digital infrastructure for smart government.
Smart health care and education: To develop consultations and health care services for people (Telemedicine); to connect commune health care stations with provincial and central hospitals (Telehealth) for online health care; to use electronic medical and treatment books.
Smart media: To use AI (artificial intelligence) technology in communication and information sharing.
Trading and online payments: To develop trading floors for agricultural products and use online payment methods.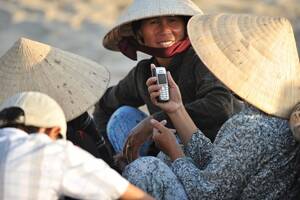 To date, many concrete activities have already supported the digital transformation. In restructuring the commune's digital infrastructure, several actions have been taken by the Department of Information and Communication (DIC) in September 2020 such as supporting internet provision, upgrading network security, revising the commune website, deploying traffic cameras and building the capacities of commune leaders.
In smart health care and education, the Tele Medici company implemented actions to deploy telemedicine, guiding farmers in its use and supporting online medical consultations between August and September 2020. Telehealth was also supported by Viettel Ninh Binh in September 2020 to connect the commune health care station to provincial and central hospitals.
For smart media, Vbee Company supported the application of AI to daily news and conducted training for communication staff between August and September 2020.
Regarding trading and online payments, VnPost and DIC set up an e-trading floor alongside a promotion and communication campaign while Vietcombank and DIC developed and supported online payment facilities in September 2020.
During this initial period, 1 069 people downloaded the Tele Medici application, 714 online consultations took place and the Facebook group, Yen Hoa hoi bac sy tra loi, has registered 1 313 members discussing 98 questions. In terms of benefits, online consultations over five weeks are equivalent to VND 55.1 million if people had gone into hospital, amounting to about VND 480 million per year.
Overall, this pilot has demonstrated some of the benefits of the digital transformation, including time and cost savings for health care services, better information access through smart media (about production, market prices, weather forecast) and increased connection between farmers and consumers through digital trading, contributing to reducing transaction costs and greater economic efficiency. One could also add improvements in post-harvest, packaging and traceability aspects relying on machines and QR codes.
"Overall, this pilot has demonstrated some of the benefits of the digital transformation, including time and cost savings for health care services, better information access through smart media (about production, market prices, weather forecast) and increased connection between farmers and consumers through digital trading, contributing to reducing transaction costs and greater economic efficiency."