Farm to Fork: new technologies for sustainable food systems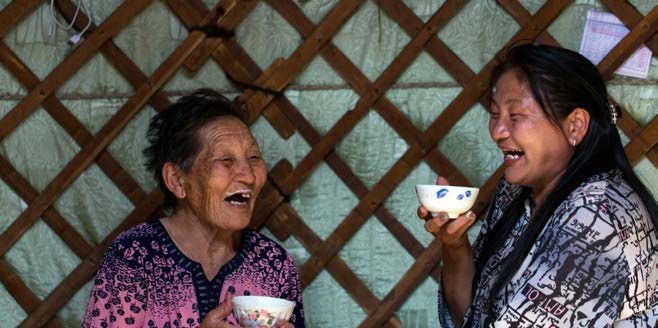 The steps involved in getting agricultural products from the farm to the table are complex and include production, post-harvesting, processing, distribution, marketing and retail. The sharing economy business model is being adapted to agriculture, and is being taken up by many countries in the region. Efficient new systems and technologies can now ensure that food quality and safety standards are met through the incorporation of good practices across the supply chain.
Consumer concerns about food safety and compliance with international standards have driven the adoption of business practices that help participants in the supply chain to track and trace a product throughout the supply network.
Reducing food loss and waste is critical to creating a "zero hunger" world.Since 2011, when FAO presented the estimate that around one-third of the world's food was lost or wasted each year, much has changed in the global perception of the problem. There is now a greater understanding that everyone has a part to play, and FAO is working with a broad spectrum of stakeholders and partners to address the problem.Private sector companies in China have created several models to reduce food loss and waste. Meicai, a startupthat helps farmers sell vegetables to restaurants, established the "SOS Precision Poverty Alleviation Program'',which procures under-marketed vegetables in China's poverty-stricken areas to reduce food loss and waste n the production phase and, hence,reduce poverty. Alibaba, a high-tech giant, has established pilot projects with industries in urban areas to reduce food loss and waste in the food delivery process, such as serving smaller portions of dishes, using recyclable food packages and edible chopsticks and spoons, and recycling food residuals, all of which also create more employment opportunities for immigrant workers in the process.With the support of another private company, Messe Dusseldorf, and Tsinghua University, FAO organizedt he Agriculture Innovation Lab and facilitated a "hackathon", which brought together teams of skilled computer experts, to come up with an ICT solution to food loss and waste. The winning team, Food for Life, designed an appto help supermarkets and restaurant ssell still fresh but soon-to-be-expired food at discounted prices to consumers and, therefore, reduce food waste in the supply chain.
Blockchain to ensure traceability in Papua New Guinea
Blockchain to ensure traceability in Papua New Guinea
Traceability is defined as the ability to discern, identify and follow the movement of a food or substance intended to be, or expected to be, incorporated into a food, through all stages of production, processing and distribution.
In Papua New Guinea, a pilot project on pigs is using distributed ledger technologies, or blockchain, to create a database. Pigs are linked to a database via RFID (radio frequency identification)-enabled tags. Performance data are uploaded via a mobile application (PNG Pigs), to track the quality of pigs and facilitate engagement with key stakeholders across the value chain over time.
The issue: Traceability for food safety and standardization
As one of the few mammals living in Papua New Guinea, pigs play an important role in the country's culture and economy. Traditionally, smallholder farmers—who raise the vast majority of pigs— have sold their livestock locally. A rise in global demand for pork means new opportunities to access international markets, but only if farmers can improve the quality of their product.
Farmers in PNG need to be competitive with their pig products and consumers need to be able to trace the source of the foods they are consuming and to reduce the misuse of antibiotics, which leads to Antimicrobial Resistance.
The action: Blockchain
At the request of the provincial government of Jiwaka, FAO and ITU conceptualized and designed a new livestock-tracking blockchain system for smallholder pig farmers. Using radio- frequency identification (RFID) tags and a smartphone app, farmers can keep digital records of how they raised their pigs – proving the pigs received a diet of sweet potatoes, for example, or were administered the proper vaccines. Thanks to this robust digital history, buyers can be assured of their animals' quality, while farmers can earn a fairer return on their investment.
The system is currently being piloted in Jiwaka, a province located in the highlands, where community members were eager to test the initiative and home to the largest pig population in the country. The provincial government funded smartphones for 25 smallholder farmers, along with training on how to use the app. Meanwhile, the country's national communications authorities are improving local broadband connectivity so that the farmers can more easily use their smartphones to update livestock records in the tracking system, which rests in the cloud.
Expected results
FAO is helping farmers raise their incomes, fight antimicrobial resistance and create new opportunities throughout the value chain.
Before the system was implemented, consumers had no means of verifying information or tracing the path of pork through the food chain. The implementation of the new tracking system is vital for establishing consumer trust and ensuring farmers can expand their markets and earn a fair return on their investments.
The next steps for the project are to improve the app and make it available to a wider group of farmers. FAO is also working with banks and mobile operators to enable payments to be made online. The project could also create new opportunities for rural transporters, who could deliver the pigs from the seller to the buyer for a small fee.

Geographic focus: Papua New Guinea
In partnership with the Department of Agriculture and Livestock (DAL), Department of Communication and Information Technology and Energy (DCITE), National Information and Communication Technology Authority (NICTA), International Telecommunication Union (ITU), and other key stakeholders.
GPS to track herds in Mongolia
GPS to track herds in Mongolia
GPS tracking technology in the nomadic country context collects data that characterizes herd movements and the patterns of interaction between herds throughout the year. Information regarding key management and husbandry practices during seasonal mobility is collected. The GPS data could also assist in better understanding pasture and water usage and information-sharing mechanisms between neighbouring herds.
The issue
Live animal movement is a major cause for the introduction or dissemination of livestock and wildlife infectious diseases, whether through local and international trade-related transportation or traditional herd movement. In Mongolia, the patterns of contacts between herds are a key determinant for infectious diseases spreading, including foot and mouth disease (FMD) and peste des petits ruminants (PPR).
Reliable data on animal movement and patterns of contact is key to clearly understanding the epidemiology, routes and rates of transmission, and impact of infectious diseases affecting livestock and wildlife.
The action
A pilot project was conducted in the Khotont soum Arkhangai Province to test the feasibility of using GPS-tracking technology in the nomadic Mongolian context, to characterize herd movements and the patterns of interaction between herds throughout the year, while surveying information regarding key herd management and husbandry practices during the seasonal mobility. The GPS data also assists in better understanding pasture and water usage and sharing mechanisms between neighbouring herds.
In the second half of 2019, six lightweight GPS collars were deployed on six different small ruminant herds (sheep) at their summer pasture locations. Additionally, a preliminary questionnaire-based survey was conducted with the households to collect information on the daily routines of the herd, herd management practices, animal health conditions, interactions with livestock or wildlife populations and trading activities.
FAO also introduced the application "The Mobile Based Data Collection System" for smartphones in 2018. The app registers disease incidents, attributes risk factors and supports large-scale surveillance. The application includes key features such as workflow and data tracking support between different laboratories, smart data exchange interface, offline data recording, automated geo-referencing and short questionnaires with built-in checks tailored to the surveillance activity.
The system is easy to use and works online as well as offline. When the surveillance data is uploaded offline, it is automatically sent to the State Central Veterinary Laboratory (SCVL) server whenever the internet connectivity becomes available. This allows data to be fully integrated with the laboratory information management system.
Expected results
These pilots are expected to provide evidence for the feasibility to apply epidemiological support tools for defining risks associated with livestock movements while providing an initial characterization of seasonal and daily movement, interaction patterns, key herd management and husbandry practices, and the potential related risks for the transmission and dissemination of infectious diseases. So far, the mobile application is being used for serological surveillance and post-vaccination surveillance for transboundary animal diseases such as FMD and PPR. Local veterinary services staff have tested and modified to fit the use for nationwide large-scale surveillance system in 2019 as they can see the immediate benefits.
Geographic focus: Mongolia
Private sector partnering to combat food loss and waste—China
Private sector partnering to combat food loss and waste—China
Three innovative private sector companies are being inspirational in creating business solutions to tackle global challenges such as food loss and waste: Alibaba, MEICAI and Shared Harvest Farm.
By leveraging the power of reach, innovation and technology, the private sector is uniquely positioned to help address the issue around food loss and waste. The private sector can mobilize and share knowledge, expertise, technology and financial resources to complex challenges like poverty reduction and food loss and waste.
The issue
Food loss and waste is a huge issue in Asia and reducing it significantly could contribute to increased food security. FAO estimates that about 80 kg of food per capita per year is wasted in Asian countries, including China.
Despite enormous reductions in poverty since 1980, in 2018, over 16 million people were still considered poor and extreme poverty was found in the rural areas. In addition to rural poverty, the agriculture sector is facing an increase in food demand while having limited access to natural resources. Increasing urbanization and climate change are transforming the food system in China and food loss and waste are serious issues.
The action
Alibaba is providing infrastructure to help merchants, brands and other
businesses to leverage the power of technology to engage with their users and customers.
MEICAI is a start-up that helps farmers sell vegetables to restaurants. It established the "SOS Precision Poverty Alleviation Programme", which procures under-marketed vegetables from China's poverty-stricken areas to reduce food loss and waste in the production phase.
Shared Harvest Farm, who, with FAO in 2019 created a new opportunity to re-design the linkage between traditional farming and online marketing. The partnership created a social enterprise for engaging the community in organic farming and agro-ecology while connecting the farmers to urban consumers through e-commerce channels.
Expected results
By linking farmers to e-commerce and online market places it can foster income creation in poorer areas in China, enhance their opportunities to better their livelihoods and support the development of sustainable agriculture. The private sector also provides tangible solutions for consumers to address food waste.
Geographic focus: China
In partnership with Alibaba, MEICAI and Shared Harvest Farm.
Healthy Fast Food in Samoa
Healthy Fast Food in Samoa
Fast processed food is easier to access and can be a cheaper option than fresh food, particularly for urban dwellers but it lacks micronutrients and is high in fat, sugar and salt. The prolonged consumption of fast food contributes to psychosomatic dependency, to increased obesity, a risk factor for non-communicable diseases (NCDs) such as diabetes and heart diseases. This is particularly the case in the Pacific Island countries, which have some of the world's highest rates of obesity and NCDs.
The ongoing initiative is funded by FAO RAP, under the theme of healthier fast food, which includes Samoa, Viet Nam and the Philippines as pilot countries.
The issue
Samoa has one of the highest rates of obesity in the world. Nearly 48% of the overall population and nearly 90% of women are obese and over 6% of children. Fast food contributes to the problem as it is widely consumed in Samoa. As well, Providing healthier, affordable fast food could encourage people to make more nutritious food choices.
The action
FAO worked with the owners of the major food stall outlets in the centre of Apia. It is estimated that at least 1 500 individuals purchase their food from this location. Stall owners are encouraged to switch from using imported food to using local, fresh produce. FAO conducted nutrition education and outreach to consumers in order to engage people in taking responsibility for their own health through improved nutrition.
Results
A field trial has been conducted and the results of healthy fast food adoption by youth are very promising. Some of the partner schools have interest in the initiative and want the programme to be included in their official school calendar for 2020.
Geographic focus: Samoa
In partnership with the Ministry of Health (MoH), market food vendors (Samoa Land Corporation), the Ministry of Education Sports and Culture (MESC), the Ministry of Agriculture and Fisheries (MAF), the Tiapapata Art Centre (a NGO advocating for nutritional transformation in Samoa), and the national farming associations in Samoa.
Mobile Food Safety Lab in Bangladesh
Mobile Food Safety Lab in Bangladesh
Ensuring food safety and consumer protection are issues high on the political agenda in Bangladesh and a major concern of policy makers.

The Bangladesh Food Safety Authority (BFSA) is responsible for regulating, monitoring, and coordinating food safety in Bangladesh. FAO and the United States Agency for International Development (USAID) partnered to support the Government to establish and build the capacity of the BFSA. In order to verify food safety at the frontline and collect data by field testing, a mobile laboratory has been provided. BFSA started to operate the laboratory end of 2019 and it is gathering data and insights about food contamination that will inform food safety campaigns.
The issue:
Contamination is rife along the food chain in Bangladesh through both poor food handling practices and deliberate adulteration. There is weak enforcement of food regulations, an absence of a cold chain and poor awareness of basic standards of hygiene and sanitation among producers, food handlers, and consumers. The lack of control over food safety is not just a health issue; it affects numerous sectors such as agriculture, trade and tourism.
The action:
The mobile laboratory is currently touring markets in Dhaka, the capital city, to raise awareness of food safety and good food handling practices. It will also tour districts in the rest of the country.
The mobile laboratory is fully equipped with modern laboratory equipment for sample preparation, ELISA testing (to detect antibodies in blood), rapid tests and spectrophotometry. Up to three technicians will be able to perform tests simultaneously. On-board modern equipment allows them to test for the basic food safety parameters (E. coli, Salmonella, Shigella, formaldehyde, pesticide residues, mycotoxins, heavy metals in water, plus some basic toxic adulterants and colorants.) There is capacity to test around 20 samples with different parameters per day. Test results take from just a few minutes to a few hours. Although these tests are not as thorough as analyses performed in large laboratories they are enough to detect the worst cases of contamination, allowing officials to alert sellers and buyers quickly.
The laboratory has storage space for at least one month's supply of consumables such as testing kits, gloves and masks, calculated in accordance with a daily workload of 20 tests. Equipment can be easily dismantled and replaced with required specialist equipment to undertake certain tests.
BFSA staff were trained to set up and use the mobile laboratory in realistic conditions in the field, as well as directly interact with the public to raise awareness of food borne illnesses.
Expected results:
The mobile laboratory brings high complexity laboratory testing directly to where it is needed. This shortens the waiting times for results and reduces the cost and time involved in having couriers transport samples to the reference laboratory. Instead, valuable time can be used to strategize
on reliable mitigation actions. The mobile laboratory has the ability to provide rapid results and it can be mobilized quickly to site providing analysis within hours. Additionally, it produces comprehensive data that complements on-site laboratory analysis to help better design food safety strategies.
Geographic focus: Bangladesh
In partnership with The Bangladesh Food Safety Authority
SMART indicators for measuring food safety in Bhutan, China, Philippines and the Cook Islands
SMART indicators for measuring food safety in Bhutan, China, Philippines and the Cook Islands
Food safety is a fundamental part of food security and can have a significant impact on public health and the national economy and trade. Nevertheless, the social and economic consequences of unsafe food are often invisible in many developing countries where health surveillance and food monitoring systems need to be either developed or improved to be more effective. This often leads policy makers to consider the topic of food safety less of a priority.
However, various challenges exist for the countries in the region to develop food safety indicators that are relevant to their local capacities, available resources, knowledge and awareness levels.
Many national food-safety-competent authorities in Asia and the Pacific have realized that there is no "universal" set of indicators to be made available for all countries, and had expressed the need for guidance from FAO to develop their own measurable indicators in order to capture country-specific capacities and situations.
The action
FAO led the development of indicators, of which 40 regional food safety indicators were shortlisted for validation and development at the national level.
In 2018-2019, four countries with different technical capacity levels, namely, Bhutan, China, Cook Islands, and the Philippines volunteered to pilot food safety indicators. They have already worked on validating some of the key indicators that are significant in their individual country contexts.
Expected results
The process of developing and measuring the indicators was particularly valued by the pilot countries as it provided new viewpoints. The innovative methodologies to develop scalable and realistic national food safety indicators are helping pilot countries to understand their current food safety situation better. The regional set of food safety indicator areas mapped out the essentials in food safety management, yet each area has scalable options to develop tailored national food safety indicators. Consequently, a set of investment packages to improve food safety can be developed and easily implemented by various SDG development partners who might not necessarily be food safety experts.
Geographic focus: Bhutan, China, Philippines, Cook Islands
Food waste hackathon
Food waste hackathon
A hackathon as an event and method for innovation sourcing is replicable and scalable to any region or country with potential to find solutions on various different topics.
The winning ideas have real potential to be further incubated and impactful in reducing food loss and waste. FAO encourages and supports the winning teams to find partners and funding, for them to develop their ideas into practical pilot projects and in the future into solid business ideas.
The issue
New technologies, ICT and artificial intelligence (AI) offer innovative approaches to the complex challenge of food loss and waste.
In partnership with Tsinghua University and others, FAO China established the Agriculture Innovation Laboratory (AgLabCx) in 2017 with the aim to create a cooperative environment that fosters creative and innovative ideas to tackle challenges in agriculture.

The action:
In November 2019, the AgLabCx organized a Hackathon for Food Loss and Waste – Reduce, Reuse, Recycle. A hackathon is an innovative event where teams consisting of skilled experts engage in creating solutions for specific issues and challenges in a collaborative environment. The outcome usually is an ICT tool, software, app, sustainable product, business model or other solution, which may lead to the inception of a start-up business or project.
The hackathon was organized in collaboration with FAO's long-term partner Tsinghua University, and it was supported by the Swiss Agency for Development and Cooperation (SDC). The aim was to release the energies of inter-disciplinary collaboration to tackle food loss and waste and offer innovative approaches.
The Hackathon was open to people between 18 and 35 years old, including students regardless of their age or nationality. Each team consisted of 2 to 5 members with expertise in software programming, artificial intelligence, data engineering, agricultural science, food systems' development, environmental science, consumer behavior, marketing, business administration, service design or project management.
The winning team "Food for Life" proposed a mobile app that integrates block chain technology, Internet of Things (IoT) and AI. It provides solutions related to sale of perishable foods by merchants and unsaleable agricultural products by connecting consumers to supermarkets and retailers. Its ultimate goal is reducing food waste along the supply chain.
Pinshaoshao came in second place. They designed a platform for tourists to savour local food and find partners to share their meal with and avoid losses. By scheduling a group meal at a local restaurant through the platform, tourists can taste more local food for less money and with less waste.
The group W+ came third. They proposed a special food plate for canteens. By inserting radio-frequency identification (RFID) tags into the food plate and the canteen management system, nutrition information and the amount of food waste could be tracked.
Expected results
Hackathons can further unleash innovative approaches and develop sustainable food systems, creating innovative food packaging, and reducing food waste. All the top 10 Hackathon proposals selected to join the event were in line with the SDGs, especially with SDGs 2, 9, 12 and 17.
Geographic focus: China
In partnership with Tsinghua University, and supported by the Swiss Agency for Development and Cooperation (SDC).