Asia-Pacific Innovations Hub
Welcome to the Asia-Pacific Innovations Hub, the forum for new ideas or updates to existing methods, products and systems to be exchanged, re-mixed and re-used.
The AP i-Hub will reinforce existing initiatives and connect them across countries and regions, while providing the environment for co-creation, innovation and new partnerships. These will cover new technologies for sustainable agriculture, new mechanisms of work or knowledge transfer and extension, and new forms of exchange and trade in markets.
Alibaba enhancing transparency and food safety in food delivery in China
As a major e-commerce service provider for stay-at-home orders and deliveries in China, Alibaba Local Services Company holds millions of registered restaurants and food processors, and hundreds of millions of active consumers, through its platform and a mobile app called Ele.me ("Are you hungry?" in Chinese). During the COVID-19, Alibaba has conducted several innovative practices by applying internet communication technologies to achieve food safety and transform the food systems.
First, with the Optical Character Recognition technology, the takeaway receipt is not only displaying the order information, but also as a seal sticker, tracing the food and presenting information, including the temperatures of cook and delivery person.
Second, through the "Live Broadcasting of Bright Kitchens", consumers could remotely observe the management and cooking operations in the kitchens of restaurant where they decide to order food or not.

Third, to maintain the social distancing, contactless delivery is promoted with the automated guided cars to deliver food based on purchase ledger and price monitoring.
Fourth, through another app named Keruyun, Alibaba digitizes the traditional markets and connects them with restaurants, food processers and consumers. It enables the functions of food traceability, food safety risk monitoring, visual information display, and blockchain license storage.
Share Your New Innovations:
Mobile app to support FAW Monitoring and Early Warning System in Myanmar
Since 2018, smallholder affected farmers in specific state/region of Myanmar, are likely to lose their source of income and face food shortages due to the presence of the fall armyworm pest.
Monitoring, surveillance and scouting are necessary for the quick detection of the fall armyworm pest as it provides timely information required to treat and control the spread of the pest infestation in maize fields/crops. In the initial response to control the pest infestation in Myanmar, farmers applied the use of synthetic pesticides. However, the negative human and environmental impacts of synthetic pesticides are well documented.
FAO's sustainable approach to the management of the FAW Monitoring and Early Warning System (FAMEWS) mobile app involves two components: monitoring and an early warning system. This has been made possible through a collaborative partnership with the Ministry of Livestock and Irrigation and the Department of Agriculture and the Plant Protection Division.
The mobile app enables access to up-to-date information (seasonally, locally, globally) about fall armyworm infestation status in Myanmar. The program allows timely dissemination of information to farmers and other stakeholders on the presence of fall armyworm, which facilitates effective control measures. Providing access to up-to-date information facilitates high-level decision making and ensures planning for early actions to manage and control the spread of the fall armyworm pest.
Results of the new approach include:
Baseline assessment report of fall armyworm infestation in Myanmar;
Increased awareness amongst stakeholders about the detection and control of fall army worm infestation in Myanmar; Establishment of a network to monitor fall armyworm in Myanmar;
Capacity development of staff in the Plant Protection Division and extension staff to effectively manage and control the spread of fall armyworm.
Moringa silage to fatten cattle without the need for steroids in Bangladesh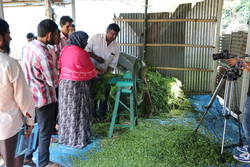 Known as the 'miracle tree', Moringa has been used for centuries in traditional medicine. Moringa powder has more recently become popular as a health supplement. It is packed with nutrients while also having antifungal, antiviral, and anti-inflammatory properties.
But it is not only good for humans. Dairy animals like cows, buffaloes and sheep, if supplemented with green leaves and stems of Moringa, produce up to 65 per cent more milk. Cattle fed on moringa leaves also show rapid weight gain. At a time when there is growing concern among consumers about the use of steroids, antibiotics, growth hormones and other chemicals for cattle fattening, Moringa may offer a natural and affordable alternative.
FAO's Missing Middle Initiative project in Bangladesh has provided pilot financing of up to USD 22 000 to 19 community farmer groups so that they can grow and process Moringa to fatten their cattle. Each group has developed its own business plan using 'RuralInvest', an FAO initiative that helps prepare and evaluate small and medium-size agricultural and rural investment projects. As part of the Moringa initiative, FAO has also provided farm management training, including on the importance of feed and fodder. The initiative is an important step in promoting safe, natural, and affordable meat production that offers great potential for scaling up.
'Seed villages' – a community-based approach for quality seed in Bangladesh
Seed is the starting point of agricultural production. A large portion of the agricultural population of Bangladesh is directly or indirectly involved in the seed production and marketing system. Even so, there is a low supply of high quality seeds that does not meet the high demand. Government and private companies are only able to meet around a quarter of total seed demand. Small and marginal farmers produce the rest.
Developing their capacity to produce, process, store, pack, and market quality seed is a big challenge. Seed production requires large plots dedicated to cultivating a single variety at a time as to prevent mixing. Most farmland in Bangladesh is fragmented between the many smallholder farmers, preventing them from producing seeds.
'Seed villages' are a solution. This is when farmers from a village join together as a social enterprise to produce seeds in a large compact land for themselves and surrounding villages. FAO's Missing Middle Initiative project and the Sara Bangla Krishak Society have established 11 seed villages that are producing mung bean, mustard, groundnut, potato, as well as drought and saline-tolerant rice seeds. They have been a great success. The farmers are now seed self-sufficient and produce the seeds that they want at an affordable price.
Improving farmer incomes from fresh produce sales with solar dryers and hygienic food processing kits in Afghanistan
Figure 1: Government authorities with products from solar dryers of rural women

Figure 2: Solar dryers produce clean and hygienic products

Figure 3: Solar dryers generates income for many rural women

Figure 4: Rural women benefit from this innovation

Figure 5: Solar dryers
The Ministry of Agriculture, Irrigation and Livestock (MAIL) Afghanistan in collaboration with FAO and IFAD has launched a project to increase farmers' incomes by providing them with post-harvest processing technologies in collaboration with IFAD and the government of Afghanistan.
Farmers in Afghanistan struggle with inventory management. Fresh produce can only be sold within a limited amount of time. Therefore, farmers are forced to sell their products at lower prices or even throw away excess amounts of food once they have expired.
Aiming to overcome such challenges, FAO provided a package of materials to dehydrate fresh products to groups of female farmers in Kabul, Parwan, and Logar Provinces. With solar dryers and hygienic food processing kits, farmers were able to preserve produce for longer amounts of time even within small spaces. This bestowed allowed them with more flexibility when they attempted to sell their goods.
Following this intervention, the groups produced a higher supply of dried fruits (grapes, apricots, and figs), and vegetables (tomatoes, eggplants, and okra) within a shorter period of time, leading to increased daily incomes of the participating farmers. The impact of the project was not limited to economic benefits, but also decreased food waste, reduced labour burden, and also empowered female farmers to engage in local markets more actively.
Successful market access by ultra-conservative women in Baluchistan, Pakistan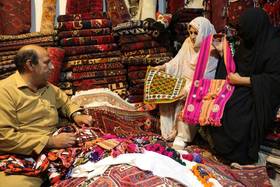 Despite its beauty, Baluchistan rates very poorly on the Human Development Index. Unfortunately it also distinguishes itself on the poor quality of its educational standards.
As the least developed of the five provinces of Pakistan, women in Baluchistan are the most vulnerable members of society. They lack access to basic facilities such as education and health and 57% are not enrolled in schools. The gender gap is the highest among the provinces and prevails at all levels.
Economically, Baloch rural women are left with the responsibilities of household labor, child-rearing, and assisting their male counterparts in livestock and agriculture activities. The women in Balochistan are dependent on their male counterparts (husband, father, brother or any other male relative) for access to agriculture inputs and to eventually sell their agriculture products. Direct market access is almost impossible and, in most cases, income from sales are kept by the males in the household. This practice demotivates the women to carry on with their agricultural activities.
In an effort to change the current situation, the AusABBA project (funded by Australian Aid) focuses on empowering women in Baluchistan through agri-enterprise development. However, for this to happen it is imperative that women have access markets directly without interference from male counterparts who work along the value chain, including middlemen and commissioning agents.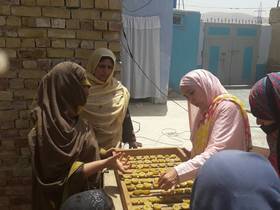 Innovation was necessary to overcome resistance to this new work model so the AusABBA project team put into action a one-of-a-kind intervention in Baluchistan! For the first time ever, elderly village women were selected to act as the liaison between the village and the district markets. The rationale behind this innovation rests on the fact that elderly women enjoy the same status as men thus they have no limitation of movement. It was through them that FAO could access women of all ages in the village.
For the AusABBA project team the process involved identification of elderly women who were (a) willing to go beyond their villages to the markets (b) ready to learn new skills (product development, marketing, negotiation etc.), and finally, (c) able to interact directly with the markets. The women received training in order to be prepared to take on their new role.
The women producers were able to sell their produce (dried apricot, spun wool, hand knotted rugs, fattened animals and other produce) to the market directly. Further, substantial economic gains were seen by women selling their produce in the higher-end and niche markets and at the peak purchasing season, i.e., sheep at Eid. The women saw their incomes double and interest in their businesses renewed! The greater income allowed for better living standards including schooling for their children.
25 August 2020
FAO promotes e-Agriculture to digitally transform agriculture in Pakistan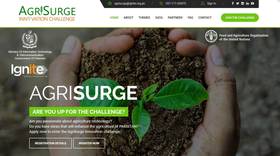 In Pakistan, agriculture represents about 20 percent of GDP and is a major source of employment. However, in recent years agriculture production has been lagging. Farmers use traditional work methods and traditional knowledge resulting in low yields. Low production, water shortages, environmental concerns – and diminishing profits- are some of today's challenges.
Data -driven global agriculture and digital innovations — artificial intelligence, connected sensor technologies, and robotics — promise progressive changes in the farming landscape. FAO is confident that Digital technologies used to generate innovative responses in the agriculture sector, referred to as e-Agriculture, may provide the answers.
FAO in Pakistan (FAO-PK) is supporting the Government of Pakistan to develop its first national strategy aimed at fostering affordable ICT solutions to achieve agricultural goals. With this in mind, In June 2020, FAO, the Ministry of IT and Telecommunications (MOITT) and Ignite, its implementing agency, have agreed to host the AgriSurge Innovation Challenge 2020 (AIC) from 20 July through 9 September 2020.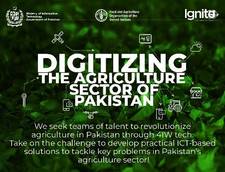 The first-ever scientific data-based IT competition in Pakistan, AIC focuses on promoting precision agriculture by introducing fourth industrial revolution technologies like Robotics, Internet of Things, AI, Big Data, to address pressing issues. Innovative and cost-effective solutions can lead to advances in water usage, warehousing, access to finance, local seed production, alternative crops, etc.
A one-of-a-kind initiative in Pakistan, the AIC offers access to the power of data. FAO and MOITT have published an open-data portal for the Challenge, placing the most updated statistics, software, maps and other resources at contestants' fingertips. This accessibility will facilitate development of data-driven innovations that can respond to key agriculture challenges.
FAO counts on the active participation of the Ignite National Technology Fund, the country's premier funding agency which has funded over 150+ innovation projects. Ignite will award cash prizes totaling 1Million PKR to the top three winners of the competition.
At the time of this writing, over 100 IT teams are working to transform their innovative proposals into working solutions to be assessed by a judging panel. Selected solutions will be scaled up to provide major breakthroughs for rural communities in Pakistan.
The AgriSurge innovation challenge will serve as an important step towards achieving food security and improving lives of the most vulnerable across Pakistan at a time when livelihoods are severely disrupted due to the COVID-19 pandemic.
For more information on the AgriSurge Challenge go to:
https://ignite.org.pk/agrisurge/public/index.html
25 August 2020