Building a shared future for all life - highlights biodiversity is the foundation upon which we can build back better
International Day for Biological Diversity was proclaimed to increase understanding and awareness of biodiversity issues. This years slogan builds on the momentum generated in 2020 and 2021 in support of the post-2020 global biodiversity framework and aims to highlight the importance of biodiversity for many sustainable development issues. FAO strives to ensure biodiversity is fully integrated into its work. This years videos, publications, articles, webinars and podcasts documenting FAO's programmes are a testimony to the ongoing work.
Framework for Action on Biodiversity for Food and Agriculture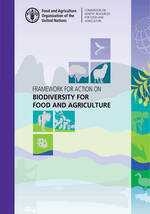 Biodiversity for food and agriculture comprises all the components of biodiversity that contribute to crop and livestock production, forestry, fisheries and aquaculture – both wild and domesticated, and at genetic, species and ecosystem levels. It is vital to food security and nutrition, livelihoods and the supply of a range of ecosystem services.
Video message from the Director-General