FAO Biodiversity Mainstreaming Platform
La conservación, utilización sostenible, gestión y restauración de la biodiversidad en un solo país pueden ser una tarea hercúlea. Entonces, ¿cómo pueden integrarse estas acciones en los distintos sectores?
Teniendo esto en cuenta y, en colaboración con el Convenio sobre la Diversidad Biológica y otras organizaciones y socios de las Naciones Unidas, la FAO está encabezando la Plataforma para la integración de la biodiversidad con el fin de facilitar este proceso. Su objetivo es garantizar la adopción de buenas prácticas en los distintos sectores agrícolas y el intercambio de ideas a nivel nacional, regional e internacional.
La plataforma responde a la necesidad de tender puentes entre los distintos sectores agrícolas y el sector medioambiental. Trabaja para identificar sinergias entre estos sectores y alinear sus objetivos, y para desarrollar enfoques integrados con objeto de incorporar la biodiversidad en la agricultura, la silvicultura, la pesca y la acuicultura.
A nivel mundial, la plataforma concienciará a los distintos sectores agrícolas sobre la importancia de la biodiversidad y promoverá el diálogo sobre temas clave como políticas, indicadores, prácticas y planificación territorial. De esta forma, la plataforma facilitará la participación continua de las diferentes partes interesadas.
A nivel regional, al contribuir al diálogo entre múltiples partes interesadas regionales y nacionales sobre la promoción de prácticas sostenibles en la agricultura, la silvicultura y la pesca, la plataforma ayudará a los países a incluir la biodiversidad en sus planes agrícolas nacionales e implementar instrumentos normativos globales para su integración.
Partner and stakeholder engagement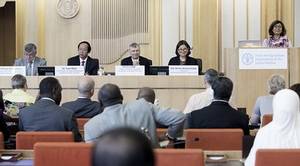 In May 2018, FAO co-organized with the CBD Secretariat the Multi-stakeholder dialogue on biodiversity mainstreaming across the agricultural sectors. The Dialogue, which was held in Rome, brought together about 250 ministers, policy makers, experts, and representatives from inter-governmental organizations, private groups and civil society.
Latin America and the Caribbean (LAC)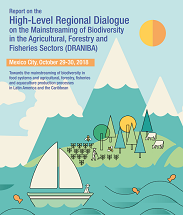 29-30 October 2018. At the High-level regional dialogue on the mainstreaming of biodiversity in the agricultural, forestry and fisheries sectors (DRANIBA), the following recommendations for an LAC Action Plan emerged:
To create or promote a food initiative based on product diversification; incorporate biodiversity criteria and indicators into food systems; develop a platform of indicators or evaluation criteria to measure the progress of the integration of biodiversity in the agriculture sectors; involve ministries of finance in the formulation of plans and programs to integrate biodiversity as a strategy for human well-being; and identify and value the economic, social and cultural contribution of biodiversity and ecosystems.
Report


Asia and the Pacific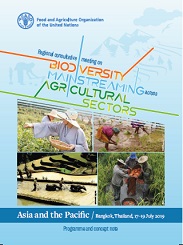 17-19 July 2019. The main outcome of the regional consultative meeting on biodiversity mainstreaming across agricultural sectors in Asia and the Pacific was the creation of awareness and capacity building for multi stakeholders. It also contributed to FAO's work on biodiversity mainstreaming by supporting and promoting the related strategy, at both regional and global level. More... Recommendations included:
To support and facilitate dialogues and workshops; to increase the integration of biodiversity in agricultural policies, planning and investments; to develop regional plans and to establish a biodiversity technical network through e-learning.
Programme and concept note
Report

Africa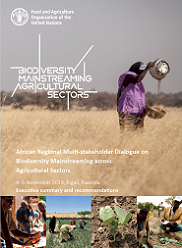 4-5 November 2019. The African regional multi-stakeholder dialogue on biodiversity mainstreaming across agricultural sectors took place in Kigali, Rwanda, hosted by the Government of Rwanda and co-organized by FAO with the Convention on Biological Diversity.
The event raised awareness on the importance of biodiversity mainstreaming across agricultural sectors, and was a chance to exchange knowledge and experiences and share lessons learned on biodiversity mainstreaming in countries within the region, fostering mutual learning among different stakeholders.
Executive summary and recommendations

Near East and North Africa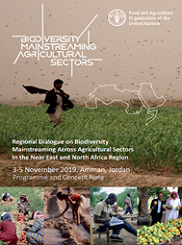 3-5 November 2019. The objective of the regional dialogue on biodiversity mainstreaming across agricultural sectors in the Near East and North Africa region was to review the draft of the FAO Strategy on Biodiversity Mainstreaming across Agricultural Sectors, and provide FAO with a perspective from the region.
The participants emphasized the need for greater focus on invasive species and pollinators. They confirmed that the economic value of the ecosystem services provided by biodiversity should be estimated and that there should be a regional study on climate change.