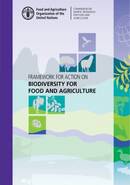 Biodiversity for food and agriculture comprises all the components of biodiversity that contribute to crop and livestock production, forestry, fisheries and aquaculture – both wild and domesticated, and at genetic, species and ecosystem levels. It is vital to food security and nutrition, livelihoods and the supply of a range of ecosystem services.
The Framework for Action on Biodiversity for Food and Agriculture was endorsed by the FAO Council in 2021. It contains more than 50 individual actions grouped into three strategic priority areas: characterization, assessment and monitoring; management (sustainable use and conservation); and institutional frameworks. It was developed in response to the country-driven report on The State of the World's Biodiversity for Food and Agriculture.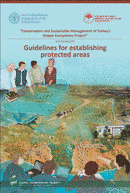 Protected areas can be found in a wide variety of environments, ranging from mountains to the sea, deserts, forests and freshwater lakes, and even traverse borders. They differ in almost every respect, including the purposes for which they are managed, their size, the types of sites and resources they protect, and their management. In recent decades, the number of protected areas has increased rapidly. Although, there has been good progress in expanding the coverage of terrestrial protected areas 14.9%, the further areas are needed for a full representation of areas of particular importance for biodiversity and ecosystem services (UNEP-WCMC, IUCN and NGS, 2018). In general, this rapid and recent growth in protected areas has not been accompanied by commensurate expansion in management capacity.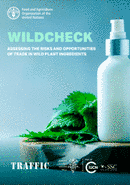 Thousands of consumer products around the world contain ingredients obtained from wild plants. Wild harvest accounts for some or all the harvest of the great majority of plant species in trade (between 60-90 percent). Wild-harvested plants often come from the most biodiverse ecosystems on earth and many have been used traditionally or by local communities for generations. While these products have global markets and provide critical sources of income, they can also have deep ties to particular cultures and places. Demand for wild plant ingredients is growing rapidly, having grown by over 75 percent in value over the past two decades.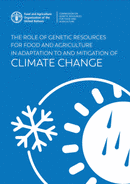 The role of genetic resources for food and agriculture in adaptation to and mitigation of climate change
As the pace of climate change is increasing, it is more important than ever to conserve, characterize and sustainably use genetic resources for food and griculture. Over millennia farmers, livestock keepers, fisherfolk and forest dwellers have adapted their production systems to changing environmental conditions, relying on genetic resources for food and agriculture. However, these resources are still not receiving the attention they deserve given their enormous importance. 
The main focus of this study is the state of current use of genetic resources in climate change adaptation and mitigation efforts. Each chapter explores the impacts of climate change on genetic resources and also considers the significance of genetic resources to climate change adaptation and mitigation.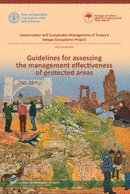 This set of Guidelines is aimed at protected area staff, conservation scientists, managers and stakeholders involved in the management of protected areas in Turkey. It provides substantial support to protected area planners, decisionmakers and managers, and staff of the MAF, helping them to assess and improve management effectiveness for protected areas and monitor regularly the management effectiveness of these unique and valuable sites. Protected areas are the cornerstone of biodiversity, habitat and ecosystem services conservation.