Council of the European Union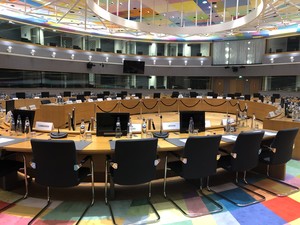 The Council of the European Union – together with the European Parliament – negotiates and adopts legislation based on proposals submitted by the European Commission in policy areas where the EU has exclusive and shared competence with Member states.
It also coordinates Member States' policies in certain policy areas, develops the EU's common foreign and security policy, concludes international agreements and adopts the EU budgets.
Most of the work in the Council is prepared by Working Parties.
The dedicated working party on FAO matters coordinates the Member States' position for FAO meetings.
Presidencies of the Council of the European Union
The FAO Liaison Office in Brussels works closely with the rotating Presidencies of the Council of the European Union. The collaboration includes providing information to Council Presidencies, co-organizing or participating in events related to the mandate of FAO and reporting to the various working parties of the Council on a regular basis.
Over the past years, the Liaison Office in Brussels has developed a strong relationship with the various presidencies.
A recent highlight of our collaboration was the participation of the FAO Director-General at a lunch meeting with the 28 Ministers of Agriculture of the Member States of the European Union where they discussed the state of the world's forests in December 2019.
Slovenian Presidency (1 July - 31 December 2021)
Participation in events under the Presidency

OACPS Intergovernmental Food Systems Summit Dialogue (Read more)
FAO Brussels Dialogue and Independent UNFSS Dialogue: When science meets policy to boost food systems transformation (Read more)
EU Pollinator Week 2021 (Read more)
Second observance of the International Day of Awareness of Food Loss and Waste (Read more)
Smart Villages for a Green, Digital and Resilient Europe (Read more)
World Food Day Celebration in Brussels (Read more)
Rural Areas in 2040: Addressing global challenges of rural areas with Smart Villages



Presentations to the Council Working Parties on

Working Party on Humanitarian Aid and Food Aid (COHAFA) on acute food insecurity in Madagascar (Read more)
Working Party on FAO Matters: Transforming our agri-food systems for better production, better nutrition, a better environment and a better life (Read more)
Africa, Caribbean and Pacific (ACP) Working Party: on FAO's work on Water Management in West Africa (Read more)


Portuguese Presidency (1 January - 30 June 2021)
Participation in events under the Presidency
Presentations to the Council Working Parties on

Working Party on FAO Matters: Priorities for the Semester (Read more)
Working Party of Chief Veterinary Officers: One Health development in the FAO Strategic Framework and the establishment of a Committee on Agriculture (COAG) sub-committee on livestock.
Working Party on Development Cooperation: Food Coalition (Read more)
Working Party on Humanitarian Aid and Food Aid (COHAFA): On the UN Food Systems Summit Action Track 5 (Read more)
German Presidency (1 July - 30 December 2020)
Participation in events under the Presidency

Internal Digital Briefing for the European Parliamentary Alliance against Hunger and Malnutrition "Sustainable Food Systems in times of Global Crises"
"Fish(ing) for Future": Sustainable fish for food security and nutrition in Africa (more)
FAO Regional Dialogue for Europe and Central Asia "Joint action on COVID-19 boosting our global food and agriculture response (more)
FAO Brussels World Food Day Celebration (more)
One Planet, One Health, One Future: Moving forward in a post-COVID-19 World - The importance of multilateralism and trans-sectoral partnerships for One Health and global health security
FAO Brussels Dialogue on Rural Employment (more)
Launch of the Parliamentary Handbook of Responsible Investment in Agriculture (more)

Presentations to the Council Working Parties on

Working Party on FAO Matters: Priorities for the Semester (more)
Working Party on Humanitarian Aid and Food Aid (COHAFA): on the Desert Locust Situation, the impact of COVID-19 on food security (more)
African, Caribbean and Pacific (ACP) Working Party: The importance of including the environment in a One Health Approach (more)
Croatian Presidency (1 January - 30 June 2020)
Participation in events under the Presidency

Challenges and perspectives for family farming and rural youth (Zagreb)
Presentation of the Belgian 2 euro dedicated to the International Year of Plant Health (Brussels)
64th Conference on Plant Protection (Opatija)

Presentations to the Council Working Parties on

Chief Veterinary Officers
Development Cooperation
FAO matters
Humanitarian Aid and Food Aid
Finnish Presidency (1 July - 31 December 2019)
Finnish Presidency (1 July - 31 December 2019)
Participation in events under the Presidency

Exchange of views on action against deforestation and forest degradation (Brussels)
High-level brainstorming session on a sustainable food policy (Brussels)

Presentations to the Council Working Parties on

ACP Matters
Codex Alimentarius Commission
Development Cooperation
FAO Matters
Genetic Resources
International Environment Questions