Unit 2: Who is doing what?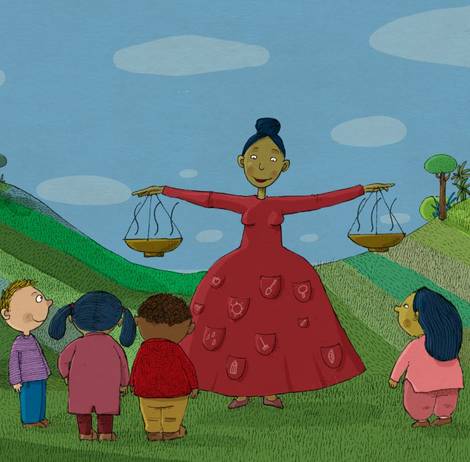 The Zero Hunger recipe is that we all have a role to play! The solutions to end hunger once and for all are simple but will only work with that special ingredient: people! And their actions – which is the difficult part. That's why FAO shows the way forward by involving governments, private sector companies and ordinary people in a series of programmes designed to get us all on the road to Zero Hunger.
1. Governments and political leaders
1. Governments and political leaders
To young people, politics may sound like grown-up stuff, but it actually plays an essential part in everyone's life. Leaders, for example, have a key role in the fight against poverty and hunger. Their focus on agriculture, climate change, job creation, and their increased protection of the more vulnerable can make a difference both in the short and in the long term.
Governments need to monitor the market so that prices are fair for small farmers too. They should make sure that large corporations respect and protect the rights of local people when buying or leasing large quantities of land. And they also need to promote healthy eating, invest more in research, and focus on developing rural areas. This is to name but a few of the actions that can be taken to improve people's lives.
Good leadership makes a difference: that's why FAO believes that supporting, and being supported by governments is necessary to develop global strategies against hunger.
2. Small family farmers
2. Small family farmers
Around 90% of farms in the world are family-owned. This means that behind each farm there's a mum, a dad, sometimes other relatives, and children who all work together to produce food for the family and for the rural community they belong to. These farms play an impressive role in the mission to reach Zero Hunger, and they must be made aware of it! FAO encourages them to join together as cooperatives to increase their power, improve their access to resources, and maximise their profits. Together, they can adapt to climate change and develop common strategies for sustainable cultivation, as well as to learn how to prepare for natural disasters and recover faster from their impacts.
Lastly, small farmers need to preserve the Earth's natural resources, such as soil and water, and improve techniques for harvesting, food storage, packing or transport to cut down on food loss. We are not only talking about farmers in the fields but also communities living off forestry, fishery, and pastoralism. FAO devotes time and resources to the amazing potential of these small farmers, especially focusing on knowledge, education and technology.
3. Private sector
3. Private sector
One of the main ingredients in the fight against hunger is innovation, and it wouldn't be possible without the support of the "private sector". But what is this, precisely? It's formed by companies and enterprises of all sizes that work not only in agriculture but also in services related to it, like insurance, marketing, communication and finance. Companies in the financial sector work with FAO to give poorer farming families access to funds so they can improve their farms and earn more. Supermarkets can sign up to FAO's SAVE FOOD initiative and network with food retailers all over the globe to reduce food loss and waste across their stores, and also encourage their customers to join in the effort.
Multinational corporations can work with FAO to use large areas of land responsibly, respecting the environment and making sure that local people are not pushed away from their farms, jobs or homes. Telecommunication companies are indispensable to FAO: they can develop new Apps that give family farmers access to information, so they can use natural resources with more caution, and prepare for extreme weather events related to climate change. Newspapers, magazines and other media outlets should team up with FAO to share more information on hunger, nutrition and other food-related issues.
Any entrepreneur in the world can join FAO in the fight against hunger, for example by adopting sustainable development procedures and joining in the international dialogue on this topic. Because, as we have seen, hunger is a problem that concerns us all!
4. Young people from all over the world!
4. Young people from all over the world!
Last but not least, FAO believes in the power of the youngest generations, from every country, from all walks of life. Young people, as we have already said, are the adults of tomorrow and will inherit the Earth. The children in this picture have already chosen their actions and are taking flight!