Policy responses to the current food crisis must support multiple dimensions of food security
26/04/2022 -
By Jennifer Clapp
As the world faces a major food crisis triggered by the war in Ukraine, policy responses that support all six dimensions of food security are needed to make food systems more resilient. 
In its 15th report, Food Security and Nutrition: Building a Global Narrative Towards 2030, the High Level Panel of Experts on Food Security and Nutrition (HLPE) of the UN Committee on World Food Security (CFS) emphasized the need to move beyond the traditional four pillar framework for food security – that focused on availability, access, utilization, and stability – to a six dimensional one that also incorporates agency and sustainability.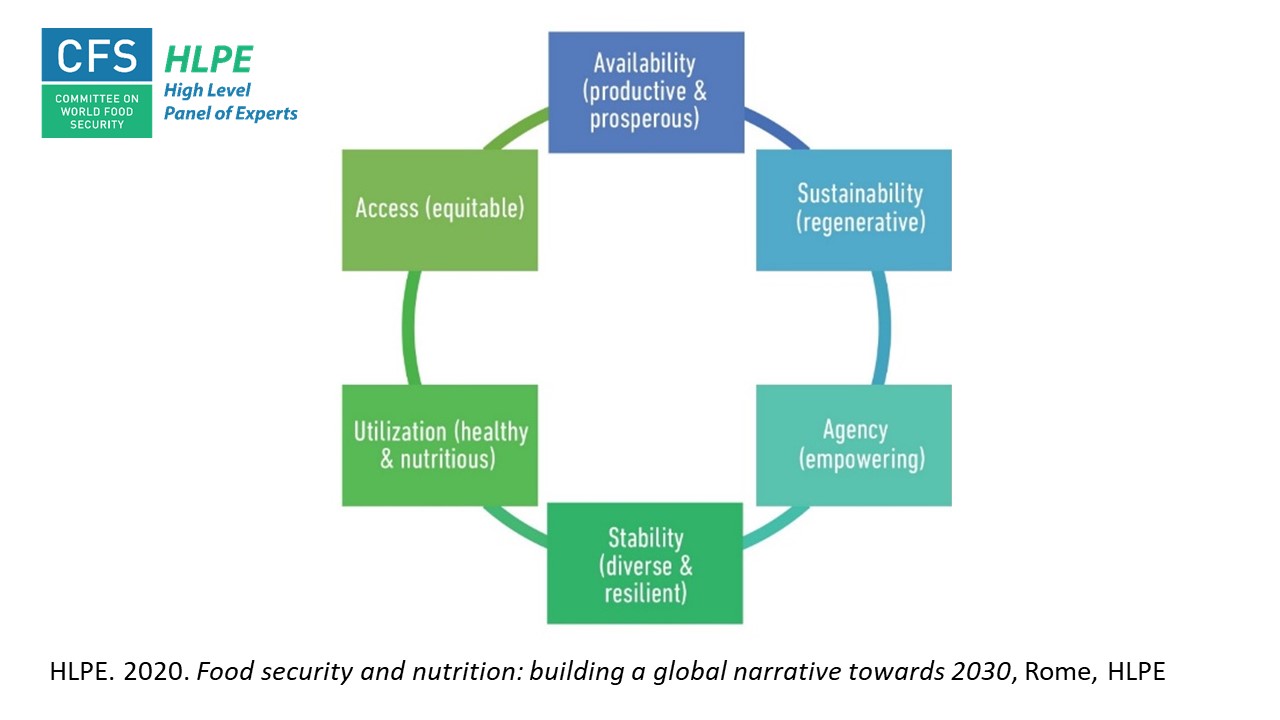 A look at the current food crisis through the lens of these six dimensions of food security helps to highlight why each is important, and how policy actions can better support food security in the face of increasingly frequent shocks to food systems.
Food availability has been undermined by the war because together Ukraine and Russia are major exporters of wheat, maize, and sunflower oil, as well as oil and fertilizer, and these exports have been severely curtailed. Higher fertilizer prices are also increasing input costs for farmers around the world, which could result in lower crop yields in the coming years.
Access to food is severely curtailed by sharply rising food prices. Food price inflation was already a concern prior to the Russia's aggression against Ukraine, which pushed prices even higher. The FAO's food price index hit a record high in March 2022. The poorest people in low-income countries spend over 60% of their income on food, meaning that even small price rises can drastically curtail their ability to acquire food.
Food utilization, or nutrition, is also impacted by the crisis. When prices for food rise sharply and quickly, people are often forced to prioritize the consumption of staple foods and reduce the consumption of nutrient-rich foods. UNICEF anticipates that the already high rates of malnutrition among children in the Middle East and North Africa Region, which is highly dependent on food imports, will worsen in the coming months.
World food markets and prices have been extremely volatile since the war began, undermining the stability needed to ensure food security. According to the International Food Policy Research Institute (IFPRI), prices of all of the main staple foods – wheat, maize, rice and soybeans – are experiencing excessive volatility as a result of the crisis.
The sustainability of the world's food systems is highlighted by the crisis along several dimensions. The current crisis has put a spotlight on the world's reliance on fertilizers and fossil energy for food production, as spiking prices for these inputs raises fears about the viability of future food production. At the same time, measures to ensure sustainable food production have been pushed aside in some regions, including Europe, in order to ramp up food production, which raises concerns about biodiversity loss and pollution from plans to increase the use of synthetic agrochemicals.
The Ukraine crisis has revealed the highly concentrated nature of food production and markets that undermine people's agency within food systems. Just a handful of countries export the vast majority of the world's staple grain trade, while a small number of firms control most of that trade. Concentration at such levels typically indicates extreme differentials in power of different actors within food systems and highlights the way in which people in low income countries that depend on food imports lack the capacity to engage with food systems on own terms.
Policy responses to the current food crisis must keep all six dimensions of food security in mind. While there are multiple policy responses required in the immediate and longer term to address the situation, measures that support greater diversity in food production and markets in countries that currently rely on food imports stand out for the way they enhance food system resilience by supporting multiple dimensions of food security.
When pursued in adherence to sustainable agricultural principles, such as agroecology, enhanced food production in food deficit countries supports availability and sustainability and contributes to stability as in the face of global shocks that may disrupt imports and prices.
A focus on the production of ecologically appropriate local foods also supports dietary diversity necessary for proper utilization. And support for local and regional food marketing infrastructure – sometimes referred to as territorial markets – provides livelihood opportunities for small scale farmers, food traders, and food processors, including women and youth in these roles, which can improve incomes that supports greater food access in low-income countries.
The diversity generated by greater local food production and marketing improves people's agency within food systems. It decreases power differentials between food system actors, reduces reliance on distant and concentrated food markets, and opens opportunities to shape food system governance.
The war in Ukraine has sparked a major food crisis that demands appropriate policy responses. Policies that prioritize diversity will go a long way toward building food system resilience that better supports food security in all its dimensions.
---
Jennifer Clapp is Canada Research Chair in Global Food Security and Sustainability at the University of Waterloo, Vice Chair of the High Level Panel of Experts on Food Security and Nutrition, and Member of the International Panel of Experts on Sustainable Food Systems.
---
The views and opinions expressed are those of the authors and do not necessarily reflect those of CFS nor its HLPE.