Energy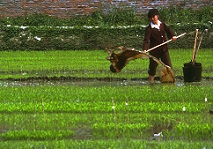 Energy is essential for food security and development, but current food production and energy use patterns are only sustainable if climate change targets are met.
FAO helps countries promote energy-smart agrifood systems through the identification, planning and implementation of appropriate energy, water, food security and climate-smart strategies that spur agricultural growth and rural development. FAO's 2012 multi-partner Energy-Smart Food for people and climate (ESF) Programme focuses on country action and also includes an international support component.
Sustainable bioenergy can significantly contribute to achievement of energy-smart agrifood systems. FAO has carried out considerable work on this topic, which led to the development of the FAO Sustainable Bioenergy Support Package. FAO is a partner and hosts the Secretariat of GBEP (Global Bioenergy Partnership). The GBEP framework for bioenergy GHG LCA is a tool enabling the more effective communication of the results of GHG studies.