FAO's strategy on climate change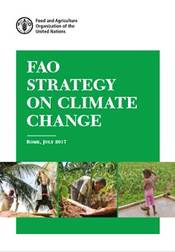 FAO considers climate change a top-line corporate priority. Through its Strategy on Climate Change, FAO focuses its work on three fronts:
To enhance institutional and technical capacities of Member States.

To improve integration of food security, agriculture, forestry and fisheries within the international climate agenda.

To strengthen internal coordination and delivery of FAO's work.
This Strategy translates FAO's core mandate into strategic choices and action priorities at global, regional, national and local levels with the central goal of supporting its Members in achieving their commitments to face climate change. It is being implemented through FAO's Strategic Framework.