Capacity development for implementation and action in the agriculture sectors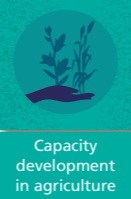 A lack of capacity can prevent many developing countries from scaling up climate action in the agriculture sectors. Some stakeholders may have the technical capacities and expertise to support sustainable and climate-smart agriculture development, but lack the functional capacities to put this expertise into practice.
FAO is committed to building the technical and functional capacities of countries so that they can fulfil their NDC commitments and make progress toward achieving sustainable, climate-smart agricultural development.
Get involved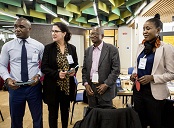 The Thematic Working Group (TWG) on Agriculture, Food Security and Land Use under the NDC Partnership (NDC-P) is a country-led peer to peer network for countries and international organizations to consult one another and to share experiences and challenges related to climate change impacts and the implementation of Nationally Determined Contributions (NDCs) in the agriculture sectors. FAO is currently facilitating the TWG with two co-chairs, Australia and Uruguay, in close collaboration with the Support Unit of the NDC-P.


Knowledge Portal | NDC Partnership
Strengthening capacities for climate action
FAO has experience and expertise in building capacities to scale up climate action on the ground. For example through the Economic and Policy Analysis of Climate Change (EPIC) programme, FAO has trained extension agents in a number of areas. EPIC is working on a project to strengthen the capacities. The project is also strengthening the capacities of ministries of agriculture to engage in UNFCCC negotiations.