Coherent policy frameworks for climate action in the agriculture sectors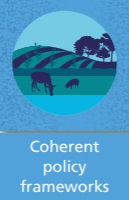 FAO has a long history of working with countries to improve policy coherence in order to achieve national agricultural objectives. The establishment of interministerial working groups to support bioenergy development or review national bioenergy strategies and programmes is an example of this type of support.
FAO provides capacity development and technical support to countries seeking advice on National Adaptation Planning (NAPs) and carrying out Nationally Appropriate Mitigation Actions (NAMAs) in the agriculture sectors.
In many countries, the proposed NDC targets exceed what can be achieved through existing policy frameworks. FAO provides guidance on integrating climate considerations into policies, strategies and projects in a way that is coherent with national priorities and the actions of other ministries through:
Policy support in the Livestock sector, supporting improved livestock management in emergency situations, disease control, actions to reduce methane emissions from enteric fermentation, and effective management of manure and pastures.