Research, analysis and tools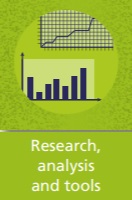 FAO develops and disseminates new tools and guidelines to assist countries in analysing the impacts of climate change, planning appropriate responses to these impacts and meeting new national reporting requirements.
For example, the Nationally Determined Contributions Expert Tool (NEXT) is a country-tailored tool that provides annual greenhouse gas emissions reductions and a wide set of environmental indicators over a 30-year temporal series.
Another example is the EX-Ante Carbon-balance Tool (EX-ACT). This tool supports the international community's efforts to quantify changes in GHG emissions. Based on the Intergovernmental Panel on Climate Change (IPCC) methodology, EX-ACT provides its users with a consistent way of estimating and tracking the GHG fluxes of policies, projects and investments covering Agriculture, Forestry and Other Land Use (AFOLU), inland and coastal wetlands, fisheries and aquaculture, agricultural inputs and infrastructure. EX-ACT is a free, Excel-based model being part of a suite of tools tasked to quantify climate and biodiversity impacts of agri-food interventions.
Strengthening the evidence base for adaptation:
In different countries, research and analysis on climate vulnerabilities and adaptive capacities vary greatly and are often limited. FAO works with countries to identify vulnerabilities and adaptation options.
Modelling System for Agricultural Impacts of Climate Change (MOSAICC) provides a solid basis for scaling up support to build an evidence base on adaptation to climate change.
Building bridges between climate science and fisheries and aquaculture planning reviewing scientific knowledge, for example through its contributions to the Intergovernmental Panel on Climate Change (IPCC) Fifth Assessment Report.
Enhancing the evidence base for mitigation:
Many developing countries need support to collect data needed to calculate GHG emissions and sinks in the agriculture sectors. FAO's Global Livestock Environmental Assessment Model (GLEAM) and the free on-line version GLEAM-i are tools that can be used by governments, scientists and the private sector to calculate emissions from livestock and assess the impacts of project interventions on production and emission levels.
Facilitating South-South cooperation:
Through its network of 135 decentralized offices, FAO is in a good position to facilitate South-South cooperation and exchange. An example of this is the Action Against Desertification initiative. Among its activities, it is helping Fiji to combat land degradation by drawing on lessons learnt from Africa's Great Green Wall.