Livestock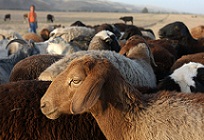 Regions identified as the most vulnerable to climate change, such as Sub-Saharan Africa and South Asia, are also regions where farmers and rural communities rely the most on livestock for food, income and livelihood, and where livestock are expected to contribute more and more to food security and better nutrition. Direct impacts of climate on livestock production range from thermal or water stress and reduced yields to higher mortality during extreme climatic events, such as droughts and floods. Climate change also affects the sector indirectly through productivity and quality of forages. By changing the distribution of diseases, in particular vector-borne, climate change also has significant impact on animal health.
FAO contributes to the assessment of livestock production under climatic constraint and the identification of interventions to increase productivity and reduce the impact of climate variability on livestock outputs, including adaptation needs.
Livestock contribute to nearly two thirds of agricultural GHG emissions and 78% of agricultural methane emissions. Using the Global Livestock Environmental Assessment Model (GLEAM) emissions from feed crops account for about 45% of total emissions and methane and nitrous oxide from manure reach about 10%. But the potential to reduce emissions from livestock production and methane, in particular, is important. . FAO estimates this potential to about 30% of baseline emissions. FAO contributes to the identification of low emission pathways by generating knowledge on livestock production systems, their GHG emissions and their mitigation potential.
FAO generates knowledge and evidence, develops tools for practice change and engages in policy dialogue. The Global Agenda for Sustainable Livestock is a multi-stakeholder partnership supported by FAO, which brings together partners from the private sector, governments, civil society organizations, research and international organizations, committed to sustainable livestock sector development. It is directed at coherent and concerted collaborative action to catalyze practice change. The Agenda responds to a global need by simultaneously addressing the social, economic and environmental performance of livestock systems. A number of initiatives within the Agenda aim at tackling climate change, including the Livestock Environment Assessment and Performance (LEAP) partnership, which develops common metrics and methodologies to define and measure environmental performance and GHG emissions in livestock supply chains, and the Reducing enteric methane for improving food security and livelihoods project with the Climate and Clean Air Coalition.