Support to specific fishing and farming needs in Tonga
"FAO Director-General is a true friend of the Pacific," minister says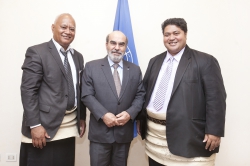 8 October 2014, Rome - Tonga is working on a new agriculture sector plan and is pleased to be working with FAO on improving its fishing industry, Sangster Saulala, Minister for Agriculture, Food, Forestry and Fisheries of the island nation, said in Rome.
Sangster Saulala, in Rome to attend the Third Ministerial Meeting on Governance and International Commodity Markets, met with FAO Director-General afterwards to discuss current and future areas of collaboration between the Organization and Tonga. 
"FAO's commitment to assist fishermen in Tonga is good news for people back at home," the Minister said.
Technical expertise needed
FAO will bring its expertise in integrated agro-ecosystem and agro-forestry management, livestock management, land-use management and administration to support Tonga through its GEF-5 project- Integrated Land and Agro-ecosystem Management Systems (ILAMS).
The project aims to strengthen the resilience of communities by enhancing land tenure systems, improving forest management, and piloting and integrated agro-ecosystem approach to rehabilitate degraded landscapes consistent with the ridge-to-reef approach.
"We are very thankful to FAO for providing technical expertise," Minister Sangster said referring to Tonga's small size and geographic location as two of the main challenges for agricultural development and food security. "We have the talent at home to do the fishing and do the farming, but we don't have the resources and other technical needs, so I am glad FAO is supporting us."'
FAO is promoting small-scale fisheries as a way to address food and nutritional insecurity in Pacific island states. Tonga comprises 170 islands over which the population of 103,000 is spread. However, the fishing sector has been stagnant for several years, and key stocks have declined sharply in easily accessible fishing areas.
FAO also has a Technical Cooperation Program in Tonga helping develop community-based milkfish farming. The pilot aquaculture systems aim to provide a sustainable source of food and income for island communities in Tonga.
"FAO Director-General is a true friend of the Pacific," the Minister said noting how Graziano da Silva has visited the region in two occasions. "It is a long journey from Rome, but we really appreciate it because we are small islands but he still wants to see our needs to better help us," he added.
Family farming and livestock supply issues
"Our agriculture is family farming," the Minister said adding that "everybody in Tonga has a little farm. It is how we live and how we do things".
Around two-thirds of Tongan households are engaged in farming, half of them on a subsistence basis.
In this regards, FAO's support through the International Year of Family Farming means "going in the right direction", he said.
FAO Director General and the Minister also discussed livestock supplyas a problematic issue for the island: "We import the meat from overseas and the price in the last ten years has been rapidly increasing," the Minister explained.