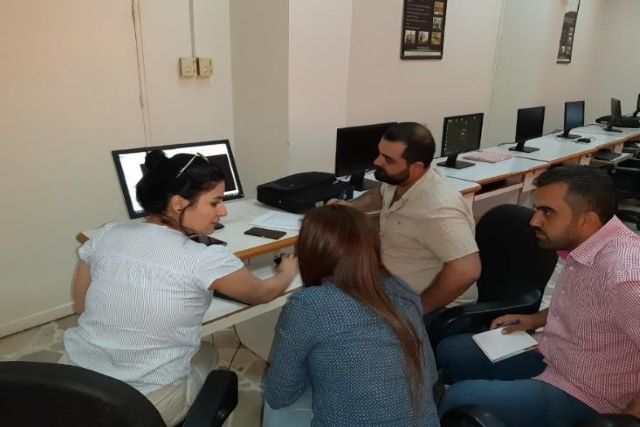 Building human capacity for the future generations in Syria (Training for All - Phase III)"
Full title of the project:
Building human capacity for the future generations in Syria (Training for All - Phase III)"
Contribution:
USD 625 000
Project code:
OSRO/SYR/902/JPN
Objective:
To strengthen the resilience of vulnerable crisis-affected communities relying on agriculture for their livelihoods through the improvement of agricultural institutions' capacities and knowledge.
Key partners:
United Nations Development Programme, United Nations Population Fund, United Nations Industrial Development Organization, United Nations Human Settlement Programme and the World Health Organization.
Beneficiaries reached:
349 experts from vocational training institutions and private sector (55 percent women).
Activities implemented:
Conducted detailed needs assessment to identify training gaps and priorities in close consultation with national and local authorities.
Trained 153 technical experts in the areas of irrigation, alternative energy sources and soil and land management on the use of remote sensing technologies to assess the impact of rehabilitation projects implemented in the agriculture sector.
Trained 79 livestock professionals (technical experts, veterinary specialists, private sector representatives and herders) on livestock management and health.
Trained 79 experts on project cycle management.
Conducted Training of Trainers for 38 technical education experts (including 26 teachers from agriculture technical schools) on agriculture curriculum design and delivery.
Implemented a coaching programme for 19 of the education trainees to facilitate the eventual revision of curriculum for technical schools in agriculture.
Impact:
Enhanced the capacity of agricultural support institutions for service provision and knowledge transfer.
Contributed towards the sustainability of activities by engaging trainees from various backgrounds and levels of expertise – technical experts, young professionals, management and decision-makers, and enabling them to pass on new knowledge and skills to other experts or beneficiaries.
Helped pave the way for similar activities aimed at monitoring the impact of implemented projects on agricultural production using advanced tools, and enhanced staff capacities in analysing the results of this monitoring.
Built the capacity of teachers and technical education experts to design and deliver technical school curriculum in agriculture.
Enabled technical staff to contribute more effectively to the planning of activities that will support the recovery of Syrian agriculture.
OSRO/SYR/902/JPN