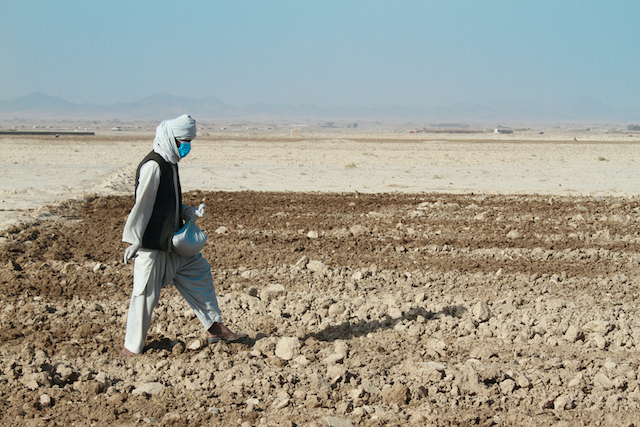 Afghanistan - to avert a catastrophe agricultural assistance is urgently needed
Tags
:
AFGHANISTAN
,
ASIA PACIFIC
,
EXTREME WEATHER
,
DROUGHT
,
FOOD INSECURITY
,
SUSTAINABLE AGRICULTURE
,
SEEDS DISTRIBUTION
,
FOOD PRODUCTION
,
LIVESTOCK
,
LIVELIHOODS
,
VULNERABLE COMMUNITIES
,
19/11/2021
Farmers and herders are vital if the country is to climb out of a hunger trap, says FAO.
As the Afghan people confront widespread drought, the collapse of rural livelihoods and widespread economic upheaval, the Food and Agriculture Organization of the United Nations (FAO) is providing critical life-saving assistance to farmers and herders, while urging far greater and immediate support for agricultural production.
In Afghanistan today at least 18.8 million people are facing acute food insecurity - meaning they are unable to feed themselves on a daily basis - and that number is projected to rise to 22.8 million people by the end of 2021. FAO is supporting farmers and herders with seeds, fertilizer, cash and livelihood support to keep agricultural production going and to avoid widespread livelihood collapse in several parts of the country.
"We need to help Afghanistan avoid a hunger trap. Millions of Afghans are living on the edge of catastrophe - which will occur if their animals die or fields go unplanted," said FAO Director-General, QU Dongyu.
 "Urgent investment in agriculture and livestock production is needed now, and it helps donors to save money down the road by putting the country back on track to food security."

[...read the full STORY]