FAO World Food Day photo contest for Europe and Central Asia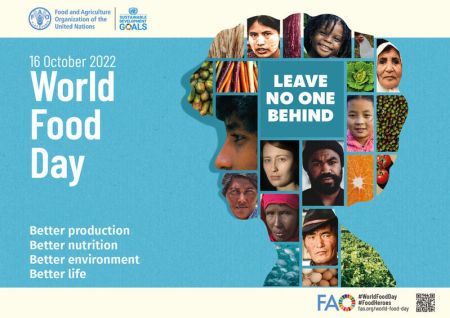 Although we have made progress towards building a better world, too many people have been left behind. People who are unable to benefit from human development, innovation, or economic growth.
In fact, millions of people around the world cannot afford a healthy diet, putting them at high risk of food insecurity and malnutrition. But ending hunger isn't only about supply. Enough food is produced today to feed everyone on the planet.
The problem is access and availability of nutritious food, which is increasingly impeded by multiple challenges including the COVID-19 pandemic, conflicts, climate change, inequality, rising prices, and international tensions. People around the world are suffering the domino effects of challenges that know no borders.
Under the motto "Healthy nutrition for everyone!", the 2022 FAO World Food Day photo contest for Europe and Central Asia awaits images from residents of this region that illustrate how to ensure good nutrition for ourselves and everyone else in a sustainable manner. Focus on the moments and approaches of how healthy food is being produced, processed, and shared, and less on the food itself.
The deadline for submission is 2 November 2022 at midnight CET.
Three winners will be selected by a jury and announced here in December. Winners will be promoted by FAO offices across Europe and Central Asia and receive a surprise gift bag and a Certificate of Recognition.
Our actions are our future
Our globalized world is one where our economies, cultures, and populations are becoming increasingly interconnected. Some of us are vulnerable because of who we are or where we live, but the reality is that we are all fragile. When someone is left behind, a chain is broken. This impacts not only the life of that person, but also ours.
In the face of global crises, global solutions are needed more than ever. By aiming for better production, better nutrition, a better environment, and a better life, we can transform agrifood systems and build forward better by implementing sustainable and holistic solutions that consider development in the long term, inclusive economic growth, and greater resilience.
A sustainable world is one where everyone counts.
How do I enter?
To enter the contest, just follow these three simple steps:
Take one photo illustrating a good practice of ensuring healthy nutrition for yourself, your family, community. It is your action what matters, not a plate of nutritious food.
Fill out this submission form in English or Russian describing your photo and telling us why you have chosen this particular topic.
Email your photo along with the duly filled entry form to

[email protected]

by 2 November.
Disclaimer: participants under the age of 18 are required to have the consent of their parent or legal guardian. The parent or legal guardian must sign the Subject release form and email it to [email protected].
Read the terms and conditions, copyright and privacy document.