14/02/2018
Smiley and energetic, Christine lives in the semi-arid region of Karamoja in north-east Uganda. Her husband passed away some time ago and she is now taking care of her six children on her own. Christine struggled in managing her household and securing the basic needs for her children. "I was permanently asking somebody for something," she describes.
Agriculture had always been the main source of her limited income. "Farming was difficult," she explains. "Sometimes I found myself without seeds when the rains came. And people were not very willing to support me because I would have difficulties to pay them back."
Christine joined her Farmer Field School (FFS) group in 2011. "Through FFS, I not only learnt how to better manage my activities, but also how to understand the right timing for sowing, how to use fewer seeds with the same final outcome and how to set up a marketing strategy," says Christine.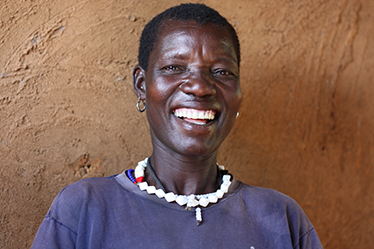 Christine, a participant in the Farmer Field School in Karamoja, Uganda, is now a source of knowledge for other people in her village. ©FAO/Lucie Chocholata
Farmer field schools are schools without walls. They are centered on the concept of hands-on learning with the goal of building on farmers' skills and enhancing their capacity to critically analyse and solve local agricultural challenges. In FFS, farmers are the experts. It is the farmers who decide what is relevant to them and what they want the FFS to address in their curriculum. This ensures that the information is relevant and tailored to the participants' actual needs. The FFS promote the idea that learning is unique to each person and that, in order to promote new learning, prior experience must be taken into account.
"We not only have our vegetable garden that secures a significant income for us, but we also use a rotational system where the group works together in one person's field and then continues in another one's," explains Christine. 
The field, herd or the landscape is the main learning ground, around which FFS activities are organized. Farmers learn directly from what they observe, collect and experience in their surroundings. They produce their own learning materials (drawings, etc.) based on their observations and experiences.
Through her knowledge and success, Christine became a point of reference for other people in the village. "They come to ask for advice on how to do this or that. They pay attention to what I say now; this is a big difference compared to the past." 
Christine currently cultivates sorghum, groundnuts, cowpeas, sunflower and vegetables. She stores a part of her production and the rest is for sale. "Now my priority is to invest in my kids' educations."
All six of Christine's children are in boarding schools in nearby localities.
"From time to time there is still somebody asking me why I'm sending my daughters to school, why I don't just make them marry," says Christine laughing. "Education is so important. My kids want to study, so they study. When you are educated, you always find some job."