Skills and Knowledge for Handling After Harvest
Training and capacity building are key elements of a food loss and waste (FLW) control strategy. Key skills and knowledge required to prevent and reduce FLW include:
harvesting methods and the influence on quality
fish quality, food safety and hazards
how to maintain fish quality
purging / starvation before harvest
stunning, gutting and bleeding
icing and good practice
packing and packaging
live fish holding and transport
hygiene and sanitation
how to handle fish with care
traceability
Hazard Analysis and Critical Control Points (HACCP)
Key knowledge and skills will be required by aquaculture production managers and their staff. Government agencies and other non-governmental organizations who are responsible for providing extension services, inspecting facilities and providing certification must require similar skills and knowledge to be able to implement their duties.
More Resources
More Resources

One of the major issues prevailing in the fisheries and aquaculture industry in Sri Lanka is the high loss and waste of fish, and it has become necessary to introduce strategies aimed at preventing and...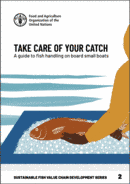 What happens to fish after it is caught has a big impact on its quality. This guide is for fishers, vessel owners, extension services, and anyone interested in how to maintain fish quality.

In order to support long-term capacity building for women, the SSF Umbrella Programme conducted a review to identify successfully adopted post-harvest best practices that should be disseminated more widely to help reduce fish loss and...