La fréquence croissante des infestations de ravageurs et des foyers de maladies transfrontières des animaux et des végétaux, y compris en milieu aquatique et forestier, ainsi que la multiplication des incidents nucléaires et des crises liées à la sécurité sanitaire des aliments, constituent une menace constante pour la chaîne alimentaire humaine.

La grippe aviaire, la peste des petits ruminants, les infestations d'acridiens et autres insectes, les maladies du blé, du manioc, du maïs et de la banane, les pathogènes d'origine alimentaire et les mycotoxines sont quelques exemples des risques qui pèsent sur la filière alimentaire et dont l'incidence peut s'étendre à la santé humaine, à la sécurité alimentaire, aux moyens d'existence, aux économies nationales et aux marchés mondiaux.

Le Cadre de gestion des crises pour la filière alimentaire permet à la FAO de s'attaquer aux facteurs qui menacent la chaîne alimentaire humaine dans un esprit de collaboration globale et multidisciplinaire, à l'échelle de l'Organisation.
Animal vaccination training empowers women in Bangladesh
This is the first story in a series of three short stories on Women's leading role in animal health. The story is about Helena, a 35-year-old poultry farmer who became a community vaccinator after taking the training offered by the FAO Upazila to Community (U2C) initiative.

"After the training, I have been vaccinating my own birds and birds of my neighbours and adjacent villages. Vaccination has dramatically minimized the death of birds from diseases in the area. None of my chicks have died from disease", says Helena.
Read the full story
July 2020 - September 2020
During the period July to September 2020, Food Chain Crisis (FCC) threats are expected to occur in Africa, the Americas, Asia, Europe and Oceania, where they may persist within a country, spread to neighbouring countries, remain latent, or re-emerge or amplify. The dynamics and likelihood of the occurrence of FCC threats depend on a number of risk factors or drivers. These include agro-ecological factors (intensive farming systems, deforestation, overgrazing, etc.), climate change and variability (droughts, extreme weather events, flooding, heavy rains, heat waves, the El Niño- Southern Oscillation – ENSO), changes in vegetation cover, water temperature, human behaviour (cultural practices, conflicts and civil insecurity, trade, etc.) and natural disasters.
In relation to food security, and according to the last "Crop prospects and food situation" report (July 2020), FAO estimates that globally, 44 countries (34 in Africa, 8 in Asia and 2 in the Americas) need external assistance for food. Persisting conflicts continue to be the dominant factor driving high levels of severe food insecurity. Weather shocks have also adversely affected food availability and access. FCC threats can compound food insecurity in fragile countries stricken by weather shocks and conflicts.
Main Food Chain threats
Twenty- seven plant and forest pests and diseases, locusts and animal and aquatic diseases were monitored and forecasted by FAO experts for the period July to September 2020. A total of 245 forecasts were conducted in 123 countries.
FCC article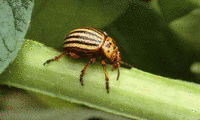 Sites web en vedette
SYSTÈME DE PRÉVENTION DES CRISES

INTERVENTIONS