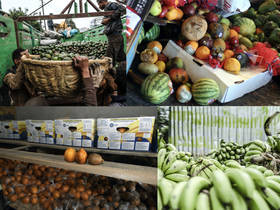 Food loss and waste during COVID-19 pandemics: useful readings
CAR (Centro Agroalimentare Roma), the Wholesale Market of Rome, presented the "Best Practices Table". By using the "BitGood" digital platform, recovered surplus food (fruit, vegetables, and fish) will be put into system and it will be sent to the donations circuit of Rome and its province. Access here a News article in Italian (Food recovery and food donations, Italy, June 2020)
In designing the post-COVID-19 food system, the innovation tools are remarkably like the technology-focused terms of the pre-COVID-19 food system. (Food Loss and Waste Innovation, Canada, June 2020)
Innovators are looking to address food waste with technology, community, and original business model. The FoodNavigator Podcast hears from recipe box company Gousto, anti-food waste app OLIO, and UK charity FareShare: find out more HERE. (Food Waste Innovation, Worldwide, June 2020)
Food Waste Worsens Amid COVID-19 Pandemic: How To Curb Waste In Your Kitchen (Food Waste, US, June 2020)
Italian online survey on food waste during COVID-19 "Cambiamenti delle abitudini alimentari nell'emergenza per Covid-19" (IT, Food Waste Research, April 2020)
A call for action: Major international networks of food banks urge for more industry support (Food banks, worldwide, April 2020)
Coronavirus: Food banks forced to close amid Covid-19 outbreak (UK, March 2020)
COVID-19 Response from the Ottawa Food Bank (Canada, March 2020)
Coronavirus and response from Norwood and Brixton food bank (UK, March 2020)
As Philly restaurants shutter, massive amounts of food are at risk of going to waste. Here's how to help (USA, March 2020)
Food banks deal with impact of Coronavirus (USA, March 2020)
COVID-19: Food bank desperate for volunteers and donations (Canada, March 2020)
Food banks will remain open during statewide shutdown. Here's what they need most (USA, March 2020)
Banco Alimentare in Milan, Italy (Italy, March 2020)
Compras de Panico - in Spanish (Spain, March 2020)
Disneyland Resort (USA, March 2020)
Covid-19 : Phenix au service des restaurateurs – in French (France, March 2020)
Tottenham donate over 1,200 food and drink supplies to local charity after Premier League game against Manchester United was postponed due to Coronavirus pandemic (UK, March 2020)
Grower Groups Call for USDA to Buy $1 Billion in Perishable Foods (USA, March 2020)
'It's catastrophic.' Coronavirus forces Florida farmers to scrap food they can't sell (USA, March 2020)
INSIGHT-Fresh produce in Europe set to be more scarce as coronavirus strikes (Europe, March 2020)
COVID-19: EU relaxes fruit & veggies imports; no orders from US (India, March 2020)
Food waste and food insecurity rising amid coronavirus panic (USA, March 2020)
Konkan's Alphonso Farmers Brace Up For Severe Losses (India, March 2020)
Food for thought: Instagram cooking show targets food waste during Italy lockdown (Italy, April 2020)
Support These 35+ Organizations Helping Restaurants, Workers, and Farmers Survive COVID-19 (US and Worldwide, March 2020) (Private sector initiatives and Governmental measures)
Second Harvest launches Canada-wide Task Force to guarantee food supply to vulnerable Canadian (Canada, March 2020) (Private sector initiatives)
Retail Food Service Establishments & COVID-19 (USA, March 2020) (Private sector initiatives)
How has the Covid-19 outbreak affected the packaging industry? (March 2020) (Private sector)
Food packaging not transmitting COVID-19 (March 2020) (Private sector)
Coronavirus Europe calls for calm as food shortage fears spark panic buying (EU, March 2020) (Private sector initiatives and Governmental mesaures)
Four ways to reduce food waste during coronavirus lockdown (OLIO application, April 2020) (Private sector initiatives)
Food bank COVID-19 precautions & response (Food banks, April 2020)
Online foodbank ramps up for COVID-19 response (Food banks, April 2020)
COVID-19 job loss creates overwhelming demand for food banks (Food banks, March 2020)
Food pantries struggle to provide during COVID-19 (Food waste, April 2020)
Second Harvest food bank's response to the coronavirus COVID-19 pandemic (Food banks, April 2020)
Corona virus and food banks (Food banks, April 2020)
"A perfect storm": US facing hunger crisis as demand for food banks soar (USA, Food banks, April 2020)
It's very scary: UK food banks close as coronavirus stalls donations (UK, Food banks, April 2020)
Food banks struggle as demand explodes thanks to coronavirus layoffs (USA, Food banks, April 2020)
How you can help food banks serve people in need amid coronavirus crisis (USA, Food banks, April 2020)
Coronavirus: Toronto libraries being turned into food banks for vulnerable residents (Canada, Food banks, April 2020)
Emergency COVID-19 surplus food redistribution resource hub (UK, Food waste, April 2020)
Saving food safely: Food redistribution during COVID-19 (UK, Food waste, April 2020)
Food waste impacts emerging as Coronavirus shifts life from commercial to residential (Food waste, April 2020)
Reducing food waste safely during COVID-19http://www.eastsuffolk.gov.uk/business/food-safety/reducing-food-waste-safely-during-covid-19/ (UK, Food waste, April 2020)
COVID-19 is making our food waste problem even worsehttps://www.foodandwine.com/news/food-waste-coronavirus-covid-pandemic (Food waste, April 2020)
Food waste resources during the COVID-19 pandemic (Food waste, April 2020)
COVID-19 and food waste prevention: food waste intelligence (Food waste, April 2020)
COVID-19 Summit: Coronavirus could actually help us reduce food waste (in some areas) (Food waste)
Food goes to waste amid Coronavirus crisishttps://www.politico.com/news/2020/04/05/food-waste-coronavirus-pandemic-164557 (Food waste, April 2020)
Best practice examples from food banks fundraising during COVID-19 (Food banks, April 2020)
COVID-19 in Rural India -I: Harvesting and Selling Anxiety Grips Farmers in Haryana's Birdhana Village (Food Loss, April 2020)
Africa's Informal Sector and COVID-19: Is this an Opportunity to Revisit the Forgotten 80%? (Food Loss, April 2020)
Coronavirus measures could cause global food shortage, UN warns (Food Loss, April 2020)
Coronavirus: Will jugglers and clowns harvest fruit and vegetables? (BBC, April 2020) (Food Loss)
Further readings on Plastic Packaging
Heroe or Villain in the coronavirus era ?! (Plastic for Food Packaging, April 2020, Worldwide)
Coronavirus & Packaging (Plastic for Food Packaging, April 2020, Worldwide)
Plastic bags are making a comeback because of COVID-19 (Plastic for Food Packaging, April 2020, Worldiwde)
'Smarter packaging' to tackle food waste 'better for climate' than eliminating plastics: Study ( Plastic Packaging and Food Waste, May 2020, Worldwide)
Plastics in packaging (Plastic for Food Packaging, May 2020, European Union)
Plastic packaging's protective role during this pandemic (Plastic for Food Packaging, May 2020, UK)
Further reading about Dairy Industry
Dairy Industry Upended By COVID-19 (Dairy Industry, April 2020, US)
IDFA Member Update on Coronavirus (COVID-19) (International Dairy Food Association, May 2020)
Dairy farmers dumping milk amid COVID-19: Pandemic's impact on the dairy industry (Dairy Industry, April 2020, US)
Dairy Industry COVID-19 (Novel Coronavirus) Directory (Dairy Industry, April 2020, Australia)
COVID-19 impacts dairy industry nationwide (Dairy Industry, April 2020, US)
Covid-19: International dairy sector under pressure (Dairy Industry, April 2020, Worldwide)
COVID-19 and Food Systems in Latina America and others in Spanish

In Costa Rica and Nicaragua, for more than 15 days cargo trucks from both countries were blocked in the border. The reason was that as a sanitary measure the public authority in Costa Rica restricted the entry of foreign drivers into the country. (Original article in Spanish)

In Ecuador, the number of street vendors significantly increased due to the fact that informal middlemen and smallholders are not able to sell their fruits and vegetables in nearby markets and fairs. The agriculture authorities are exploring new market opportunities for these vendors, as well as urging local authorities to control the quality of the products. (Original article in Spanish)

In the Dominican Republic, according to the Ministry of Agriculture every month around 2 million poultry remain unsold due to Covid-19. Thus, the public authorities in order to support the sector have been buying poultry (8 million until end of May) and now they are also paying the refrigeration cost of some producers. (Original article in Spanish)
In Guatemala, after the images of fruits and vegetables being thrown away were widely circulated in the country, the federal and the local government have been discussing and undertaking some projects to improve or build rural collection centres. (Original in Spanish here)
In Paraguay, the closing of borders and the difficult of importing seeds -onions, tomatoes, potatoes, among others- have underscored the importance of developing its own seeds. (Original in Spanish here)
Focus from Peru:
In Cuba, the government has asked its citizens for financial donations to finance the productions of food. This in order to solve the current rationing and food shortage problems of the country. (Original in Spanish here)
In the Dominican Republic, the government has approved an additional USD 53M credit line for the agriculture sector of which around USD 7M will be used to financed 70 associations of smallholders. (Original in Spanish here)
In Colombia, the government has established a specific credit line for the agriculture sector, aiming to provide financial support to small (40%), medium (40%) and big enterprises (20%). However, the credit line program had to be adjusted as during the first weeks of the program, more than 80% of the credits were granted to big enterprises. (Original in Spanish here)
In Chile, smallholders from the region of Magallanes jointly with the Agriculture Minister are organizing themselves to sell their crops online (vegetables and fruits). The delivery is made at the farmers gate or home delivered, following adequate social distancing measures. This online market has mainly benefited elderly producers that due to their age are more vulnerable to Covid-19 and cannot go to their stall - Original News in Spanish and here
In El Salvador, "El Centro para la Defensa del Consumidor (CDC)" (The consumer Ombudsmen department) is conducting regular inspections to retail shops across the country to verify that the prices of 42 basic goods remain under the terms defined by the government, amidst customers complaints of food price speculation - Original News in Spanish
In Argentina, foodbanks have had to increase its operations. For instance, the 17th of April the NGO "Barrios de Pie" doubled its distribution points form 1 thousand to 2 thousand, reaching almost four hundred thousand people. The situation, however, is quite concerning as in some places some NGO cooks are verbally assaulted -when they run out of supplies- and that there is still a lot of people who -in spite of needing it- do not turn to food banks as they find it humiliating - Original News in Spanish
In Bolivia, the city hall of the biggest city in the country has ordered a 5-day closure of some supermarkets stores as they are located in areas with a high number of infected people infected. Notwithstanding, the mentioned supermarket will be allowed to home delivery, they have been required to do "a deep disinfection, both of their sales rooms and of all their products". The impact needs to be seen but it would be important to know how the disinfection will be done and what will be the impact in other retail shops remaining open (like popular street markets) - Original News in Spanish
In Spain, although supermarkets have shown record-high sales during the last months (an avg. increased between 12-15%), cost have also significantly increase. Among the new costs that supermarkets had to face are those related to logistics (increased rotation of inventories and supply management), protection for employees (Mask and equipment for employees), infrastructure (restructuring facilities), remuneration for employees, hiring of new employees (to replace sick employees and new employees for the online demand). Moreover, supermarket profit margins have been impacted by the change of purchase pattern from customers. For instance, customers are buying more basic products like apples instead of products considered as "gourmet" like strawberries. Finally, even though there is a substantial increase of the online demand for products (nine-fold according to some supermarkets), supermarkets have had several issues coping with this increase - Original News in Spanish
In Ecuador, during the first weeks of the lockdown consumers purchases -from a nutrition point of view- were mainly aimed at basic goods like rice (90% increase), freeze meat (84% increase) sugar (increase), powder milk (80% increase), etc.). And the following weeks consumers purchases aimed both at balancing their diets (vitamins) and other products (like cookies or flour) - Original News in Spanish
In Costa Rica, the apex fisher association has been supporting its members by the establishment of storage centers, which has benefited around 1 300 fishers (Original in Spanish).
In Mexico, agriproducers of the Valle de Banderas have complained about bribes from local administrators of public storage centers (Original in Spanish).
In Ecuador, the smallholder's association "Movimiento Nacional Campesino" in response to the closure of some public markets are opening storage centers/retail shops in popular neighbourhoods in the country (Original in Spanish).
Contact us
If you have any information to share related to what your company, country, organization is doing to face with food loss and waste issues during the COVID-19 crisis, please do share with us at: [email protected]