Food Allergens
For some people, certain foods may trigger an allergic reaction - a medical condition where their immune system mistakenly responds as it would to a danger. The proteins in food that trigger allergic reactions are known as food allergens. Approximately 220 million people worldwide have food allergies. A single food item may contain more than one allergen. People may have allergies to multiple foods.
Our Work
With respect to food allergens, FAO, in collaboration with the World Health Organization (WHO), convened a series of ad hoc Joint FAO/WHO Expert Consultations on Risk Assessment of Food Allergens to update available advice on this important topic.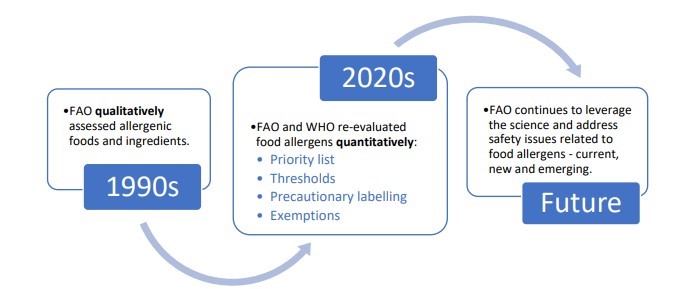 The first meeting of the most recent series of consultations was held in December 2020. Based on the latest scientific evidence, the expert committee identified and used three criteria — prevalence, potency and severity — for assessing proteins for their potential inclusion or exclusion on a priority food allergen list.
In March 2021, the expert consultation convened for a second time to establish threshold levels for priority allergenic foods. Through risk assessment, reference doses, based on health-based guidance values for each of the priority allergens were recommended.
In October 2021, FAO and WHO reconvened a third meeting to review and evaluate the evidence in support of precautionary allergen labelling to address unintended allergen presence in foods.
In November 2022, the fourth meeting addressed whether it was scientifically justifiable that containing certain ingredients derived from priority allergenic foods, such as highly refined oils, could be exempted from mandatory declaration on packaged foods.
Why is it important?
The deliberations and conclusions of the recent series of ad hoc Joint FAO/WHO Expert Consultations on Risk Assessment of Food Allergens were shared with the Codex Committee on Food Labelling (CCFL) and the Codex Committee on Food Hygiene (CCFH) to support the development of internationally agreed upon food safety standards and guidelines relevant to the management of food allergens.
FAO continues to work with top experts to evaluate and document the latest science. All conclusions and recommendations are publicly available for policy development, best practices and research.
Other FAO food allergen-related resources