GACSA members discussed CSA and Innovation at the Climate Week in New York.
On September 20, GACSA partnered with the Columbia University Earth Institute and the Agricultural Model Intercomparison and Improvement Project (AgMIP), to host a side event entitled "Agriculture and climate change: How multistakeholder actors are driving positive change and innovation" at the Climate Group's Climate Week NYC 2017 summit.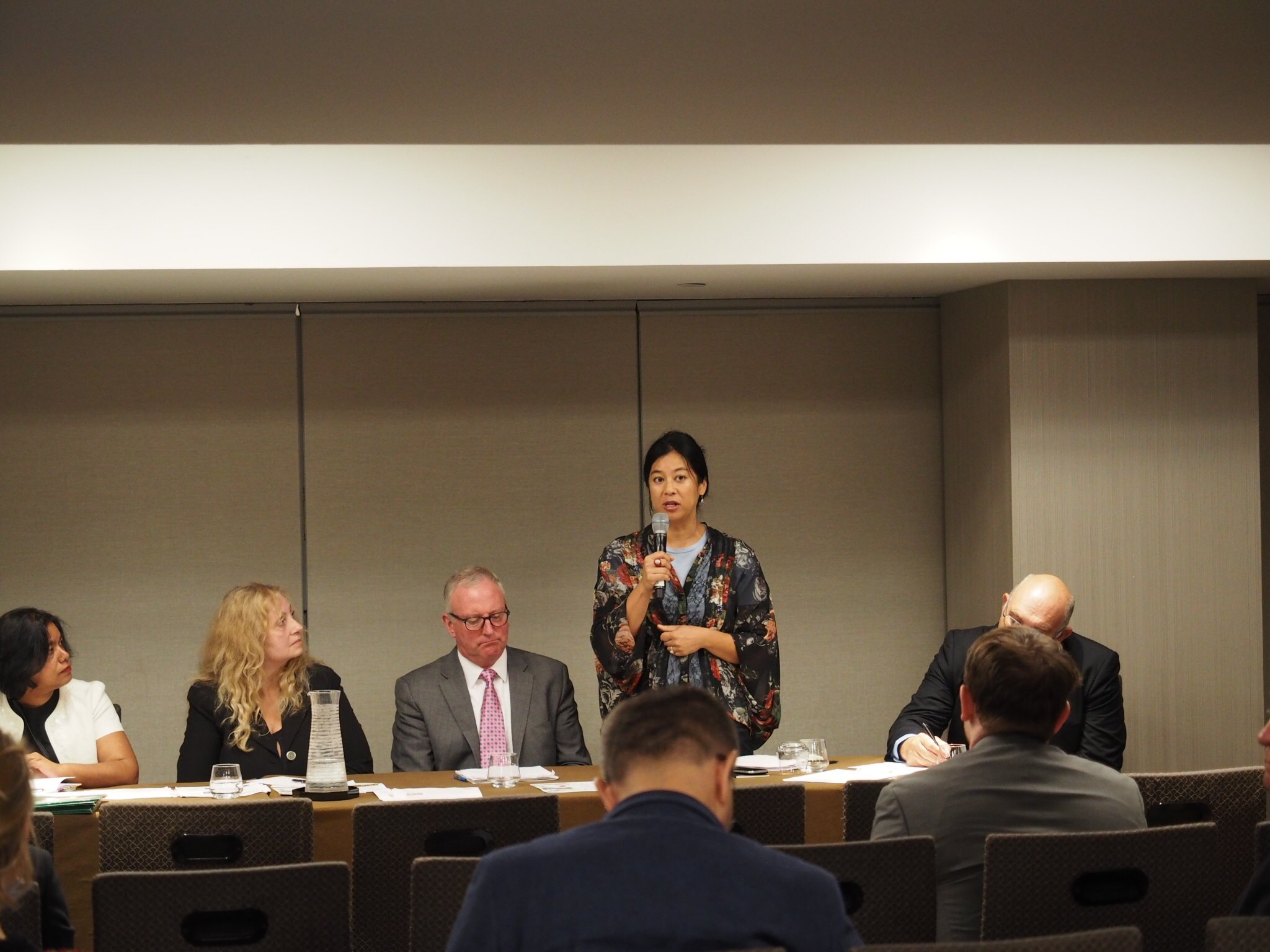 The event featured a dynamic panel of speakers including Dr. Theo De Jager, President of the World Farmers' Organisation, Cynthia Rosenzweig, The Agricultural Model Intercomparison and Improvement Project (AgMIP) Principal Investigator, Melinda Rooke and Joan Kerr, Climate Smart Agriculture Youth Network (CSAYN GCU Advisors), Ernie Shea, President and CEO, Natural Resource Solutions and North American CSA Alliance, and GACSA Co-chair Mi Nguyen, and was moderated by Dr. Walter Baethgen, Director of the Agriculture and Food Security Center at Columbia University's Earth Institute. Distinguished guest Mr. Francesco La Camera, Director General of Italian Ministry of Environment, was also in attendance and delivered remarks on achieving global food security and the CSA through the project that the Italian Ministry of Environment signed with FAO. 
The panel discussion was centered around the work of each organization in scaling up CSA, innovation and integrative food systems thinking, as well as challenges facing CSA in each member region. The event also featured a participatory discussion and question and answer session with audience members, which delved into issues of soil health, financing CSA, agricultural insurance and risk mitigation, among many other important agricultural and climate change related topics. A complete summary of the event and a record of its dynamic discussion will be shared with GACSA members in the coming week. 
Climate Week NYC is one of the key summits in the international calendar and has been driving climate action forward since it was first launched in 2009 by The Climate Group. This year, Climate Week NYC comes at a critical point in the global response to climate change. Taking place between September 18-24 in New York City alongside the UN General Assembly, Climate Week NYC 2017 will bring together international leaders from business, government and civil society to showcase the unstoppable momentum of global climate action.
Businesses, governments, academic institutions, arts and music organizations, and NGOs are all invited to participate in the iconic week, through the Climate Week NYC Affiliate Events program. From panel discussions, to concerts, exhibitions and seminars, organizations and individuals can play a pivotal role in advancing the debate, driving awareness, and keeping climate action at the top of the global agenda. Last year's summit was host to more than 100 affiliate events. 
World Farmers' Organisation is the only International member-based organization whose mandate is to bring together farmers' organizations and agricultural cooperatives from all over the world, representing the global farming community: small, medium and large-scale farmers. WFO's mission is to represent and advocate on behalf of farmers in global policy forums and create the conditions for the adoption of policies aimed to improve the economic environment and livelihood of producers, their families, and rural communities. WFO has about 80 members from 55 countries. Follow WFO on Facebook and Twitter. 
About Earth Institute Columbia University
Columbia's Earth Institute blends research in the physical and social sciences, education and practical solutions to help guide the world onto a path toward sustainability. The people who make up the Earth Institute are earth scientists, economists, business and policy experts, specialists in public health and law, researchers, teachers and students. The institute comprises more than two dozen research centers and several hundred people who collaborate across many disciplines and schools at the university. By bringing those physical scientists together with experts in economics, law, public health and policy, the institute creates collaborations that help us learn how to best address issues of global sustainability.
The Climate Smart Agriculture Youth Network (CSYAN) is a group of volunteers (based in countries in SSA, also Asia, USA and Europe)- linked across the world via an online platform to share findings and seek advice for their practical projects – that have a strong interest in Climate-Smart Agriculture(CSA) and the environment. The main objective of the CSAYN is to create awareness, sensitize and build the productive capacity of young people and People Living With Disabilities(PLWD) on CSA concepts for adaptation, reducing emissions (mitigation) and increasing food productivity in a sustainable manner.
The Agricultural Model Intercomparison and Improvement Project (AgMIP) is a major international collaborative effort to improve the state of agricultural simulation and to understand climate impacts on the agricultural sector at global and regional scales. It seeks to improve substantially the characterization of world food security under climate change and to enhance adaptation capacity in both developing and developed countries.
About Solutions from the Land (SfL)
Solutions from the Land (SfL) is a not‐for‐profit corporation focused on land based solutions to global challenges. SfL's mission is to identify and facilitate the implementation of policies, practices and projects at a landscape scale that will result in land being sustainably managed to produce food, feed, fiber and energy while protecting and improving critical environmental resources and delivering high value solutions to combat climate change.
The Global Alliance for Climate-Smart Agriculture (GACSA) was launched two years ago at The UN Secretary Generals' Climate Summit in New York on 24 September 2014. The Inaugural Meeting of GACSA brought together over 180 senior officials and high-level representatives from all regions and different stakeholder groups. As of today, GACSA hosts more than 140 members including governments from developed and developing countries; research and academic institutions; farmer's organizations; businesses; NGO's and Inter-governmental organizations. They collaborate towards a common vision: to improve food security, nutrition and resilience in the face of climate change. Follow @GACSACochairs on Twitter.