Three quarters of the Earth's ice-free surface have been degraded to some degree. The process of land degradation is particularly acute in the drylands, which are home to more than 2 billion people and contain 44 percent of the world's agriculturally productive land. Drylands also host an impressive array of biodiversity, from the vital bacteria thriving in the soil to the livestock farmers depending on dryland resources to nourish the herd. Accounting for more than 40 percent of the global terrestrial area, dryland landscapes are important to the functioning of many ecosystem services.
The Sustainable Forest Management Impact Program on Dryland Sustainable Landscapes (DSL-IP) seeks to avoid, reduce, and reverse further degradation, desertification, and deforestation of land and ecosystems in drylands, through the sustainable management of production landscapes. This foresees the restoration, sustainable management and protection of drylands in view of environmental, economic and social benefits for a quarter of the world's population depending on resilient dryland landscapes for food and livelihoods. It will also support countries in the implementation of their Land Degradation Neutrality (LDN) Strategies under the United Nations Convention to Combat Desertification (UNCCD).
Climate change, food insecurity, and biodiversity loss are becoming increasingly important drivers of land degradation. Moreover, current trends in dryland degradation are impacting the effectiveness and sustainability of restoration practices. Such forces are highlighting the importance of promoting healthy drylands to the world, and the value of planning for a resilient global future.
A look at the DSL Impact Program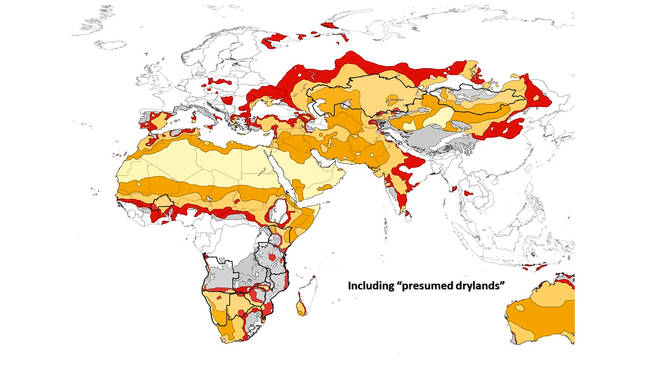 Investing in and scaling up sustainable dryland management
The USD 104 million funding under the GEF-7 funding cycle, along with over 800 million in co-financing, will assist 11 countries located across Africa and Asia in fostering resilience of production systems in drylands, promoting restoration and rehabilitation, and improving livelihoods through a comprehensive landscape approach. Moreover, the Program is designed to deliver scalability beyond the boundaries of the 11 targeted countries, highlighting the importance of transboundary commitment towards dryland restoration, landscape management at scale, and biodiversity conservation.
Program-wide coordination and monitoring
The implementation of harmonized and linked systems for mapping and monitoring at landscape scale, will result in reliable, relative and timely information on trends in conditions and impacts. This will facilitate the formulation of appropriate responses to supranational impacts resulting from synergies, effects on transboundary leakages, and scaling out impacts.
Creating conditions for innovative and integrated approaches to dryland management
By promoting regional and global coordination of efforts and exchange of knowledge, threats to drylands and their globally important environmental values can be effectively addressed. FAO's partnership with the World Bank, IUCN, UNEP, and the World Wildlife Fund (WWF), with support from the Global Environment Facility (GEF), is essential to the efforts to bring about sustainable dryland landscapes globally. Taking advantage of existing global and regional platforms supporting work in dryland sustainable management and restoration will serve to generate synergies and increase cumulative impacts, while also limiting the risk of duplication or conflicts between projects.
Project countries
Miombo and Mopane ecosystems of Southern Africa
Savannas of East and West Africa
Temperate grasslands, savannas, and shrublands of Central Asia