Animal Health and Livestock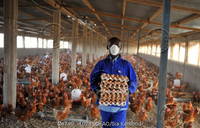 FAO Geneva works with partners to strengthen interagency collaboration to prevent, detect, contain, and respond to animal and public health risks attributable to zoonoses by promoting and advocating for the development of animal health systems' capacities using a One Health approach - an example is Antimicrobial resistance (AMR) which is a global threat for public health, livestock production, food security and economic development.
Under the framework of SDG Agenda 2030, FAO with partners including sister UN Agencies (WHO,WTO, UNEP), non-UN partners (ICRC and South Center) and academia promote and advocate for the benefits of international collaboration on One Health and food systems compliance with International Standards under the Sanitary and Phytosanitary Agreement (SPS/WTO).
FAO Geneva is an active member of Standard and Trade Development Facility (STDF) hosted by WTO in Geneva, on issues related to the development of animal health capacities, livestock markets and trade facilitation. FAO liaise with country based delegations in Geneva on specific technical requests related to sustainable livestock development and animal health services and strategies.
FAO is engaged in coordinated efforts related to disaster risk reduction (DRR), climate change adaptation (CCA) and natural resources management (NRM). Through these, the Organization provides support to countries in the planning, implementation and monitoring of DRR/CCA measures across the agricultural-related sectors in line with the Sendai Framework for DRR and the Paris Agreement on Climate Change for the achievement of the Sustainable Development Goals.
To support FAO Headquarters' work on DRR/Resilience and CCA, LOG has spearheaded the Capacity for Disaster Reduction Initiative (the CADRI Partnership). In addition, LOG builds partnerships with Geneva/Switzerland-based organizations, Member States, and academic institutions through technical working groups and joint events on NRM, DRR, CCA and resilience. Through these platforms, FAO's technical input/contributions and technical work are well-promoted and reflected in the discussions.
LOG also has specific targeted activities with youth and children. Since 2016 the office organizes an annual flagship tertiary student debate featuring a technical panel discussion on DRR/CCA and Resilience, climate-smart agriculture, food security and climate change and food loss and waste. Other activities include essay and drawing contests with elementary school students and technical briefings with university students.
LOG ensures the Organization's presence in various humanitarian processes and forums taking place in this humanitarian hub. It plays an important role in support of FAO's participation in the Inter-Agency Standing Committee (IASC), which is the primary mechanism for inter-agency coordination of humanitarian assistance. LOG is for example fully involved in key processes stemming out of the 2015 World Humanitarian Summit, such as the Grand Bargain, Humanitarian-Development Nexus and the Humanitarian Financing Task Teams, and ensures the liaison on these issues with relevant colleagues at headquarters.
LOG participates in and contributed to various Member States briefings on ongoing humanitarian crises during which it conveys the voice of the Organization through statements on its behalf. It also liaises and with a variety of partners that are present in Geneva, such as UNHCR, ICRC, ICVA, IFRC, OCHA, WHO, WFP and UNICEF. LOG ensures regular contact with humanitarian donors based in Geneva and briefs Member States on key FAO publications, programmes and initiatives on humanitarian response and resilience strengthening.
Social Development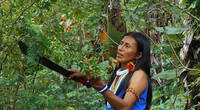 LOG represents the Organization in the several international processes and meetings taking place in Geneva in the social and development arenas and that are relevant to FAO's work. These include health, nutrition, migration, labor, human rights, indigenous peoples, peasants, gender, among others, bringing to these discussions the positions, knowledge products and expertise of the Organization. For example, LOG participated in the process leading to the adoption of the Global Compact on Safe, Orderly and Regular Migration, and the recently created UN Network on Migration, advocating for investment in food security and rural development as part of the solution to addressing the drivers of migration. Technical support, including the provision of data, was provided to the Chair of the Working Group on the Declaration of Peasants and other people living in rural areas. In addition to ensuring FAO's presence in these processes and meetings, LOG partners with different UN agencies and Permanent Missions represented in Geneva, as well as non-UN institutions such as the Inter-Parliamentary Union (IPU), the Scaling-Up Nutrition Movement (SUN Movement) and the South Centre, on issues of common interest.
Utilizing FAO's studies, data and statistics, LOG supports Member Countries' delegations in Geneva in their effective engagement in the formulation of trade agreements that are conducive to improved food security, by strengthening evidence on the implications of changes in trade policies, providing capacity development in the use of this evidence, and facilitating neutral dialogue. In addition to Member Countries, LOG also engages with relevant international organizations, civil society and academia, to further FAO's work on trade and food systems. This includes the provision of knowledge products, technical assistance and technical dialogues such as the FAO Geneva Agriculture Trade Talks (FTT). Organization of joint events with partners on areas such as international trade in agriculture, food loss and waste, fisheries trade, standards and food-safety, also forms part of FAO Geneva's portfolio. Upon requests, the provision of information on specific technical issues at the bilateral level is facilitated.
The Office also represents FAO in the various inter-agency mechanisms such as the United Nations Forum on Sustainability Standards and the UN Interagency Cluster on Trade and Productive Capacity, and participates in relevant meetings of the Geneva-based UN agencies and other development partners such as the WTO, UNCTAD, ITC, UNECE, WIPO and WHO-FCTC.
CODEX –Joint FAO/WHO Food Standards Programme

LOG supports the Codex Secretariat of the Codex Alimentarius Commission with a Codex Officer based in Geneva. The Codex Alimentarius, or "Food Code", is a collection of international standards and related texts to protect the health of consumers and ensure fair practices in the food trade. Codex standards are used worldwide to harmonize national food safety regulations and are recognized in the Agreement on the Application of Sanitary and Phytosanitary Measures of the World Trade Organization (WTO/SPS Agreement) as the international reference point for food safety and protection of human health. When food producers and traders comply with Codex standards, consumers can trust the safety and quality of the products they buy and importers can have confidence that the food they ordered will meet the specifications. FAO and WHO provide scientific advice in support of the establishment of Codex food safety standards, a foundational element of global food safety governance as well as to strengthen countries capacities to participate in Codex work and to apply Codex standards.