FAO in focus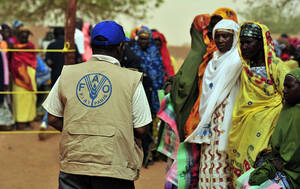 FAO in the 2023 humanitarian appeals
Across the world, 222 million people are experiencing high acute food insecurity, almost one in five of whom are struggling to access enough food to survive the day. They are overwhelmingly farmers, fishers, herders and foresters, whose most basic means of survival have been devastated by conflict or extreme weather (drought, floods), pests, disease or the steady disruption of economic turbulence and instability.
Agriculture aid is life-saving humanitarian aid. Urgent, time-sensitive agricultural interventions, especially when combined with cash and food assistance, have enormous impacts on food availability, nutrition and displacement, among others, significantly cutting other humanitarian costs. More importantly, such interventions are geared towards meeting the needs and priorities of affected communities – allowing them to remain in their homes where it is safe to do so, meet their own needs and lead their own future recovery.
Under the 2023 humanitarian appeals, FAO requires USD 1.9 billion to help almost 50 million people gain access to a steady supply of nutritious food, facilitate their recovery and lay the foundations for resilience to future shocks.
FAO's "The State of the World" publications provide a comprehensive overview of the most pressing global issues and challenges affecting the world today. These global reports primarily target policy-makers and decision-makers, but are also relevant to experts, academia, students, the media and the general public.
This website aims to offer the accredited Permanent Representations to FAO a dynamic tool to facilitate and support their participation in the work of the organization.
Visit our FAO global website to learn more on our work and activities. The FAO global website is available in English, French, Spanish, Arabic, Chinese and Russian.