Scientific Advisory Committee on Aquaculture | CAQ
Mandate
Established in 1995, the Scientific Advisory Committee on Aquaculture (CAQ) is responsible for providing technical advice and promoting the sustainable development and responsible management of marine, brackish and inland aquaculture in a way that is consistent with an ecosystem approach to aquaculture and that takes into account the specific regional, subregional and local characteristics. The CAQ shall, in particular:
monitor sustainable aquaculture development, following its progress and trends including through the identification, use and regular update of environmental, economic and social indicators;

collect and assess information and data with regard among others to production statistics, market data, post harvesting, culture systems, technologies used, farmed species, environmental and aquatic animal health issues;

provide independent advice on a technical and scientific basis to facilitate the adoption of recommendations concerning the sustainable development of aquaculture with regard to biological, environmental, social and economic issues;

identify and promote the development and implementation of cooperative scientific and technical research projects and programmes;

carry out any other functions or responsibilities as may be conferred on it by the Commission.
Structure
The CAQ operates through:
The GFCM Aquaculture Multi-stakeholder Platform (AMShP)
Working group on governance and regulatory aspects (WG governance)
Working group on environment and aquatic animal health (WG environment)
Working group on quality and market of aquaculture products (WG market)
Working group on innovation and knowledge management (WG innovation)
The CAQ runs a number of regional Aquaculture Demonstrative Centres to promote modern technologies and best practices in aquaculture.
The GFCM collects data and information on all aspects of aquaculture through the Information System for the Promotion of Aquaculture in the Mediterranean (SIPAM).
Bureau
The CAQ is coordinated by a Bureau: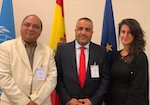 Ibrahim AL HAWI (Lebanon) - CHAIRPERSON
Mohamed EL ARABY (Egypt) - FIRST VICE-CHAIRPERSON
Ilaria Ferraro (Italy) - SECOND VICE-CHAIRPERSON
Election date: September 2019
Reports
You can access the reports from all GFCM statutory meetings here.